In Celebration of California Cabernet Sauvignon
Our articles may contain affiliate links. For more information, view our policies.
Inspired by another assignment from Gayot.com, I'm going to do something that I've never done before in the context of my Woman on Wine column: talk about Cabernet Sauvignon. (Specifically, I'm dedicating this column to California Cabernet Sauvignon.)
True, I've included individual Cabs and Cabernet-based blends in stories in the past, but I've never dedicated an entire column to the big daddy of red grapes. The reason is quite simple: I'm biased. If you've followed my writing over the years, you've already figured out that my personal taste tends toward lighter wines.
When I'm not drinking for work, I gravitate toward crisp whites, less complex, single-vineyard wines and sometimes even the sweet stuff. Of course, I also have a great passion for bubbly. But big reds really don't cross my palate unless it's for work. But that doesn't mean I should starve you of the kinds of wines so many Americans crave. So that's why I'm centering this month's column around big, juicy, California reds.
As you probably already know, Cabernet Sauvignon is one of the noble grapes. But did you know that it's a hybrid? DNA evidence shows that it is a cross between Cabernet Franc and Sauvignon Blanc. It is a thick-skinned, hearty grape with a healthy level of tannins. That's what makes it ideal for aging. It thrives in the California sunshine, where it's alcohol levels can climb to 14% and more. So watch out if you like to knock back a big glass of California Cabernet after work. You might want to add some food with that or risk a big Cabernet headache!
That being said, I've had the opportunity over the past few weeks to become acquainted with some very exciting California Cabernet Sauvignon–several I've never tried before. So for those of you who like to ward off the winter chill with a big glass of California's finest, this column is for you.
My California Cabernet Sauvignon Recommendations
2014 50 Harvests Napa Valley Meritage Blend, Napa Valley
This wine comes from well-known Napa winemaker Mitch Cosentino. And frankly, I think it shows Cosentino at his finest. It offers decadent raspberry and blackberry pie aromas backed up by earthier notes of tea leaves and tar. But my favorite part of the wine is a jolt of raspberry on the back of the palate and a hint of exotic spice.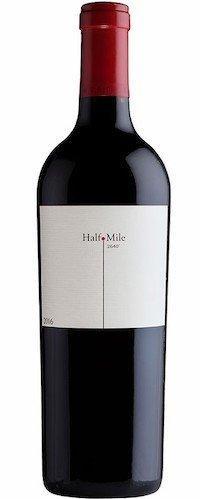 2016 Obsidian Ridge "Half Mile" Cabernet Sauvignon, Red Hills Lake County
Not only was this wine my first taste of Obsidian Ridge, it was my first Lake County Cab! This wine has firm tannins and it really isn't ready for drinking yet, but boy does it show potential. Blueberry, licorice and plum dominate the flavors with dark chocolate and caramel coming through at the finish.
2014 S. R. Tonella Cellars Rutherford Cabernet Sauvignon, Rutherford Napa Valley
If you're into Rutherford Cabernets, you need to try this wine! It balances that classic "Rutherford dust" with notes of dark cherry, plum, juniper and cedar. Yet it offers something else: a freshness, a liveliness, a sense of place that few Cabs can offer.
2014 Gamble Family Vineyard Cabernet, Napa Valley
There's something a bit sultry about this California Cabernet; it has a certain finesse. On the nose it offers musky blackberry, along with caramel and espresso. It's medium-bodied with pleasingly soft tannins. Of all the wines on my list, this is the most ready to drink right now.
 2016 Ancient Peaks Cabernet Sauvignon, Paso Robles
The only Southern California Cabernet to make my list, this very fun wine does the south proud. It offers notes of blackberry, black olive, pencil shavings and even a hint of soy sauce on the nose. There's loads of black fruit and a hint of granite on the palate with a bit of chocolate sweetness at the back. And you won't believe it but you get all of that for less than $20!
FREE APHRODISIAC NEWSLETTER
Subscribe to our free aphrodisiac newsletter