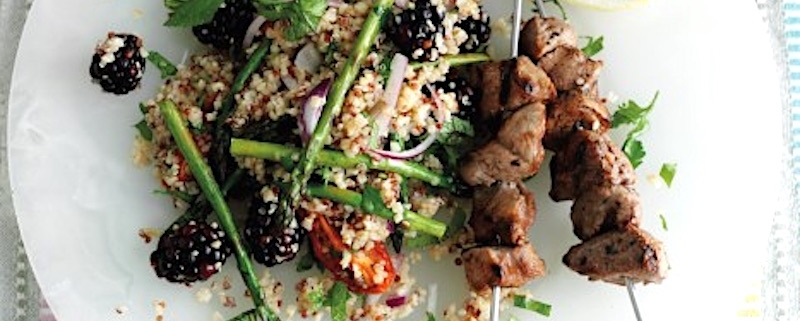 Our articles may contain affiliate links. For more information, view our policies.
Lamb skewers to feed your lover
This recipe comes to us from Sara Lewis, chef and author of Cooking from the Garden
. I loved this lamb recipe at first glance. Something like these lamb skewers are always fun to hand feed to your lover.
When I first read the recipe, I was swept away by a romantic notion. I picture lovers holding out lamb skewers for one another to nibble by moonlight. (In my mind, there is always a full moon.) In the background, there are sounds of nature in an enchanted forest. (In an alternate fantasy, the couple sits on a rooftop high enough to mute the city noise.)
What I'm saying, other than the fact that I have a vivid imagination when it comes to romantic meals, is that this is a recipe begging to be served to those hungry for love. From the musky scent of the blackberries to the libido-supporting manganese found in the quinoa to the fact that skewers of lamb are without question a kind of carnal finger food, this is a sexy meal.
A note on the quinoa salad
Sara designed the lamb skewer recipe to offer leftover quinoa salad. Her thought was that it would be perfect for lunch the next day. Or perhaps it could be served as a romantic midnight snack for two. After all, a protein rich grain, quinoa is the food of sustenance.  (And not only is the quinoa itself beneficial to sexual health but this salad contains two others of my favorite aphrodisiacs, tomatoes and mint.)
But with a recipe that offers the musky aroma of blackberries, the warming effect of cumin and the sustaining protein of both lean lamb and quinoa, I could see how the whole dish might disappear in one romantic meal.
Spiced Lamb Skewers with Blackberry Quinoa Salad
Print Recipe
This recipe is designed for lovers with lamb skewers you can feed one another and a salad loaded with aphrodisiac ingredients. 
Ingredients
For the lamb skewers
2

garlic cloves

finely chopped

1

tsp

cumin seeds

roughly crushed

1

tsp

peppercorns

roughly crushed, plus a little extra

the juice of 1 medium lemon

2

tsp

runny honey

2

tbsp

olive oil

a few

salt flakes

1

lb and 9 oz

lean lamb leg steaks

cubed

41/2

oz

fine asparagus
For the quinoa salad
11/4

pint

vegetable stock

7

oz

mixed red and white quinoa with bulghar wheat

1

red onion

halved, thinly sliced

7

oz

blackberries

4

oz

sun blush tomatoes in oil

drained

small handful flat leafed parsley

roughly chopped

small handful fresh mint

roughly chopped

salt and freshly ground black pepper

2

lemons

halved
Instructions
Add the garlic, crushed cumin and peppercorns to a shallow dish; add the lemon juice, honey, 1 tablespoon oil and a generous sprinkling of salt and fork together to mix.

Add the cubed lamb and toss in the garlic mixture then thread on to 8 small metal skewers. Toss the asparagus with the remaining 1 tablespoon oil and a little extra salt and pepper.

For the quinoa salad, bring the stock to the boil in a saucepan; add the quinoa mix and simmer for 12 minutes or until the grains are just beginning to separate.

Pour off any excess stock, leaving just enough in the pan to keep the quinoa moist. Tip into a bowl then add the remaining salad ingredients and toss together with two spoons.

Preheat a grilling pan or grill and cook the lamb skewers for 10-12 minutes, turning several times until browned. Take out of the pan, add the asparagus and cook for 3-4 minutes until just tender.

Add the asparagus to the salad then serve with the lamb skewers. Squeeze over lemon juice to taste.
Pin this Spiced Lamb Skewers recipe:
FREE APHRODISIAC NEWSLETTER
Subscribe to our free aphrodisiac newsletter