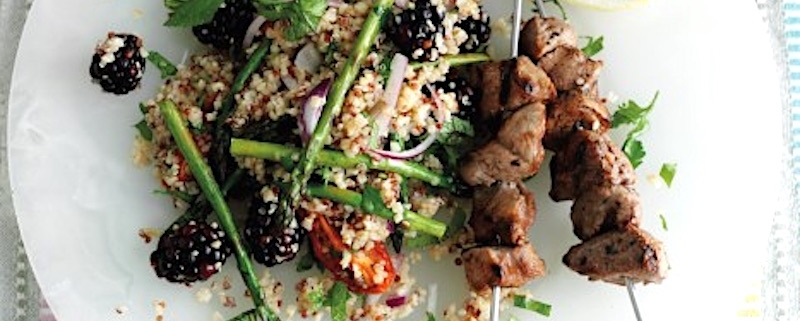 Lamb Skewers with Blackberry Quinoa Salad Recipe
Our articles may contain affiliate links. For more information, view our policies.
Lamb skewers to feed your lover
This recipe comes to us from Sara Lewis, chef and author of Cooking from the Garden
. I loved this lamb recipe at first glance. That's because these lamb skewers are the kind of food to hand feed to your lover.
In fact, when I first read the recipe, I was swept away by a romantic notion. I picture lovers nibbling a lamb kabab together by moonlight. The air is warm, the moon is full and in the background, a symphony of forest creatures plays. (In an alternate fantasy, the couple sits on a rooftop high enough to mute the city noise, seated on folding loungers with Riedel stemware in hand.)
What I'm trying to say, other than the fact that I have a vivid imagination when it comes to romantic meals, is that this is a recipe begging to be served to those hungry for love. From the musky scent of the blackberries to the libido-supporting manganese found in the quinoa to the fact that skewers of lamb are without question a kind of carnal finger food, this is a sexy meal.
Cooking lamb kebabs
Lamb kabobs are one of the best and one of the most difficult meat choices for the barbecue.
Lamb is a flavorful meat and, as you can see from the recipe below, it doesn't require a lot of marinating or tenderizing to make a flavorful lamb dish on the grill.
RELATED: Easy Garlic & Rosemary Lamb Loins
The drawbacks of cooking lamb kebab
However, lamb skewers can also be tricky. You're working with a lean cut of meat, not to mention small pieces of meat. These will cook quickly, which is great. It means less time cooking and more time with your lover, or whoever you're cooking for. But it also means you have to watch the meat carefully. It can go from underdone to tough before you know it if you don't watch it carefully during grilling.
Lamb and the environment
In addition, lamb is not the most sustainable meat. In fact, according to Eco & Beyond, lamb has the largest carbon footprint of all red meats.
If you are an environmentally minded cook, and I hope you are, you can reduce some of the carbon footprint by choosing local meat, or at least meat that isn't shipped in from another country. (For example, if you live in the United States, choose American lamb over New Zealand lamb.)
You can also help the environment for looking for organic meat. Buying organic can't reduce the methane released by the animal but it is an indicator that the farmer is at least taking care of the land on which it was raised. And as an additional bonus, there are some indications that organic meats have a greater nutritional value than conventionally raised meats.
RELATED: Eating Organic Foods for Improved Sexual Health & Wellbeing
Lamb with quinoa
One of the best parts about this grilled lamb skewers recipe is that it uses a flavorful and colorful quinoa salad to add not only visual appeal but reduce the amount of lamb you need to eat to feel satisfied. Although red meat is fine in moderation, as far as proteins go, it is one of the least friendly sources for your libido.
But combining a small serving of lamb with whole grains and fruit, makes a great way to enjoy meat and keep your heart and sex life happy.
In fact this lamb and quinoa salad is one of my favorite recipes using quinoa.
A note on quinoa substitutions
What I think I like most is that this quinoa recipe calls for blending the grain with bulgar wheat, which makes for a much more interesting texture than serving quinoa on its own.
If you can't find bulgar, you can make the recipe with just quinoa or consider substituting with another ancient grain, like buckwheat.
You can also try making the salad with just bulgar instead of quinoa or even making it with buckwheat.
RELATED: Warm Quinoa Salad with Dates, Chevre & Baby Kale
Leftover quinoa salad
Sara designed the lamb skewer recipe to offer leftover quinoa salad. Her thought was that it would be perfect for lunch the next day. Or perhaps it could be served as a romantic midnight snack for two.
After all, a protein rich grain, quinoa is the food of sustenance.  (And not only is the quinoa itself beneficial to sexual health but this salad contains two others of my favorite aphrodisiacs, tomatoes and mint.)
But with a recipe that offers the musky aroma of blackberries, the warming effect of cumin and the sustaining protein of both lean lamb and quinoa, I could see how the whole lamb quinoa salad might disappear in one romantic meal.
Get inspired with even more of our dinner recipes
Spiced Lamb Skewers with Blackberry Quinoa Salad
Print Recipe
This recipe is designed for lovers with lamb skewers you can feed one another and a salad loaded with aphrodisiac ingredients. 
Ingredients
For the lamb skewers
2

garlic cloves

finely chopped

1

tsp

cumin seeds

roughly crushed

1

tsp

peppercorns

roughly crushed, plus a little extra

the juice of 1 medium lemon

2

tsp

runny honey

2

tbsp

olive oil

a few

salt flakes

1

lb and 9 oz

lean lamb leg steaks

cubed

41/2

oz

asparagus
For the quinoa salad
11/4

pint

vegetable stock

7

oz

mixed red and white quinoa with bulghar wheat

1

red onion

halved, thinly sliced

7

oz

blackberries

4

oz

sun blush tomatoes in oil

drained

small handful flat leafed parsley

roughly chopped

small handful fresh mint

roughly chopped

salt and freshly ground black pepper

2

lemons

halved
Instructions
Add the garlic, crushed cumin and peppercorns to a shallow dish; add the lemon juice, honey, 1 tablespoon oil and a generous sprinkling of salt and fork together to mix.

Add the cubed lamb and toss in the garlic mixture then thread on to 8 small metal skewers. Toss the asparagus with the remaining 1 tablespoon oil and a little extra salt and pepper.

For the quinoa salad, bring the stock to the boil in a saucepan; add the quinoa mix and simmer for 12 minutes or until the grains are just beginning to separate.

Pour off any excess stock, leaving just enough in the pan to keep the quinoa moist. Tip into a bowl then add the remaining salad ingredients and toss together with two spoons.

Preheat a grilling pan or grill and cook the lamb skewers for 10-12 minutes, turning several times until browned. Take out of the pan, add the asparagus and cook for 3-4 minutes until just tender.

Add the asparagus to the salad then serve with the lamb skewers. Squeeze over lemon juice to taste.
Pin this Spiced Lamb Skewers recipe:
FREE APHRODISIAC NEWSLETTER
Subscribe to our free aphrodisiac newsletter