Wine Pairing with Turkey: how to choose Thanksgiving wine
Our articles may contain affiliate links. For more information, view our policies.
As the days draw closer to Thanksgiving, every wine lover in America is going to start to think about wine pairing with turkey.
It doesn't matter if you're vegan or a devotee of red meat, on this one day of the year, you will probably sit down at a table that features a roasted, or perhaps deep-fried, turkey.
What is the best wine for Thanksgiving dinner?
Selecting a wine to serve with what many Americans feel is the most important meal of the year, Thanksgiving, might seem hard to you.
If the thought of picking a bottle to take along to a shared Thanksgiving table gives you anxiety, get over it!
Although some prominent members of the wine industry might not love my saying this, if the food is good and the company is good and the wine has alcohol in it, you've chosen the right wine.
You might call this my anti-wine pairing approach.
If you find a gathering with your relatives stressful, you might want to check out my column on serving high-alcohol wines at family gatherings. After all, more important than how well the wine will pair with turkey is how much the wine improves the general mood at the table. 
Instead of worrying about wine pairing, choose the wine that's right for you
Don't let yourself get all wrapped up in choosing the best wines for a Thanksgiving feast. (That's pretty much any wine you enjoy.) Or what pairs with cranberry sauce, (very little).
Incidentally, did you know that turkey might be an aphrodisiac?
Now, I'm not going to leave you without a few hints, including recommendations of several wines I would happily serve at Thanksgiving or any festive dinner party. After all, this article is all about turkey pairing!
BUT I'm not going to tell you any single wine style or grape variety is right for Thanksgiving. Here are a couple of reasons:
Not all wines made in the same style or from the same grape are the same. I generally like Zinfandel with my Thanksgiving feast but not all Zinfandels are the same. Some are much higher alcohol than others.
I can suggest one particular wine I want to drink with Thanksgiving dinner but if you don't like that particular wine or wine made from a particular grape variety, like a Cabernet Sauvignon or sparkling wine, you shouldn't drink it.
Now, going back to the Zinfandel example, I could tell you Zinfandel is the absolute perfect wine for a Holiday meal. Many historians consider Zinfandel to be America's grape. And the flavor profile of your average Zinfandel is not only tasty with turkey, but it also won't make sweet and tangy cranberry sauce taste horrible.
This is all true. But if you only like to drink sweet, white wines, you are never going to enjoy Zinfandel with your turkey dinner.
Period.
Of course, there are other factors to consider when trying to buy wines to serve with Thanksgiving dinner.
Let's look more closely at a few.
What is the best wine with turkey?
I'm often asked this question as well as, "Is there really a wine style or a few wine styles that taste better than others with turkey?"
The truth is, if you're serving a seasoned and well-cooked bird, any wine you might want to serve is going to be a fine choice with roast or even fried turkey.
Why is that? Turkey is white meat. When cooked properly, it is deliciously moist but even when it's generously seasoned or brined, it's still pretty bland. Some experts will argue that, because roast turkey is low-fat meat, serving a tannic red wine like a Cabernet Sauvignon or Syrah with turkey will emphasize the wine's tannins. That may be true. But at a dinner table full of friends not to mention as many as a dozen side dishes, what's the likelihood that anyone will notice whether the turkey makes the Sangiovese seem tannic?
Should you pair your turkey dinner wine with side dishes?
If you're not going to pair your wine with the bird, you may be wondering if you should concentrate on pairing your wine with the Thanksgiving dinner trimmings. But there is also a problem with this strategy since we all have different flavors and traditions for what foods go on our Thanksgiving table.
At a Southern or Pennsylvania Dutch table, there tend to be wide contrasts of super sweet and somewhat bitter elements, whereas a traditional New England table or a Midwestern meal might offer simpler flavors. Or at your dinner, you might serve a smoked turkey instead of roasted.
Additionally, some families celebrate multiple cultures at the Thanksgiving table. To suggest that the same wine is going to pair "perfectly" at a family's table featuring turkey and kimchi and another with cornbread stuffing and ambrosia salad is absurd.
TO TRY: How to Make Sugared Cranberries
Wine pairing for a vegan Thanksgiving
If you're planning a vegan Thanksgiving, (or at least options for vegas), you're going to run into the same wine-pairing challenge as you would at a meat-centered meal.
Although the same wine may be a wonderful match with turkey and tofu, I have no idea what a vegan Thanksgiving meal means to you. So I couldn't possibly recommend a single wine or wine style that will "pair" with this feast. Instead, my best recommendation is to buy enough bottles of your favorite vegan wine to share with all of the guests. (And if you're inviting vegan guests to a non-vegan dinner, please bear in mind that not all wines are vegan.)
Why American wine makes the best wine for Thanksgiving
Since Thanksgiving is an American holiday, (even if it might be one with questionable origins), my best recommendation for narrowing down the Thanksgiving wine choice is to choose an American wine.
In truth, this narrows down the choice only marginally. After all, wine is made in all 50 of the United States.
Consider serving several wines with your holiday meal
Of course, you don't have to choose just one wine for your "turkey pairing."
The best choice, if your Thanksgiving celebration is a large gathering, may be to offer two or three different wines. They don't have to be expensive. You can find many nice, food-friendly wines in the $10-$30 range. And concentrate more on picking a variety of wines that should please the taste preferences of your guests more than worrying about pairing wine.
My "best wine for Thanksgiving dinner" recommendations
Below, you'll find recommendations of some of my favorite American wines to serve with Thanksgiving dinner. These are all wines I would happily share at my holiday table because they are good, food-friendly wines at fair prices. But I never want you to think your choices should be limited to the wines I've recommended below.
And as I mentioned earlier, I also want to suggest you open more than one wine, especially if you're serving a crowd. At our house, we'll open a few different wines throughout the day of cooking and feasting with family and friends. But the one thing we always do is start Thanksgiving with bubbly.
Start your holiday dinner with an American sparkling wine
On Thanksgiving, I like to greet my guests with a Brut-style, American sparkling wine. There are great choices for sparkling wines being made in many parts of the U.S.
These are some of the best American sparkling wine producers:
After a sparkling start to your dinner party, I recommend moving on to still wines with your Thanksgiving meal. As I mentioned earlier, these are wines I recommend with a turkey dinner but your choice is only limited by your budget and personal preferences.
White wines to pair with turkey dinner
2019 Eroica Riesling
Columbia Valley, Washington
This floral, faintly citrusy wine is made in an off-dry style. In other words, this is the wine for those of us who enjoy a little sweetness paired with our Thanksgiving dinner. It is pretty, approachable and widely distributed. And it has the acidity to cut through the richness of any butter-laden side dishes. Best of all, since it's relatively low in alcohol, it almost guarantees that there will be no drunken turkey carving injuries in your kitchen.
2020 Westport Rivers Winery Estate Muscat
Massachusettes
As I mentioned earlier, Westport Rivers is a noted sparkling wine house. But this Massachusetts winery is also known for quality still wines. The 2020 Muscat is my pick for a pretty and easy-drinking Thanksgiving white wine. It is floral and food-friendly and should appeal to a wide audience. And the fact that the winery is located practically on the doorstep of the site of the first Thanksgiving makes this wine an even more appealing choice for a Turkey day feast.
2019 The Eyrie Vineyards Estate Pinot Gris
Dundee Hills, Oregon
The Eyrie Vineyard is known as a pioneer in American Pinot Noir and Pinot Gris. Either of these wines would make a welcome addition to the Thanksgiving table but I've selected the Pinot Gris as one of my favorite white wines to serve with turkey. Balanced, dry and refreshing it is a beautifully made wine. And with a price point around $20, it is one of the best-value wines I could recommend for this special occasion.
2019 Anarchist Wine Company Imaginary Friend White Wine Blend
Sonoma Coast, California
If you find yourself alone on this or any holiday, there is no better companion than this bottle of wine. But even if your table is filled with loved ones, this intriguing white blend will make a welcome addition to your Thanksgiving meal. A blend of Chardonnay, Viognier, Pinot Gris and Sauvignon Blanc, it offers floral aromas and a lovely, plush texture. An extremely food-friendly wine, this imaginary friend will be welcome at any table.
Rosé wines to pair with turkey dinner
Macari Vineyards Rosé
North Fork of Long Island, New York
This New York wine is simply a classic, dry rosé with a beautiful blush color and good balance. The wine's acidity should cut through the fat of those heavy, Thanksgiving side dishes. And its citrusy finish is evocative of the Holiday season. If you want to drink rosé in late autumn, this wine makes a great choice.
Peju Winery Province
Napa Valley, California
A  surprising (and wildly unusual) blend of red and white wines, Province is one of my top picks for Thanksgiving wines. It's a fairly big-bodied wine with notes of cranberry and quince, stone fruits and baking spices. Although some call it a full-bodied rosé, it's more of a blend of the most fun elements of red and white wine. Serve it chilled for the best tasting experience.
Red wines to pair with turkey dinner
Korbel Rouge
Sonoma County, California
This might be my new favorite answer to the question, "What should you drink with Thanksgiving dinner?" This sparkling red wine's flavors will surprise and challenge the palate – but in a good way! It's a Pinot Noir, made in the méthode champenoise with only 1% residual sugar. A wine designed to serve with food, this is not your normal aperitif sparkling wine. In fact, I encourage you not to pop the cork before dinner. But save this slightly savory, full-bodied sparkling wine to pair with your turkey dinner.
2018 Ponzi Vineyards Tavola Pinot Noir
Willamette Valley, Oregon
If you love Pinot Noir with Thanksgiving dinner, this is a wine worth investigating. A great, American Pinot Noir under $30 is hard to find. But this wine offers good balance, plush tannins and the approachable red fruit you expect from a good bottle Pinot. A bright and fresh wine, it is the sort of red that can even appeal to white wine drinkers. Best of all, it is made by a winery noted for sustainable practices.
2019 Truchard Vineyards Carneros Merlot
Carneros, California
If you're looking to serve a traditionally big, high-alcohol, Napa wine with your Thanksgiving dinner, this isn't it. But it is what I heartily recommend instead of one of those inky, bold Cabs that drinks like a meal. While it still offers the essence of a great, Napa red wine, this well-crafted Merlot offers balance with earthy aromas and cranberry acidity. The winery only produces 715 cases of this elegant wine, a fact that lends an air of exclusivity to what is otherwise an approachable and affordable Napa Valley red.
2019 Ridge Vineyards Geyserville Zinfandel
Alexander Valley, California
If you're looking to serve a big but still affordable wine for Thanksgiving, this is the Zinfandel I would choose. It is a remarkably complex red wine for the price with good tannic structure. Yet it won't overwhelm the meal. If you like a combination of dark berries, cedar and spices, this is going to be your wine.
Napa Valley College Estate Winery Syrah or Cabernet Sauvignon
Napa Valley, California
I have to admit I've not tried any of the wines made by the students of this training program. But if you want to celebrate American wine on this American holiday, choosing a wine from the future of American winemaking might be just the right way to go. I've heard great things about their well-balanced Syrah, made from estate-grown grapes. If you are interested in ordering the wines, you will need to contact the assistant winery manager through the program's website.
Shop for these wines online with Drizly, my favorite wine & spirits delivery service
More tips for finding the best Thanksgiving wine
There are thousands of other reasonably-priced American wines you could choose to grace your Thanksgiving table. And as we've already established, there is no "best" wine for turkey.
If none of my recommendations strike your fancy, just take a stroll through your favorite wine shop for a treasure trove of wines for Thanksgiving. If you want to offer your guests variety, settle on a price range and buy 1-3 bottles of each wine. Try looking for a sweet white, a dry white or rosé and a red wine like a Pinot Noir or, if your guests like more bold reds, a Zinfandel or maybe a fun, red blend.
And as long as you choose the right company to join you at your table, any one of them will be just the right wine. Cheers!
More of my wine recommendations
Photo of woman drinking rosé by Peter Heeling.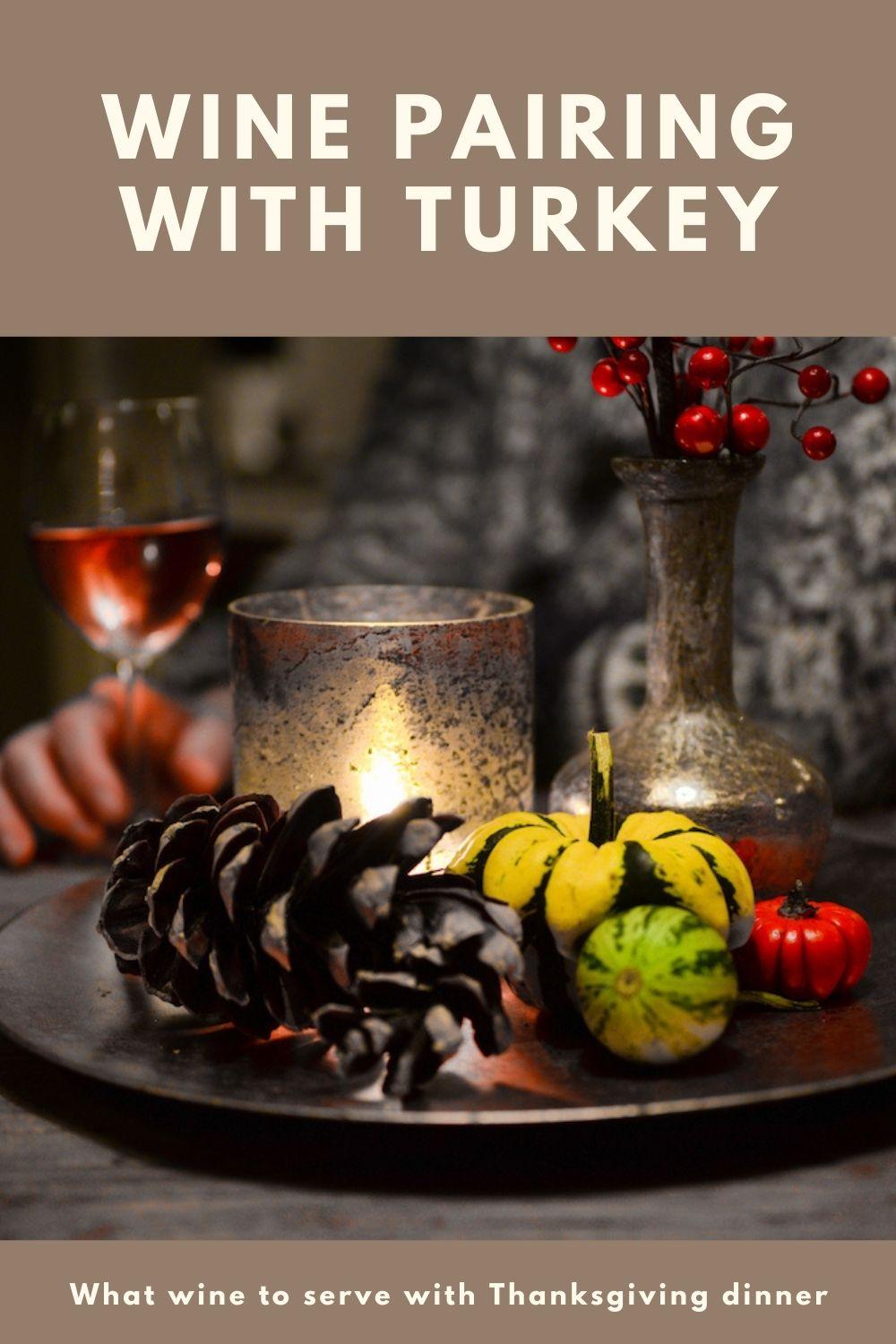 Amy Reiley is an internationally published wine writer as well as a leading authority on aphrodisiac foods. Got a question about wine, food or sexual health? She probably has the answer!
This article was written in 2019 and most recently updated in November 2021.
FREE APHRODISIAC NEWSLETTER
Subscribe to our free aphrodisiac newsletter