One of the greatest kitchen shortcuts of all time is rotisserie chicken. Just pick up a succulent, already cooked chicken from the grocery store and you're set for anywhere from 3-5 meals quick and easy meals, depending on how you use it. It's a perfect plan for summer because you can whip up several healthy, protein-rich meals without having to turn on the oven. But what are the best ways to use rotisserie chicken? Let your imagination be your guide. But if you need a little help generating ideas, here are four of our favorite ways to use rotisserie chicken: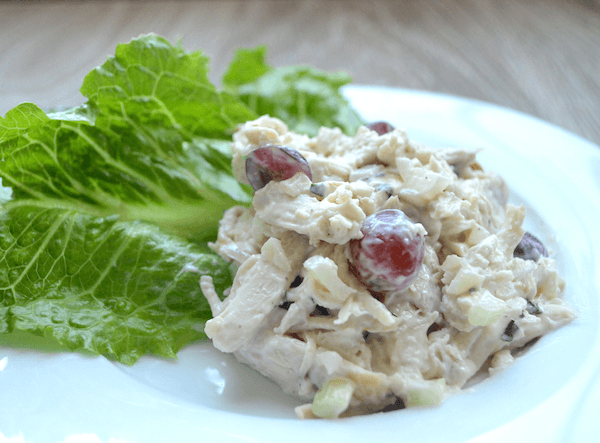 The juicy meat of a rotisserie chicken is perfect for chicken salad. If you've ever had a chicken salad that was too dry, you know what I'm talking about! Although my chicken salad recipe calls for roasting your own bone-in chicken breasts, substituting with a large rotisserie chicken guarantees perfectly cooked chicken and no stress. It's perfect for those hot summer days when you don't want to heat up the house by turning on the oven.
This is one of the most addictive things you can do with a roast chicken. Try this recipe just once and I guarantee you will find yourself craving it again. It's one of those recipes that's perfect for an after work dinner. You can even make the sauce in advance so that all you have to do is cook some rice and assemble.
A simple, layered bowl of crunchy goodness, this recipe starts with a base of fragrant jasmine rice topped with a slaw of colorful veggies and shreds of that succulent chicken. The whole thing is drizzled with my riff on a Thai peanut sauce. It's completely inauthentically Asian but 100% crave-able!
This customizable chicken salad recipe calls for grilled chicken breast but when you're not in the mood to grill, the breast of a rotisserie chicken, thinly sliced, makes the perfect substitute. I love this recipe because it gives you the base of a great salad and dozens of ways to customize it to your taste, the seasons or the preferences of whoever you're seducing!
This is the most ambitious of the recipes in my roundup but I would be remiss if I didn't mention the very best thing about rotisserie chicken: the bones. Once you've used the moist, well-seasoned meat of the bird in whatever recipes you most enjoy, your chicken still has a gift to give. It makes the perfect base for a flavorful, homemade chicken stock. A great stock differs from chicken broth because of the bones. Cooking a chicken stock from the bones creates a rich liquid with a weighty mouthfeel, thanks to the gelatin in the bones, which is released during the long cooking time.
Once you've made a rich, seductive stock from the leftovers of you're rotisserie chicken, you have the perfect base for your favorite chicken noodle, the Saffron Basil Matzo Ball Soup from my book Fork Me, Spoon Me or my Chicken and Coconut Stew. You can also use the meat of the rotisserie chicken in the stew, in place of the breast meat called for in the recipe. It's a great shortcut to a fabulous bowl of soup. Enjoy!
FREE APHRODISIAC NEWSLETTER
Subscribe to our free aphrodisiac newsletter