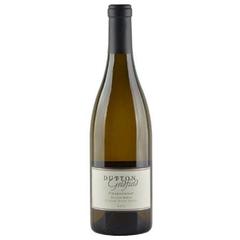 The Wine of the Week: 2014 Dutton-Goldfield, Dutton Ranch Chardonnay
Our articles may contain affiliate links. For more information, view our policies.
The Wine of the Week: 2014 Dutton-Goldfield Dutton Ranch Chardonnay
Some readers of a certain age may still drink by the ABC rule of "Anything But Chardonnay". Others may worship at the throne of Big Oaky California Chards. Still more may find good California Chardonnays prohibitively expensive, preferring to cast their lots on lower priced imports. If you fall into any of these categories, please consider this as a public service announcement encouraging you to take the chance, make the splurge (albeit a small one, in this case) and give this wine a try! I'm happy I did.
There's Something Special About Sonoma
Sonoma County is geographically and agriculturally diverse: Coastline, mountains, lakes, rivers; cool and warm climates, foggy and bright – Sonoma's got it. And, this agricultural region is made up of farms of all sorts from heirloom apples to "happy cows" – so much more than just vineyards. This is not Napa – they are a mountain range and a whole world apart.
Dutton Ranch is situated, primarily, in the Green Valley AVA in the coolest part of the Russian River Valley. A cooler climate means the fruit has more time to ripen without sacrificing the acidity that provides the backbone for the flavor, or over-ripening the sugars that determine the wines alcohol content – it's all about balance.

About This Wine
I confess to being one of those who often avoid California Chardonnay for fear of "oak bombs." (I can smell them from the first raise of the glass.) So, from my guarded first approach, I was not just relieved but intrigued. The pale yellow color was the first hint that I was safe from aggressive use of oak. The initial aromas of tangy citrus and tropical fruit lured me in. As the wine opened in the glass, aromas of creamy apple, shiso, ginger, and a soy-like salinity took hold.
Dutton Ranch Chardonnay is a complex and nuanced wine with toasty woody notes, mouthwatering acidity, flavors of pear, pineapple, lemon meringue pie and gingersnap, a round, soft mouthfeel, and a clean minerally finish. Try pairing it with cracked Dungeness crab picked with your fingers, served with a good baguette and lots of lemon and melted butter; or on the East Coast, a traditional lobster bake! Also, this is worthy of a well-made classic risotto with or without seared scallops. Think rich seafood, savory creaminess, and simple preparations – or just that great baguette and sweet butter!
The Verdict
Dutton-Goldfield is a well-respected producer of some of the most sought-after and consistently high rated wines in Sonoma. So, quality, finesse, and deliciousness are all but assured–that I loved this Dutton Ranch Chardonnay is not a surprise. That this wine is available for only $35/bottle is! Do try this wine. Do take the time to enjoy it thoroughly. And do keep an open mind to all new taste experiences, even if it's something you wrote off years ago. It could surprise you.
Note: It seems the 2014 vintage is nearing the end of availability, but I'm sure the 2015 will be equally enjoyable.

My new mission…
My new mission is to taste things I've never tasted before. Either because I'm a snob, I can't afford it, or it's just a little too weird. I'll let you know what I thought, and then you can decide for yourself if you will make the splurge, or take the leap into the strange but potentially delicious unknown!
Annette is a food and beverage educator and consultant. She is also a professional chef who frequently contributes delicious recipes to EatSomethingSexy.com. She can be found at ChefAnnetteTomei.com.
Latest posts by Annette Tomei
(see all)
FREE APHRODISIAC NEWSLETTER
Subscribe to our free aphrodisiac newsletter