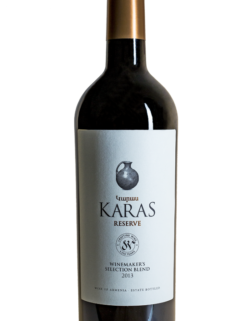 An Armenian Wine You Should Try – Karas Reserve Red
Our articles may contain affiliate links. For more information, view our policies.
2013 Karas Reserve Red, Armavir, Ararat Valley, Armenia
Wine of the Week with Annette Tomei
This week's adventure takes us to Armenia–a small, landlocked country in the southern Caucasus Mountains between Europe and Asia. This region, which also includes the countries of Georgia, Iran, Turkey, and Azerbaijan, is believed to be the historic home of viticulture. There is evidence of grapevines dating to over 1-million years old, and large wine storage vessels dating over 6,000 years old. And I'm excited, this week to bring you an Armenian wine.
Regentrification
Karas (est. 2003) is a new winery in an ancient land. The Armavir region is a densely populated agricultural area that is the focus of renewed viticultural development. In addition to indigenous grape varieties, the vineyards of Karas include many international varieties. In fact, the varietals most associated with Bordeaux and the Rhone Valley thrive here.

About this Wine
The 2013 Karas Reserve Red is a non-traditional blend of Syrah, Montepulciano, Tannat, Malbec, and Petit Verdot. And mind you, these are all grapes that are typically associated with big, tannic, dense wines.
This wine will take you on a new journey. Initially, the aromas of raisin, dark chocolate, and dried dark fruits had me expecting something rich and almost port-like.
At first sip, the flavor of this Armenian wine was quite rustic. It is tart, tight and dense. As the wine opened, flavors of wild blackberries, cocoa, and the volcanic soil the grapes were grown in, were accompanied by smooth vanilla. And there's a touch of smoke from the 14 months in Armenian and French oak barrels.
As is often the case with old-world wines, this wine experienced a complete character change when enjoyed with delicious food. I tasted this wine with a Persian-style braised lamb.
The stew was flavored with sour plums, tarragon, cilantro, fenugreek, and turmeric, garnished with toasted walnuts. The richness of the stew brought out the tartness of wine, and the flavors melded perfectly. Suddenly this dense, rustic wine became juicy and lively, bright with berry flavors, palate-cleansing, and ready for more.
The Verdict
There's an old saying in the world of food and wine pairing, "What grows together goes together." This is proven true with the 2013 Karas Reserve Red, my new favorite Armenian wine. (And, by the way, this is also true of their 2014 Classic White.) With the growing popularity of Persian foods in cookbooks and restaurants, this is great news.
Get out there–experiment in the kitchen, enjoy a new dining experience, and don't forget to try the wines that also come from those ancient lands of exotic flavors. Have a taste adventure!
My new mission… to taste things I've never tasted before – either because I'm a snob, I can't afford it, or it's just a little too weird. I'll let you know what I thought, and then you can decide for yourself if you will make the splurge, or take the leap into the strange but potentially delicious unknown!
Annette is a food and beverage educator and consultant. She is also a professional chef who frequently contributes delicious recipes to EatSomethingSexy.com. She can be found at ChefAnnetteTomei.com
Latest posts by Annette Tomei
(see all)
Get on our mailing list
Subscribe and get our exclusive list of Six Great Sex-Boosting Snack Foods for FREE! Unsubscribe at any time.