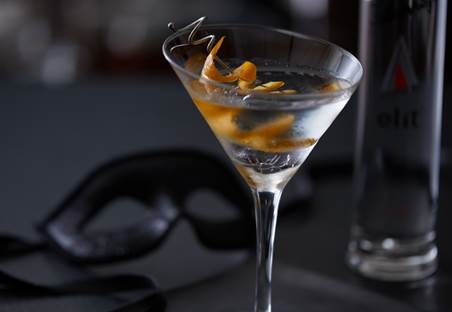 A Sexy Cocktail Recipe with Scottish Flair
Our articles may contain affiliate links. For more information, view our policies.
The creative team at Stoli thought we'd appreciate this vodka martini recipe. That's because it puts a sensual twist it on mixology. We decided we needed to share this sexy cocktail recipe with our readers in time for Halloween.
Check out our favorite Halloween dessert recipe.
It's now our drink of choice not only as a Halloween cocktail but for a masquerade ball or any event that involves costumes. So since it's that time of year when you're pretty much allowed to go anywhere dressed in a cat suit, we thought now would be the time to bring you this sensual and smoky twist on a vodka drink.
The trick to making this sexy cocktail
Of course, the mixologists at Stolichnaya recommend using Stoli elit as the main ingredient. The reason, they tell us, is because this vodka is made by a patented "freeze filtration" technique. The special filtration supposedly gives it not only unparalleled purity but also a particularly oily, almost creamy texture. We agree that the right texture helps to accentuate the sensuality of this sex tonic. But we say, make this sexy cocktail with whatever vodka gives you the most pleasure.
Love a sexy cocktail? How about a sexy wine?
How to make this cocktail taste smoky
A good vodka is always important for making a memorable cocktail. But to us, what what sets this twist on a martini apart is the Scotch rinse. A splash of Scotch and a twist of the wrist is the technique that gives this drink its "smoke." The remaining Scotch is then discarded, so as not to impart any of its heavier flavor notes, merely the impression of its smoky presence in this sexy cocktail.
The aphrodisiac secret of Scotland?
And although it's accepted that all alcohol is, to some extent, aphrodisiac, there are those who link the beloved brown spirit of Scotland with a special power to persuade in games of love. Perhaps it is because of the number of dashing heroes and debonair lovers associated with the Scottish spirt. We're not sure. But whatever the reason, many experts in the drinks field swear that Scotch is a closer.
Love a great cocktail? Check out all of our favorite cocktail recipes.
Smoke on the Water
Print Recipe
This potent cocktail recipe from Stoli puts a sexy twist on a vodka cocktail with the addition of smoky Scotch and a hint of citrus. 
Ingredients
3

parts

elit by Stolichnaya or your favorite vodka

(Stoli recommends this vodka for the cocktail because of its creamy texture)

1/2

part

Islay Scotch

3

orange peels
Instructions
Rinse a chilled martini glass with the Scotch and discard excess.

Ignite 3 orange peels over the inside of the glass to season it.

Stir elit with ice until very cold. Strain into seasoned glass.

Garnish with a flamed orange peel.
Pin this sexy vodka martini recipe:
Get on our mailing list
Subscribe and get our exclusive list of Six Great Sex-Boosting Snack Foods for FREE! Unsubscribe at any time.