Spring and Summer Vegetable Tempura Recipe
Our articles may contain affiliate links. For more information, view our policies.
I found this fun taste of summer on Jordan Winery's Twitter feed. Luckily, they let me share it with you! Designed to pair with a refreshing, well-chilled white wine, this vegetable tempura recipe is a great vehicle for showcasing spring/summer bounty. At Jordan, they recommend trying such fresh-picked morsels as snap peas and their leaves. And in springtime, one of their favorites is fava beans. For summer, they use the aphrodisiac of heirloom tomatoes.
I would also include squash blossoms, carrots, baby zucchini and some legendary aphrodisiacs like asparagus, avocado and shiitake mushrooms. This is how fried food gets sexy!
What is tempura?
Part of what makes this recipe a sensual pleasure is the tempura batter. A light variation on breading for deep frying, tempura is a Japanese tradition. Interestingly, according to the website of Chef Nobu Matsuhisa, this traditional batter and frying didn't come from Japan but originated in Portugal. This specific frying technique wasn't adopted by Japanese cooks until the 1800s.
Unlike other breading and frying methods, tempura uses no bread crumbs and less oil than standard frying. The simple batter is made from a base of 3 ingredients, cold water, flour and egg. The resulting foods, typically seafood or vegetable tempura, cooked in this tempura batter are light with a crisp texture and no oily residue.
Chef's tip for cooking vegetable tempura
One tip on frying. If you're not an experienced fryer, take your time. Work slowly but efficiently. Most importantly, as you're dropping your vegetable tempura into the oil, use a steady, almost sweeping motion away from your body. This will help prevent oil from splashing toward your hand and arm while you work. Because you know what isn't sexy? That would be angry, red burn marks. So keep a steady pace and indulge yourself in the rhythm of the kitchen.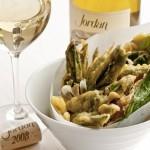 Recipe for Spring & Summer Vegetable Tempura
Print Recipe
This simple tempura recipe makes the most of spring and summer produce.
Ingredients
1

lb

vegetables and blossoms

(such as snap peas and pea leaves, squash blossoms, carrots, heirloom tomatoes, fava beans, string beans, bell peppers, summer squash)

3

cups

rice oil or canola oil

1/2

cup

ice water

1/2

cup

ice cold Japanese lager

1

egg

1/2

cup

rice flour

1/2

cup

all-purpose flour

1

tsp

kosher salt

1

tsp

Shichimi Togarashi
Instructions
Wash and dry vegetables and blossoms. Reserve on paper towels.

In a heavy-bottomed sauce pan, heat the oil to 350º.

To prepare the tempura batter, combine the ice water and beer in a bowl, then whisk in the egg. Using chopsticks, gently incorporate the flours, salt and Schichimi Togarashi. Do not overmix – small lumps are a good thing. Use batter as soon as possible.

Dip the vegetables and blossoms into the batter, shaking off excess. Fry tempura until just golden brown.

Tempura may be held in a 200º oven for no more than ten minutes before serving.
Latest posts by Amy Reiley
(see all)
Get on our mailing list
Subscribe and get our exclusive list of Six Great Sex-Boosting Snack Foods for FREE! Unsubscribe at any time.