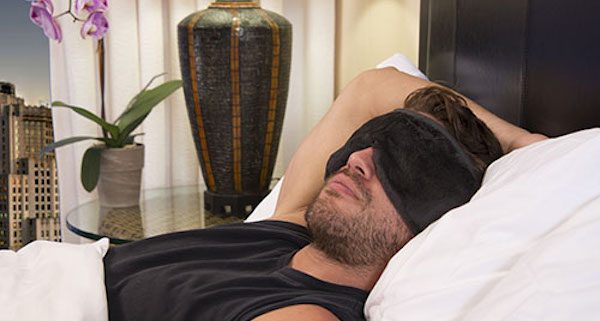 The Best Bamboo Sleep Mask for a Better Night's Sleep
Our articles may contain affiliate links. For more information, view our policies.
We're always looking for ways to get a better night's sleep. After all, a well-rested lover is at their most sexy. You need sleep for the energy to "perform." Of course, we prefer all-natural methods but they can be hard to come by…Or so we thought before members of our editorial team test-drove the bamboo sleep mask from the Total Sleep Mask System.
What makes this eye mask so special?
What looks simply to be a luxuriously plush nighttime mask turns out to be a whole system for keeping you sexy and at the peak of brainpower. The Total Sleep Mask System is a specially crafted mask designed to block out both 100% of light as well as noise.
A unique mask shape
It is shaped to keep pressure off of your eyes, which also means that, should you have lash extensions, they won't get crushed. (We have a couple of claustrophobic members on our writing staff who swear by this feature. They say the extra room around the eyes keeps them from feeling closed in and uncomfortable in the mask.)
Why we love the bamboo fiber
The mask's bamboo fabric wicks away moisture so no mask sweats will clog your pores in the middle of the night. (The ultra-plush, one-size-fits-all mask is hand washable.)
Look, I didn't expect to be blown away by a sleep mask. I sleep well enough without the aid of an eye-shade. So when we received eye mask samples, I was reluctant to try. But after just one night, I understood how this mask's unique design features not only help you fall asleep more quickly but it can really improve the quality of your rest.
A sleep mask that covers your ears
Best of all, the mask wraps around with "sound guards" that gently cover the ears with small pillows, perfect for blocking out the sounds of your snoring lover. The effect is like a soft, cool hug for your face. And if you need extra ear protection, you can use the set of soft earplugs that come with each mask, then store them in the internal pocket.
How much does this bamboo sleep mask cost?
Admittedly the answer to how to get better sleep doesn't come cheap. But with the impact it can have on your health, the price is really quite nominal. The Total Sleep Mask System retails for about $50 but promises you a lifetime of restful slumber. Seriously, I swear by it!
Ok, it's true that a single mask will probably not last you a lifetime. But I've been using one for about three years with regular washings and it shows no signs of wear. This really is a well-made mask and a brilliant concept for helping you with getting better rest all night.
True, this product won't cure all sleep-related issues. But if your nighttime problem is related to sleep apnea, you should check out another product we recently featured.
Where to buy the Total Sleep Mask System
This unique and incredibly comfy sleep mask is sold through many specialty retailers including Sharper Image. Or you can order yours now from Amazon.
Latest posts by Amy Reiley
(see all)
Get on our mailing list
Subscribe and get our exclusive list of Six Great Sex-Boosting Snack Foods for FREE! Unsubscribe at any time - privacy policy