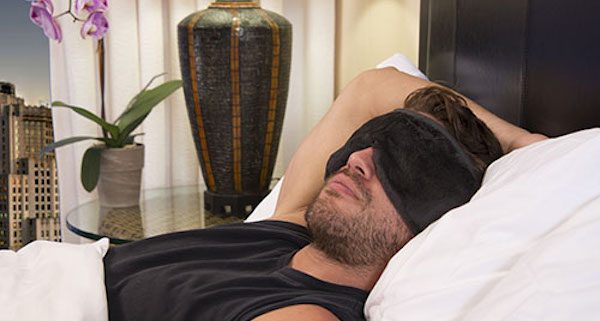 We're always looking for ways to get a better night's sleep. After all, a well-rested lover is at their most sexy. You need sleep for the energy to "perform." Of course, we prefer all-natural methods but they can be hard to come by…Or so we thought before we discovered the Total Sleep Mask System. 
Meet the Total Sleep System
What looks simply to be a luxuriously plush sleep mask turns out to be a whole system for keeping you sexy and at the peak of brain power. The Total Sleep Mask System is a specially crafted mask designed to block out both 100% of light as well as noise. It is shaped to keep pressure off of your eyes–which also means that, should you have lash extensions, they won't get crushed. (We have a couple of claustrophobic members on our writing staff who swear by this feature. They say they extra room around the eyes keeps them from feeling closed in and uncomfortable in the mask.) The mask's bamboo fabric wicks away moisture so no mask sweats will clog your pores in the middle of the night. (The ultra-plush, one-size-fits all mask is hand washable.)
A hug for your face
Best of all, the mask wraps around with "sound guards" that gently cover the ears with small pillows, perfect for blocking out the sounds of your snoring lover. The effect is like a soft, cool hug for your face. And if you need extra ear protection, you can use the set of soft earplugs that come with each mask, then store them in the internal pocket.
Admittedly the price of a better night's sleep doesn't come cheap. The Total Sleep Mask System retails for about $50 but promises you a lifetime of better sleep. Seriously, we swear by it!
Learn more
For more information, visit the Total Sleep Mask website.
FREE APHRODISIAC NEWSLETTER
Subscribe to our free aphrodisiac newsletter
https://www.eatsomethingsexy.com/wp-content/uploads/2017/09/better-nights-sleep-will-keep-sexy.jpg
401
600
admin
https://www.eatsomethingsexy.com/wp-content/uploads/2017/01/Amy-Reileys.png
admin
2017-09-20 12:00:57
2018-10-05 12:21:27
A Better Night's Sleep Will Keep You Sexy