Lavender Crème Brûlée Recipe
Our articles may contain affiliate links. For more information, view our policies.
Although it is a popular ingredient in the fragrance world, lavender doesn't make frequent appearances in cooking. That's largely because this powerful herb can be tricky to use in cooking. But when used correctly, it can make a good thing even better, like this lavender crème brûlée. A classic dessert layered with this entrancing floral note, this recipe shows you how to take a beloved recipe and make it even better.
An easy crème brûlée recipe you can make at home
I created this recipe as the finish to a lavender-themed dinner. You can read about the whole menu and get some of my tips on cooking with lavender in this article, Cooking with Lavender for a Romantic Dinner.
That being said, this dessert is built on the foundation of a great crème brûlée recipe. And if you just want a reliable burnt custard recipe, you can always make this one without the lavender. It will still be a great dessert.
TO TRY: Love lavender in desserts? Don't miss this Lavender Butter Cookies recipe.
What is a crème brûlée?
If you've never made this custard dessert, you might be wondering what it is and how, exactly it is made. The dessert is a centuries old, French custard that is slowly cooked in a water bath. It is a technique-driven dessert. So although it is fairly easy to make, it is one that requires you follow the directions closely.
Tips on crème brûlée technique
What makes crème brûlée so popular is the namesake brûlée, or candy shell crust on top. A fabulous trick of the kitchen, this crust is achieved by simply sprinkling sugar of the top of the cooked custard then heating it until it melts. When it cools, it reforms as a hard shell, which cracks when tapped with a spoon.
To make the shell, you either need a small kitchen torch, (sold in most kitchenware stores), or you will need to put the custard under the broiler and watch it carefully to melt the sugar without overcooking the dessert.
How lavender helps make this a romantic dessert
As you probably already know if you're a frequent visitor to this site, lavender is an aphrodisiac with a great folkloric history and some interesting healing properties. For this recipe, you can use either dried or fresh lavender to get your aphrodisiac results. I can't promise that this dish will get you to second base but it definitely has helped me impress some potential suitors in my past.
RELATED: Chicken Breasts with Fresh Rosemary, Lavender and Lemon Zest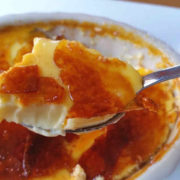 Lavender Crème Brûlée
Print Recipe
This temptingly creamy, custard recipe makes an impressive finish to a date night meal, or any night you want to enjoy the fragrant aroma of lavender.
Ingredients
1 1/2

cups

heavy cream

1

tbsp

dried lavender flower

or 2 tablespoons fresh

2

egg yolks

1/8

cup

granulated white sugar

2

tsp

granulated white sugar

to caramelize the crème brûlée tops
Instructions
Preheat oven to 300°. In a heavy-bottomed saucepan, bring the cream and lavender to a gentle boil. Remove from heat and allow the lavender to infuse with the cream for about 3 minutes.

Whisk the egg yolks with the sugar until light and creamy. Remove lavender from cream. Slowly pour the cream into the egg and sugar mixture, blending well.

Divide mixture between 2 ramekins or custard cups. Place them in a pan and carefully fill the pan with warm water, until it reaches halfway up the sides of the ramekins. Bake custards until set around the edges, but still loose in the center, about 40 to 50 minutes. Remove from oven and leave in the water bath until cooled. Remove cups from water bath and chill for at least 2 hours, or up to 2 days.

When ready to serve, sprinkle one teaspoon of sugar over each custard. Melt the sugar with a small hand-held torch or place under broiler. Re-chill custards for a few minutes before serving.
Pin this Lavender Crème Brûlée Recipe: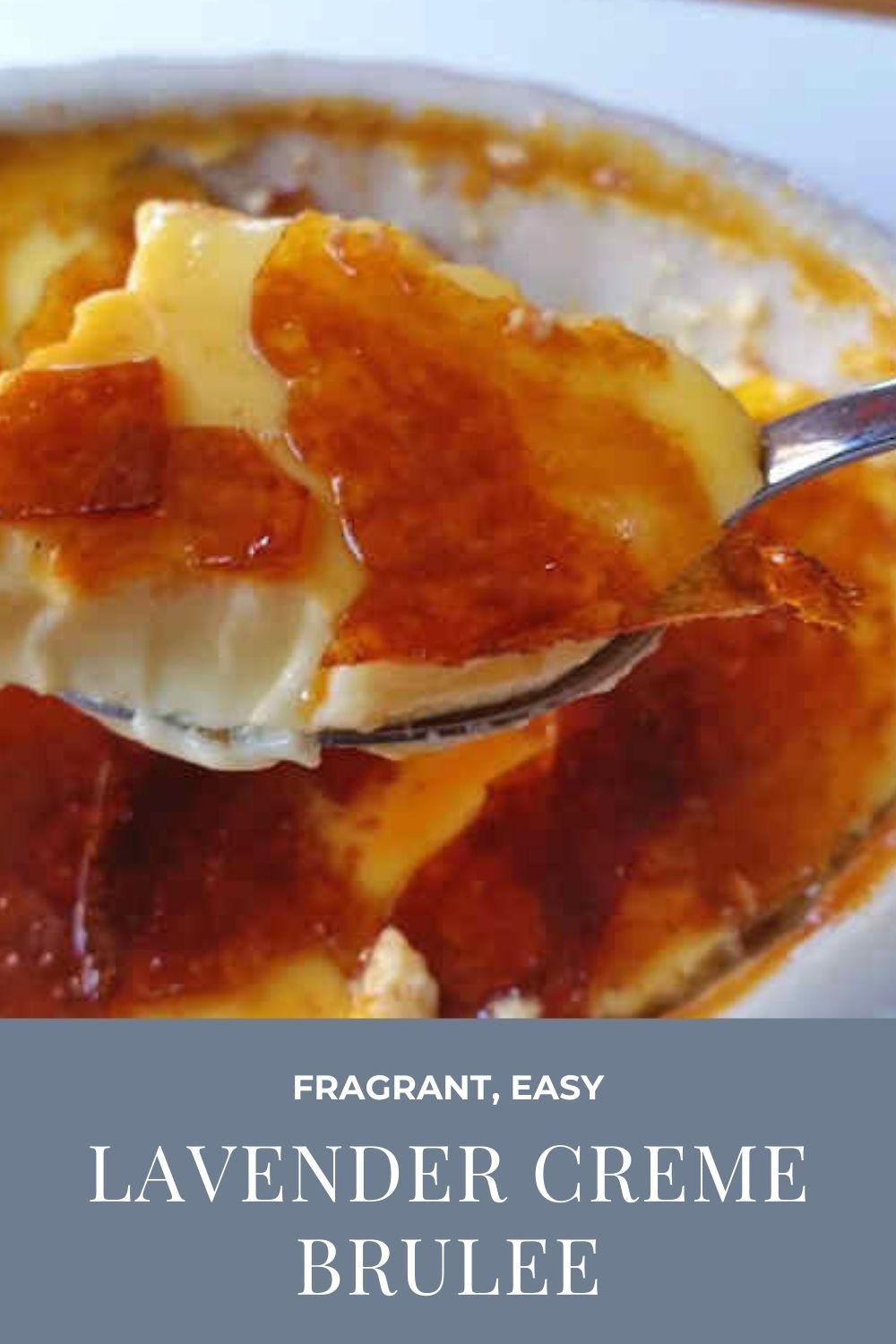 FREE APHRODISIAC NEWSLETTER
Subscribe to our free aphrodisiac newsletter