8 Fantastic Wine & Food Mail Order Gifts You Can Get Online
Our articles may contain affiliate links. For more information, view our policies.
Our annual gift guide is among the most popular articles on our entire website. And for good reason – we have great gift-giving ideas! But our gifting advice doesn't have to be limited to the holiday season.
These food gifts make unique and mouth-watering presents whatever the occasion, whether it's a birthday, wedding, anniversary or other remarkable milestone or even just an "I love you" day. Best of all, everything here is a list of food mail order gifts you can get from an online retailer for year-round, stress-free gifting.
Fun and inexpensive mail order treats
A sweet little pick-me-up for the sweet tooth in your life, these chocolates are good for the body and the environment. And they prove that not all food gift ideas have to be expensive. Corn syrup, artificial flavoring and hydrogenated oil-free, these are all-natural versions of some of your favorite chocolate candies. And they're really tasty.
The line includes chocolate-covered peanuts, a caramel nougat bar, caramel and peanut bar, candy-coated chocolates and peanut butter cups all made with sustainable palm kernel oil and using dairy from free-range cows. Nothing says I love you like chocolate made from the best possible ingredients!

Flor de Cana 7 Year Grand Reserva Rum

This is the drink for the spirits specialist on your list who likes 'em voluptuous and a little bit spicy. Known as the "pride of Nicaragua", Flor de Cana provides social benefits to its local community. It is also known as one of the most environmentally friendly distilleries in the world. (This carbon-neutral distillery is fair trade certified.)
But best of all, the product blends well in any cocktail while adding its signature bite of spice. And if you're looking for more of a splurge for the rum lover in your life, don't miss Flor de Cana's ultra-premium collection of 12, 25 and 30-year rums. Sexy stuff! For more information, visit http://flordecana.com.
You can purchase Flor de Cana through Drizly, our favorite alcohol delivery service.
The Bitter Truth Cocktail Bitters Traveler's Set

This traveling accouterment is for that jet-setter who loves to be surrounded by the comforts of home.  The set of 5 bitters consists of celery, old-time aromatic, orange, creole, and jerry thomas bitter – each under 3 ounces – to improve those hectic days of flights, trains, travel and meetings with your favorite homemade cocktail.  No longer is there a reason to have an imperfect drink or tolerate a bartender's limited breadth.  This gift is great for your favorite partier, mixologist, host, bachelor and sibling alike.
Learn more about these outstanding bitters from The Bitter Truth.

RELATED: Has your favorite spirits lover tried this unique gin liqueur?
Great gifts for drinks lovers, including wine, tea and soda
K & L Wine Merchants Best Buy Wine Club

Rather than send an impersonal wine gift basket, why not send the gift of one of the most fun wine of the month clubs around? For a subscription that comes out to $19.95/month, this monthly wine subscription includes two great values wines per month as selected by this wine shop's expert team. (Make no mistake, this is one of the best wine retailers in the U.S.) That's right, the recipient gets two great wines each month and it only costs $20. Not only will your friend or lover get to try two new wines – ones they would probably never try on their own – but their eyes will be opened up to the possibilities of great value wines from around the world.
But if you want something a little more personalized, you can also sign your one and only up for K & L's premium wine of the month service, the Personal Sommelier Service. This premium wine of the month membership offers exactly what it sounds like, a customized wine selection based on your price range, favorite grape varieties and wine styles. To sign up for either of these wine services or to check out all of K & L's available wine clubs, visit the K & L Wine Merchants website's subscription page.
RELATED: Check out our favorite product for pairing wine with chocolate
Matcha Source Focus Tea Gift Set
If someone you love is looking for a little inner zen, they're sure to appreciate this beautiful tea set from Matcha Source. This fully-equipped tea-making set allows you to celebrate the ancient, Japanese drink of Matcha, the anti0xidant-rich beverage of the formal tea ceremony. The set includes a matcha tea bowl, sifter, bamboo whisk and celadon whisk holder, bamboo tea scoop and a 30g tin of matcha tea powder. And if you want to gift a set that shares the love, Matcha Source also offers a two-cup matcha tea kit for sharing an intimate moment with tea together.
You can order either green tea gift set directly from the Matcha Source website. And be sure to check out their information on the health benefits of matcha. It's a gift that keeps on giving!
MyJones Custom Labeled Sodas from Jones Soda

We've all seen the ads offering you the opportunity to buy a personalized label on a bottle of swill wine for which you will pay the price of vintage champagne. But if you want to add a personalized touch to your gift, why not try the new personalization program from Jones soda? For the price of, well, a bottle of soda, you get a bottle of Jones in whatever gourmet flavor you choose – black cherry is certainly sexy – with a label design limited only by your imagination. It is an affordable and playful way to create a memorable, not to mention tasty, gift. Personalized sodas come in cases of 12.
If you don't know Jones, this Vancouver-based soda company makes carbonated drinks in bold flavors and uses only pure cane sugar for sweetening. For more information and to select your label style, visit http://www.myjones.com
Some of the best sweet food mail order gifts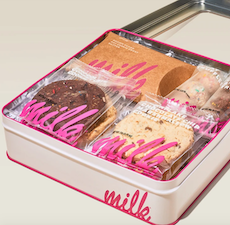 Anyone who loves food tv competitions knows Christina Tosi. The founder of Milk Bar is a modern television darling but long before the cameras discovered her, she was one of the most innovative bakers in America. Both a beloved brand and a brilliant cook, this pastry chef's treats are the stuff you can't help but fight over. And you know everyone will lick the plate clean when served one of her flavor-packed desserts.
That's why we recommend the Milk Bar Sampler for any time you want to send someone a pick-me-up or birthday treat you know will make mouths water. This is, without question, one of the best food gifts for lovers of baked goods. Our favorite mail order food sampler includes: 1 Milk Bar Pie Slice; 1 pack of 6 assorted cookies; a 3-pack of chocolate truffles; a 3-pack of birthday truffles. Is your mouth watering yet? This assortment comes in a cute gift box tin and can be ordered directly from the Milk Bar website.
Theo Taste of Washington Caramel Collection

Theo is America's first organic, fair trade bean-to-bar chocolate factory in the U.S. Not only do we love Theo for its community spirit but for its aphrodisiac flavors. The Taste of Washington collection features caramels infused with apple cider, lavender, cherry and – one of our favorite aphrodisiacs – coffee. So romantic! This unusual caramel collection is one of the simplest and sweetest gourmet food gifts. You can order these chocolates direct from Theo. And be sure to check out Theo's selection of bars, sipping chocolates and vegan items at https://www.theochocolate.com. Better than a gift basket is a personal selection of Theo's creative and flavor-packed treats.
Better yet, plan a trip to Seattle for a Theo factory tour, where you can fulfill all of your chocolate needs in one trip.
Check out our favorite Romantic Christmas Gifts
Latest posts by Amy Reiley
(see all)