Steamed Mussels in White Wine Tarragon Broth
Our articles may contain affiliate links. For more information, view our policies.
Mussels are among the world's greatest aphrodisiacs. Although they don't get the same sort of credit, they are on a par with oysters–the ultimate aphrodisiac of the sea. And although mussels are rarely enjoyed raw in the same way as oysters are classically served, they're tremendously easy to cook.
In fact, what most people who don't cook also don't happen to know is that steaming mussels in white wine is one of the easiest things you can make for a romantic meal. The mussels cook in their own little vessels, basically create their own brine-y sauce. The ultimate one-pot dish of seduction, it is all but guaranteed to impress the pants (quite literally) off of anyone who loves seafood and has no idea how to cook shellfish.
TO TRY: Homemade Scallop Pizza
What is a good white wine for cooking mussels?
For this steamed mussels recipe, you should cook with a wine you want to drink. In other words, do not make steam mussels with anything called "cooking wine." In fact, I recommend choosing a wine to cook the mussels and then chilling the remaining wine to serve with your white wine mussels dinner.
For this particular steamed mussels dish, a lighter white wine works the best. What I mean by a lighter wine is something that is light bodied and reasonably low in alcohol.
RELATED: Woman on Wine, wine recommendations for every season
The best wine for mussels is something light and refreshing and not too expensive. (I generally use a wine in the $10 range. But you can sometimes find great deals on light, white wines at Trader Joe's for even less than $10.) A Vinho Verde from Portugal is a solid choice and these wines are usually very fairly priced. An un-oaked California or New Zealand Sauvignon Blanc will also work with this shellfish recipe. And either of the white wines in my article Wines for a Romantic Picnic, would work very well with this seafood dish.
Do I need to soak mussels before cooking them?
To prepare mussels for cooking, you want to give them a 15-20 minute soak in salted water. Make sure all the mussels are fully submerged and agitate the water gently with your hand before allowing them to soak. As the mussels soak, they will expel any sand or debris that remains inside the shell.
Once the mussels have soaked, discard any mussels with broken shells. If a mussel is open and does not close when gently tapped, it should be discarded.
Then take the mussels one at a time and "debeard" them. (Mussels cling to rocks from a clump of hair-like fibers that sprout from the shell. This hairy mass is called the mussel's beard.) Holding the mussel in one hand, pinch the beard between the thumb and forefinger of the other hand. Tug it toward the hinged end of the shell to debeard. (Many mussels are sold debearded but they should still be checked in case one or two with beards on accidentally made their way into your bag.) Once all the mussels have been checked for beards, they are ready to cook.
Mussels white wine sauce
The magic of this easy tarragon mussels dish is that the mussels make their own sauce as they cook. As they steam, the mussels release natural juices, which combine with the white wine and garlic to create an irresistible seafood white wine sauce.
I finish the sauce with butter and the aphrodisiac of tarragon. The fresh herb gives the broth a one-of-a-kind, herbal zing. Do not feel tempted to skip the tarragon. The combination of the tarragon and mussels, (yes, mussels are aphrodisiac, too), makes this one of my top picks for a romantic dinner at home.
Don't forget the crusty bread to soak up the tarragon mussels sauce
But in order to truly appreciate this mussels recipe for two in the manner in which it was written, you must, must serve this mussels with white wine and garlic with crusty bread to soak up the sauce. I like a French, country loaf but a baguette also works. If you want the added libido-boosting nutrition of a whole wheat or seeded bread, go for it. Just be sure that it's crusty and served in abundant portions. Without the bread, you're leaving behind the magical elixir of the mussel broth. And in my estimation, that's half the aphrodisiac goodness in the dish.
Check out more seafood recipes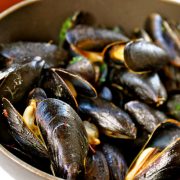 Steamed Mussels in White Wine Tarragon Broth
Print Recipe
This is one of the easiest romantic recipes you'll ever try! And it's one that's sure to impress. Steaming Mussels in White Wine takes one pot, 10 minutes or less to cook and makes it's own impressive presentation. 
Ingredients
1

pound

mussels

1

tablespoon

olive oil

1

clove

garlic

minced

1

cup

dry white wine

1

tablespoon

butter

1

tablespoons

tarragon

finely chopped

crusty bread for dipping
Instructions
Remove beards from mussels, then rinse, discarding any mussels that don't shut when tapped.

Heat the olive oil in a stock pot. Add the garlic and sauté for 30 seconds.

Pour in the white wine and bring to a boil.

Reduce to a simmer and add the mussels. Cover and cook until the mussels have opened, about 6 minutes, making sure to keep the lid tightly on the pot.

Remove the mussels from the pot, discarding any that have not opened. Set aside.

Add the butter and tarragon to the pot, stirring until butter is completely melted.

Pour broth over mussels and serve with a side of crusty bread.
Pin this mussels in white wine sauce recipe: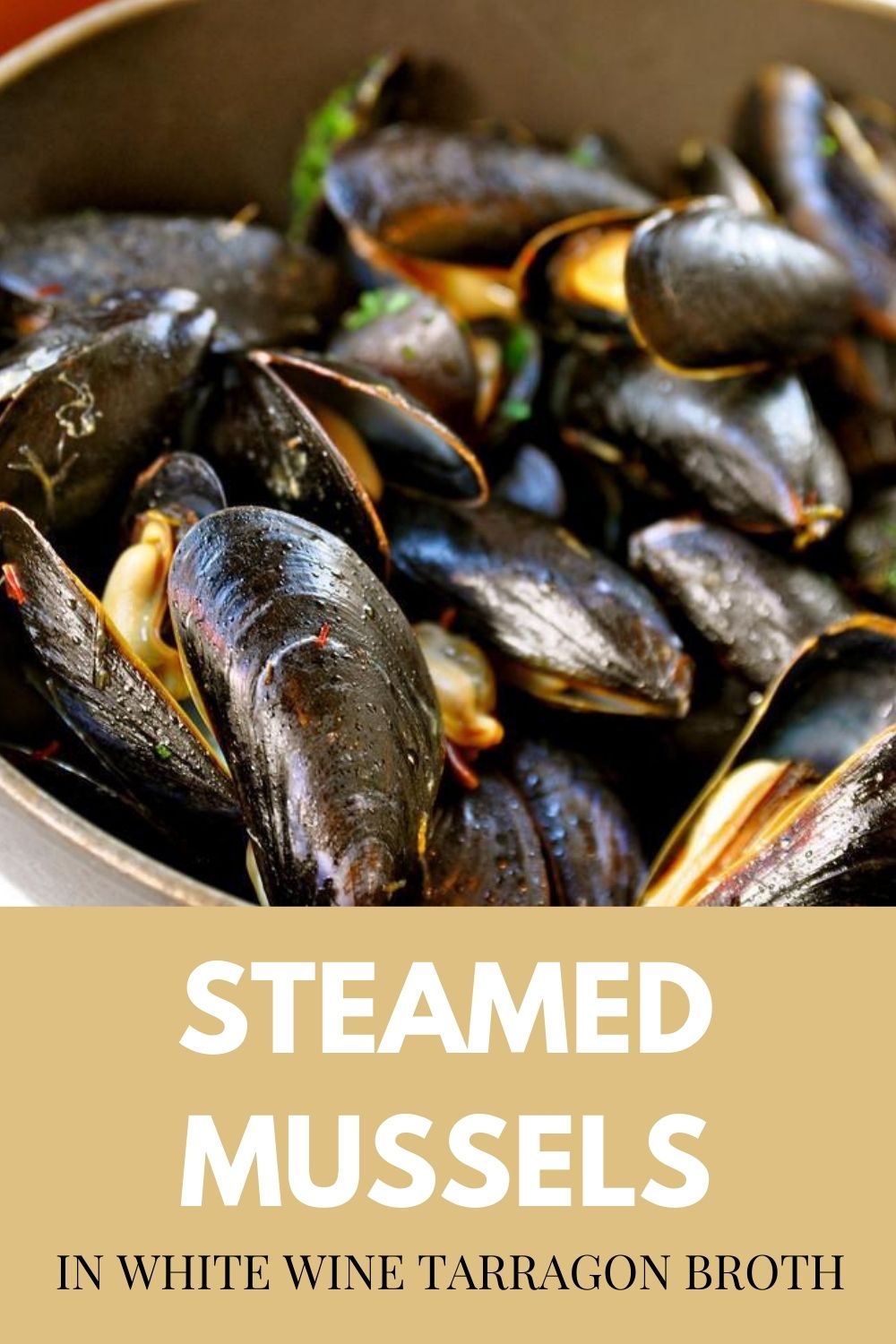 Latest posts by Amy Reiley
(see all)