The Importance of Good Wine Storage
Our articles may contain affiliate links. For more information, view our policies.
This month I'm taking a new approach to my column. Instead of focusing on a wine style, region or grape, I'd like to take the time to talk to you about one of the most important and confusing wine topics, wine storage.
The proper care and storage of wine is becoming a hot topic among wine critics and journalists. As wineries increasingly choose clear bottles for their wines, the practice of storing wine becomes more and more important for consumers. So we're going to look at the best wine storage practices. I hope to make you understand not just how to best store wine but why good storage is key to wine enjoyment.
I will, as is my tradition, include tasting notes. I promise to leave you with my impressions of the wine that inspired this column, a sparkling wine called Untouched by Light.
RELATED: Need a good Champagne stopper?
What is lightstruck wine?
The concept of lightstruck wine isn't new. The Los Angeles Times warned consumers of "lightstrike" in 1990. (In 1989 Professor Ann Noble conducted conclusive research on the effects of fluorescent lighting on still white wines and sparkling wines.) However the issues of light and wine storage take a new level of urgency as marketers encourage wineries to bottle pink and wine wines in clear glass.
Exposure to sunlight can ruin a wine. That's why traditionally, so many wines were shipped in dark bottles. Take a look at a Port bottle. This style of wine, which is meant to age, is stored in heavy, dark glass to protect it from what is called lightstrike.
But it isn't just sunlight that can impact the wine in the bottle. Fluorescent and incandescent light can also ruin wine. What does it do to the wine? Well, it basically makes it stinky. (The light causes amino acids in the wine to transform into compounds that are…well, stinky.)
So what does this mean for you? Well, you could restrict your wine buying to only those wineries conveying that they prioritize wine storage that protects their wine from light. If you've ever purchased or even seen a bottle of Cristal Champagne for sale, you might notice the orange cellophane wrap, which the winery instructs should be left on until you're ready to open the bottle? Yes, it's there to protect the wine from damaging light rays.
The wine I mentioned in my introduction, Untouched by Light, attacks the problem with greater vigor. The grapes are picked in darkness, the wine is produced in darkness with the winemaking team wearing night vision goggles. It is then bottled in the dark and sealed in black bags to ensure no light will ever penetrate, until the wine is poured into a glass.
For most of us, limiting our wine choices to "protected" bottles isn't realistic. And even if it is, it's boring. But what we can do is employ good wine storage practices to help reduce the chance of serving a lightstruck wine.
How should you store wine at home?
Have you ever seen a kitchen with a wooden wine rack built into the cabinetry? As someone who has looked at more than my share of open houses in hopes of finding my perfect home, I've walked into at least a dozen homes with a "wine storage" selling point, only to find that wine storage is a kitchen wine rack above the refrigerator, next to the stove or, worst of all, directly in a column of afternoon sunlight.
Wine storage racks in your kitchen are a poor choice for a variety of reasons. You want your wine stored in relative darkness and at a steady temperature. (Fluctuations in temperature can damage wine quality and ageability.) Kitchens are usually among the brightest and lightest rooms in the house. In addition, kitchen temperatures fluctuate, probably more than any room in the house if you're an avid cook.
You would be far better off putting your wine in a Coleman cooler at the bottom of a dark closet than sticking it in one of those built in wine racks, placed more for aesthetics than actual wine storage.
RELATED: Learn about the aging potential of high altitude wines
Best temperature to store wine
Which brings us to the question, "What is an ideal wine storage temperature?"
In 2014, an Italian study led by Dr. Fulvio Mattivis of Fondazione Edmund Mach demonstrated that wines age faster–as much as four times faster–when stored at room temperature, than when they are stored at a cooler temperature. Most wine experts will tell you that the best temperature to store red wine is around 55 degrees fahrenheit. (Some will recommend anywhere between 55 and 65 and say that different styles of red should be stored at slightly different temperatures.) The best white wine storage temperature is slightly lower, although most experts agree that 55 degrees is a good target for both reds and whites.
Remember, this is ideal. But if you don't have the exact right conditions, I can tell you from personal experience that finding a dark space, cooler than room temperature with little temperature fluctuation will work. My wine storage is a closet in the interior of my home that I double insulated when we remodeled. The wine storage temp fluctuates by four or five degrees throughout the year but it always remains somewhere in the low to mid-60's.
How to store collectible wines
If you have collectible wines, your best bet is to use professional wine storage. At a professional storage unit, storing red wine at correct temperatures for the style is much easier than trying to do it at home.
Another alternative is to take a closet like I did and add a cooling unit. But if you have the space to install a wine storage fridge in your home there's no need to go to this extreme.
Wine refrigeration units not only help hold the wine at a steady temperature but they also control humidity. (Over the long term, dry air can dry out corks and eventually damage the wine. This is part of the reason most experts will tell you never to store wine in your regular refrigerator–which runs at a colder temperature than a wine refrigerator–for more than a few days.)
RELATED: The Most Popular Wine Styles in America
Choosing a wine fridge
If you do decide to go the route of a wine cooler, you're probably going to feel overwhelmed by the choices. Units that store wine at the appropriate temperature and humidity start at just over $100 and can run into many thousands of dollars. (You'll find a nice selection on Amazon in the $100-$200 range.)
If you have or plan on even starting a modest collection, or just a few wines–both red and white–you want to age before drinking, you might to consider a dual zone wine refrigerator. These units are for storing red wine at one temperature and storing white wine at a slightly colder temperature.  I know that Wine Enthusiast sells a 32-bottle, dual zone wine cooler for under $500, which is about the lowest price I could find for a dual zone unit in an online shopping search.
Shop at Costco
I'm not a Costco member but I'm told that a Costco wine refrigerator can represent excellent value for money. I did a quick browse of Costco's Wine Cellars and Coolers section and found that, although there are few choices under $1,000, if you have the space and budget, there are some large wine storage units at great prices on the Costco website. I found one highly regarded unit selling for more than $500 under the suggested retail. (You have to be a member to buy.)
Buy a wine refrigerator with UV coated glass
However there's one last thing to think about before investing in a wine cooler. If the cooler you're considering has a glass front, make sure the glass is UV coated before you buy. Most are, but it never hurts to make sure. You don't want to invest in storing your wine at the correct temperature, only to have it ruined by light.
Untouched by Light
And that brings me back around to the tasting notes I promised earlier in this column. As I mentioned the wine that inspired me to write about wine storage, a Slovenian sparkling wine called Untouched by Light. I participated in the debut tasting of the wine earlier this month. It was held via Zoom to allow participation of wine writers around the world.
During the tasting, we were all asked to open and taste the wine in a dimly lit or dark room. We actually "watched" winery representatives taste the wine in complete darkness! Here are my impressions of this first-of-a-kind wine that never, from the day the grapes were picked until I uncorked the bottle, saw a ray of light. (A gimmick? Perhaps. But it is also an emblem to prove the point that light causes wine to evolve, and not in a good way.)
My Untouched by Light Tasting Notes
2016 Radgonske Gorice Untouched by Light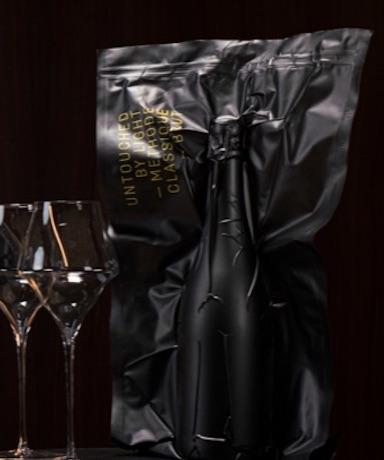 This 100% Chardonnay made in the méthode champenoise might be my first Slovenian sparkling wine. It most definitely is the first wine I tasted in the dark. (I did turn on the lights to make notes.) Without the ability to evaluate the wine by sight, I was drawn most to texture. And this wine's creamy texture is probably its finest attribute.
Did making the wine in the dark improve it in any way? I can't really say! I will say that it had lovely aromas, with the freshness of citrus zest and a hint of beeswax. And since aroma is the wine attribute impacted by light, it's worth noting. I would have loved to have compared this bottling with the exact same wine made in the traditional way–in the daytime.
If you ever happen to find a bottle, (that might be tough as I believe only 2,500 were made), let me know what you think!
Don't miss a month of my Woman on Wine column
Amy Reiley is an internationally published wine writer as well as a leading authority on aphrodisiac foods. Got a question about wine, food or sexual health? She probably has the answer!
Wine cellar photo from PxHere.
Latest posts by Amy Reiley
(see all)
Get on our mailing list
Subscribe and get our exclusive list of Six Great Sex-Boosting Snack Foods for FREE! Unsubscribe at any time - privacy policy