Four Seasons Tented Camp: honeymoons with buddha and elephants
Our articles may contain affiliate links. For more information, view our policies.
Four Seasons Tented Camp makes a romantic experience like no other
For travelers who want a taste of the wild while contributing to the welfare of the jungle and its inhabitants, Four Seasons Tented Camp, Golden Triangle in Thailand provides a bonding memory that brings in the element of "never forgetting."
The camps 15 inside/outside bungalows evoke the era of 19th century explorers but with amenities that range from wood-burning fireplaces, private terraces over the rainforest, rainshower outdoor showers and copper tubs for two, jungle walks through the cliffside resort expanse, jungle-shrouded side-by-side spa treatments, and a swimming pool overlooking the river.
Get to know our editors favorite destinations around the world! 
Get up close and personal with the elephants
But the camp offers something not found elsewhere–mahout lessons. The all-inclusive nature of this luxury camp extends to adopting an elephant and riding it, talking to it, feeding it and caring for it while visiting. Each elephant is a rescue elephant that was abandoned by loggers or farmers and left to wander to streets of Thailand's cities with dim prospects for survival. A portion of each booking at the camp goes to an active elephant rescue foundation in Thailand.
A place for honeymooners
"We get a lot of honeymooners here. It is a very romantic place. There is a lot of alone time as you are pretty isolated in this area at the border of Burma, Laos and Thailand with nothing but the sounds of birds and wildlife around you. But you are really not alone at all as you are out there exploring the jungle every day and forming a bond with the elephants," says Maria Kuhn, spokesman for Four Seasons properties in Thailand.
A wedding destination
A fairy tale wedding can be ordered up at the Four Seasons Tented Camp – but the knight in shining armor is actually a groom on an elephant. The sunset wedding ceremony takes place on the pachyderm's back at the Camp's summit with vantages of three countries. A white orchid campfire dinner for two culminates in the launching of traditional Thai lanterns into the night sky carrying the wishes of the newlyweds to the gods.
Love Thai flavors? Try our Shrimp in Red Curry recipe. 
For more information on the Four Seasons Tented Camp
The camp can accommodate up to 30 guests total. An all-inclusive three- or four-night adventure package, which includes all meals and (house) libations plus arranged activities, mahout training and elephant excursions, one 90-minute spa treatment per guest and roundtrip air transfers from Chiang Rai International Airport starts at $1,994 per night plus tax and service fees through August.
Discovering more of Thailand
A trip to Thailand is major time commitment. And most travelers will look to experience as much of this exotic nation as possible. For those couples looking to include an island experience to their itinerary, Four Seasons Koh Samui has it all: the villa guest room expanse, the white sand beaches, the exquisite resort grounds and the nearby towns for local meanderings.
Expect much of the same dedication to service and preservation of culture as you would at the Four Seasons Tented camp. But at this property, the architecture takes up a hillside. So each villa comes with stunning views of the Gulf of Siam that can be enjoyed from a private patio furnished with a double day bed, a plunge pool and fountain and a personal outdoor barista bar.
A private dining cove on the beach set up with a sumptuous table in the shallow warm waters, a fire pit, candles in the sand and doting, albeit "invisible" wait staff, is a winner with honeymooners and proposal makers alike. (A day's notice is needed to reserve and put into action).
The Koh Samui resort offers an "East Meets West" package that allows couples to marry in Thai tradition with a Buddhist ceremony blessed by monks. The package starts at $5,250 for three nights and includes daily breakfast, a 90-minute spa treatment for the bride and groom as well as manicures and pedicures for both parties; a blissful and blessed Buddhist ceremony; a romantic dinner in villa or private cove, a bottle of aphrodisiac Champagne and a rose petal path to the villa.
Without the wedding ceremony, a three-night romance package starts at $1,118 per night and includes daily breakfast, a three-hour Romance Spa session for two, private dinner on the beach, Champagne, airport transfers and a keepsake photo album with disposable camera.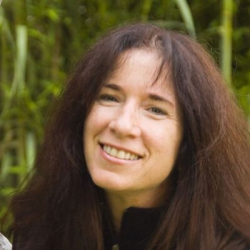 Latest posts by Lark Gould
(see all)
Get on our mailing list
Subscribe and get our exclusive list of Six Great Sex-Boosting Snack Foods for FREE! Unsubscribe at any time.