Romancing the Waters at Spa Aquae
Our articles may contain affiliate links. For more information, view our policies.
It's an odd intimacy – the one that happens with a significant other, naked, vulnerable, silent … and in the presence of two strangers of random gender. The room is not the bedroom, nor a hidden alcove in some swinger's trailer outside. Rather, at Spa Aquae, it is a treatment room lit with flickering candles and low lights, filled by sensuous music and spicy exotic scents and a certain sense of safety that all is well with the world, with you and with the one beside you.
Discover Spa Aquae, a destination designed for couples
A massage à deux can be bonding indeed as you both set off, side by side, in a personal indulgence of the senses and the self. But one spa in the western desert knows there is much more to a wellness journey for two than having your muscles kneaded in the same room at the same time.
Spa Aquae at the JW Marriott in Las Vegas is a world away from the world. Defenses melt away in just preparing for this journey of rejuvenation and discovery.
Water is the thing here. It is at the heart of healing power and spirit for this spa so it is only natural that couples prepare for their romantic odyssey by soaking in a circuit of cooling therapy pools and pods. You will start out alone in the Ritual Room with calming hot and stimulating cold plunges followed by a soak in the warm float pool.
Enter the gardens and join your loved one in outdoor pools surrounded by waterfalls. Move in and out of six invigorating chambers of shallow waters – each pulsing its jets to massage a key part of your body, to loosen tense muscles and tempt away the toxins. Dry your skin in the sun's warmth. Sip Elixir teas as you settle into the moment and wait for the therapist to guide you to your next awakening. At Spa SaAquae you can choose from a laundry list of possible experiences.
What's on the Spa Aquae menu
You can have full-body side-by-side Swedish massages with light to medium pressure for the relief of general tension. Long, gliding strokes and kneading techniques alleviate muscle fatigue, improve circulation, and reduce stress.
*Swedish Massage 50/80 min $240/$330 per couple
Or you can choose from a variety of modalities: Deep Tissue, Swedish, Desert Stone, Reflexology, Scalp, Foot or Aromatherapy. Your Massage Therapists will help you customize these treatments to fit your specific needs.
* The Sampler Massage 50/80 min $270/$360 per couple
Spa Aquae offers a delicious vino-infused hour at the salon with a custom-designed, 50-minute pedicure featuring an almond-biscotti milk soak; a sugar scrub with Italian red wine reduction, crushed grape seeds, and grape seed oil; a foot masque with red wine reduction; and an almond biscotti moisturizer application. Red grape skin contains a powerful anti-oxidant and anti-carcinogen called resveratrol that makes up the foundation for this treatment. This sensuous pedi-break includes two glasses of wine and a cheese platter to share.
Discover how red wine can benefit your health
* Side by Side "Wine Down" Pedicures 50 min $200 per couple
Find your peace – and stride — in the desert, together, as the spa's yoga instructor guides you and your lover through a mind, body and spirit-connecting adventure in the vast and beautiful desert expanse beyond the city. Each customized trek is tailored to guests' needs, with a gentle walk or challenging hike complimented by an energy-radiant yoga session in natural surroundings. The four-hour Vitality Treks are available every Monday, Wednesday, Friday and Saturday from 9 am to 1 pm by reservation only.
* Romantic Red Rock Hike/Yoga 4 hours $200 per couple
Go ahead. Go all the way. Get in the car and get away for a Couples Weekend at JW Marriott. Kindle your romance, crank up your chahkras, tickle your kundalini. This is a weekend that will let you have it all. Your two-night stay in one of the resort's luxurious suites includes breakfast in bed daily. Day one will begin with a couple's day of golf at TPC at the Canyons followed by a one-hour lesson with a Tour Academy pro.
Where to go after the spa
Top off the day with a romantic dinner either in-room or at one of the resort's prestigious restaurants: Shizen or Ceres. On day two, enjoy breakfast, followed by a 50-minute couples massage at Aquae Sulis followed by …doing absolutely nothing. Spend the day lounging by the pool inside a private cabana that is perfect for cuddling. Do your NY Times crossword puzzle together; finish that book on your night table and let time stand still, just for a little while, with the one you love.
For more information
*The 'Couples Weekend Getaway' package begins at $1,035
JW Marriott Las Vegas Resort & Spa
(702) 869-7777
221 N. Rampart Blvd.
www.jwlasvegasresort.com
Come check out our latest travel news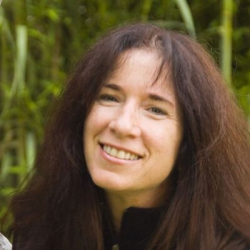 Latest posts by Lark Gould
(see all)
Get on our mailing list
Subscribe and get our exclusive list of Six Great Sex-Boosting Snack Foods for FREE! Unsubscribe at any time - privacy policy