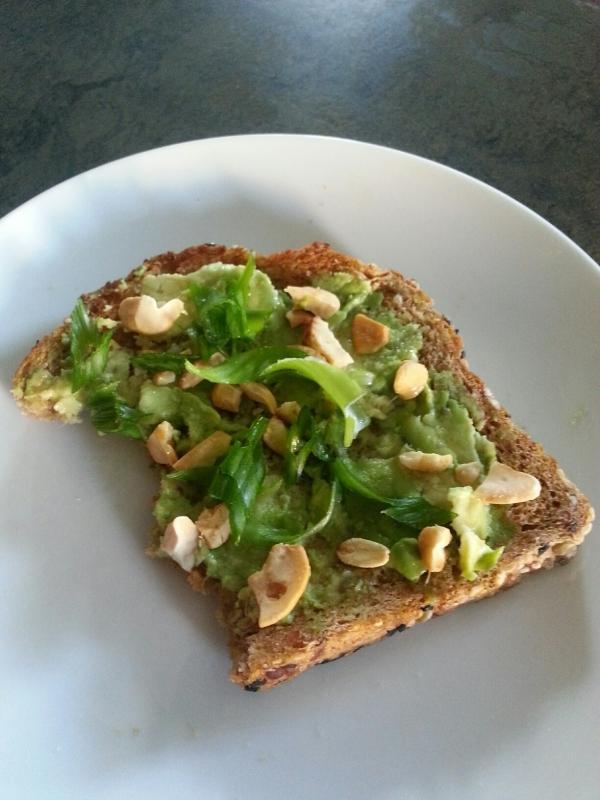 An indulgent version of Avocado Toast
Just when you thought Avocado Toast couldn't be done another way…we're doing it! Look although I apologize for rehashing the most tired recipe on the internet. But my version it so good, it would be wrong of me not to share it with you.
You see, when I make avocado toast, I like to go gluttonous. (And yes, smashed fruit on multigrain can be an indulgence. Just wait until you try this!) First of all, I make sure the top of the toast gets a nice coating of moisture with a slathering of solidified coconut oil. Then I smear on the mashed avocado. (Be sure to use the avocado liberally, because you know it's an aphrodisiac!)
But for me, thats not enough. I like texture. So I add extra crunch with roasted cashews and the savory flavor of scallions. (Incidentally, did you know that scallions are great for your health?)
Chef's tip
The secret to the sandwich is good bread. I prefer a seeded bread. If I can, I'll use a fresh baked loaf of multigrain but I also keep a loaf of my favorite avocado toast bread on hand for those times when I can't just run to a bakery and pick up fresh bread. I like to use Dave's Killer but you can use whatever you like. Just make sure it's loaded with seeds. (The recipe can easily be tailored to vegan and gluten-free diets, depending on the bread you choose.)
Although this recipe may not be for the dieting crowd, this open-faced sandwich is loaded with aphrodisiac ingredients, nutrients and flavors to sweep you away to your imaginary island of happiness feeling like your most sexy self.
Want more avocado recipes? Try these Picnic Sandwiches with tomato, avocado and bacon! They're a variation on a recipe from my cookbook Romancing the Stove. And they are definitely my go-to for a casual picnic food.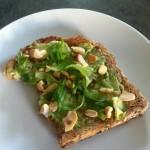 Avocado Toast with Coconut and Cashew
A super-gluttonous rendition of avocado toast, it combines the tropical flavors of cashew and coconut oil with ripe avocado and just a touch of scallions.
Course:
Appetizer, Breakfast, Main Course, Snack
Cooking Style:
Easy, fast, vegan, Vegetarian
Diet and Health:
gluten-free, healthy-ish
Ingredients
2

slices

of your favorite seedy

whole-grain bread (We recommend Dave's Killer 21 Whole Grains and Seeds Thin-Sliced)

coconut oil

1/3-1/2

Haas avocado

3

"scallion

thinly sliced, green top part only

2

tbsp

roasted

salted cashews, roughly chopped

pinch

sea salt
Instructions
Toast the bread.

While the bread is warm, spread both slices with a thin layer of coconut oil.

Scoop the flesh from 1/3 or 1/2 of a Haas avocado (depending on size) and divide in two. Spread it into a chunky paste on each slice.

Top each with 1 tbsp cashew and half the scallions.

Sprinkle with sea salt to taste.
Pin this Avocado Toast recipe: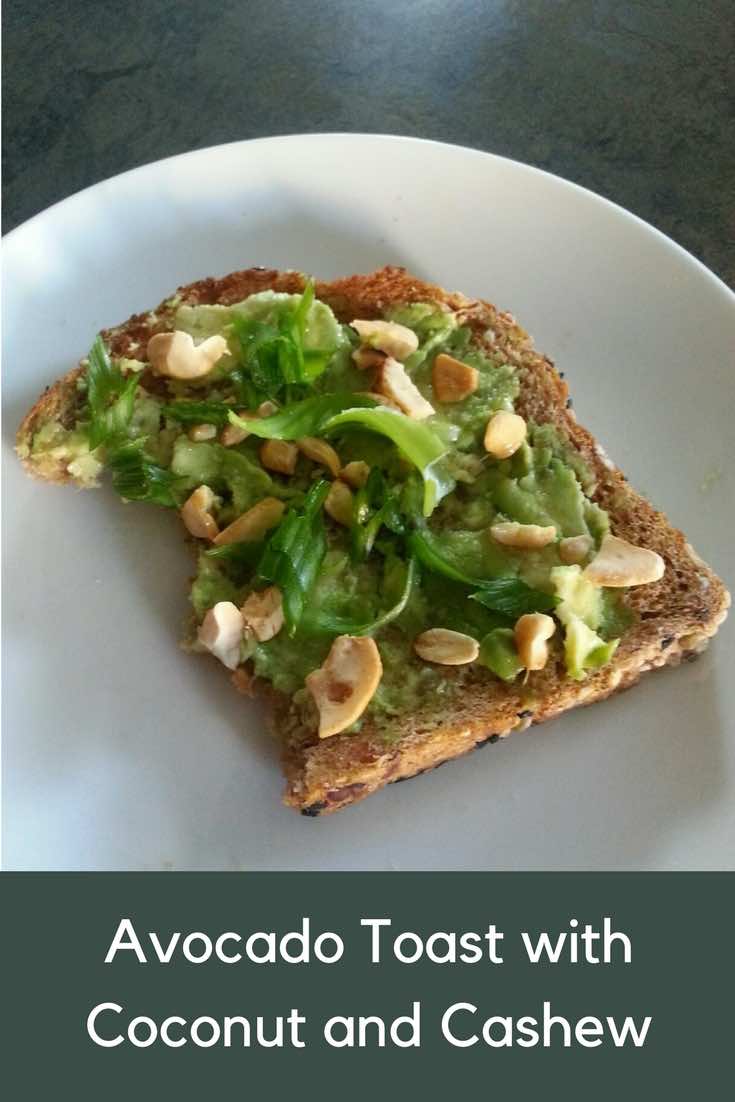 FREE APHRODISIAC NEWSLETTER
Subscribe to our free aphrodisiac newsletter