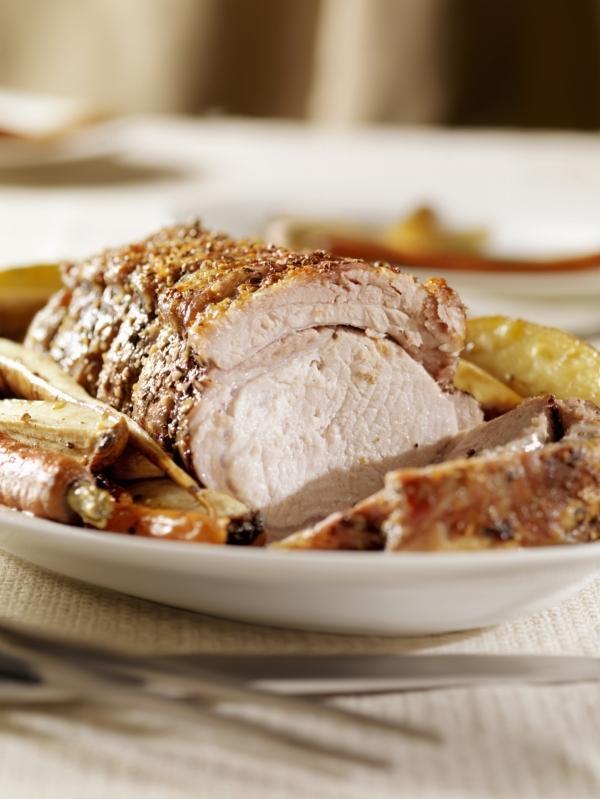 A Romantic Dinner Recipe for Pomegranate Pork with Aphrodisiac Vegetables
Our articles may contain affiliate links. For more information, view our policies.
This easy romantic dinner recipe comes from my cookbook Romancing the Stove the unabridged guide to aphrodisiac foods. And it's one of the recipes in the book that gets the most feedback. Because the pork and vegetables cook together, my readers love how easy it is to create a full meal from one delicious recipe.
I designed this roasted pork recipe to showcase one of the world's most romantic ingredients, pomegranate. In addition to being one of my favorite fall and winter fruits, pomegranate is a legendary aphrodisiac food. In fact, its reputation as a food of love is shared by cultures all over the world.
And while this scarlet fruit is the dish's star flavor, it is only one of many potent aphrodisiac ingredients in this date night recipe. Sweet potatoes and fennel, both noted libido-lifters, are taken to a whole new level by roasting with sweet, pomegranate butter.
That's right! Sweet potatoes and fennel are aphrodisiacs. It really makes you look at planning an at home date night menu differently, doesn't it?
A note on couples cooking
Because this romantic dinner recipe requires several steps, it's a perfect recipe for a couple to cook together. Believe it or not, working side-by-side with your sweetie in the kitchen can be an excellent prelude to seduction. (It's also a great excuse to get some help making dinner!)
And if you want to make a full romantic experience, serve it with your favorite wine. I like serving this pork dish with Prosecco or dry Riesling. But it with also work with a well-balanced red wine. So go with the wine that you like! It makes a great choice for a Valentine's Day dinner but this easy romantic dinner idea is also great for turning an ordinary Sunday evening into a night to remember!
And don't forget about dessert. I like to make these Chocolate and Pomegranate Mini Bundt Cakes to serve after the main course to carry the pomegrante theme through.
Roasting pork loin vs pork tenderloin
This oven-roasted pork loin recipe calls for a boneless loin. Pork loin and pork tenderloin are fairly similar cuts of meat in that they're both quite lean and easy to cook. (They're also easy to overcook!) But a pork loin, which comes from the back of the animal, is the wider of the two cuts and usually comes with a layer of fat on the top. This makes it the easier of the two to cook without drying out the meat.
Using a meat thermometer
This recipe for cooking a pork loin roast calls for a marinade. (In this case, my pork loin marinade is a simple but effective combination of pomegranate juice and salt.) This is one of my tricks for ensuring a moist, flavorful and delicious final dish.
If you're worried about cooking a pork loin in the oven I want to assure you that it couldn't be easier. But you do need one very important tool before you start. You cannot cook this pork loin roast recipe in the oven without a reliable meat thermometer.
It doesn't matter if it's digital or a mechanical model. (I use a mechanical thermometer so I don't have to worry about batteries.) The only thing that matters is that you use it. In fact, I recommend cooking your pork loin in the oven by the meat's internal temperature rather than cooking time.
Substituting with pork tenderloin
This recipe, because it's meant for a dinner for two plus leftovers for lunch the next day, calls for a very small pork loin. If you have trouble finding a cut this small, you can use a pork tenderloin. I've made this recipe with a longer, thinner pork tenderloin many times and it works quite well.
The only trick is to watch the temperature. The meat will cook in a shorter period of time and it can get unpleasantly dry when overcooked. So use your thermometer!
Need a pomegranate cocktail recipe? Check out The Aphrodisiac
How to make quinoa sexy
The base of the dish, quinoa, is known as a good-for-you grain. It definitely does not have a reputation as a food of seduction. But let's try to change that. Because quinoa is one of those foods that can really benefit your sexual health. In fact, quinoa is truly one of the most nutrient-dense side dishes you can make.
This nutritious grain is a good source of protein and is loaded with fiber. That may not sound sexy, but protein is key for the sustained energy of a night of passion. And fiber is incredibly important to your romantic life because it can banish bloat and help you feel the sexiest.
And assuming you're making this pork loin recipe as part of a romantic dinner for two, you might be interested to know that quinoa is also a source of several nutrients beneficial to your sex life, including manganese and zinc. But it's also on the bland side. That's where a flavorful dressing comes in!
An easy quinoa dressing
I add plenty of natural flavor-boosting ingredients to my quinoa recipe by bathing it in a simple dressing of fresh lemon juice and olive oil with a generous pinch of salt. The lemon gives an acidic spark to the dish and lifts quinoa's subtle, naturally nutty flavor.
Lastly – and this is the key – I add in fresh mint. Mint is a wonderful, fragrant partner for pomegranate and really helps to tie this simple quinoa in with the other elements of this pork dish.
Incidentally, did you know that mint is considered an aphrodisiac? It not only sweetens breath but, just like quinoa, it's actually a source of several vitamins and minerals important to sexual health. Make a mental note that this is a go-to ingredient when you're searching for date night dinner ideas!
TRY NEXT: Quinoa with Myer Lemon, Turmeric and Black Pepper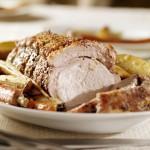 Pomegranate Roasted Pork Loin with Quinoa and Sexy Veg
Print Recipe
This roasted pork recipe combines multiple layers of flavor and texture to create one complex and sensual dish. It's a great recipe for couples to cook together, since there are multiple components to complete and bring together at the end. 
Ingredients
1

shallot

finely minced

1

cup

pomegranate juice

1/4

tsp

salt

1 1/4

lb

boneless loin of pork

1

medium sweet potato

3

parsnips

1

bulb fennel

1

medium

yellow onion

1

clove

garlic

finely minced

1

tbsp

pomegranate kernels

optional
For the Pomegranate Butter:
1

cup

pomegranate juice

1/4

cup

white wine

1

shallot

finely minced

4

tbsp

unsalted butter

cold

salt to taste
For the Quinoa:
1

cup

quinoa

1

tbsp

olive oil

1

tbsp

lemon juice

salt to taste

1/4

cup

fresh mint

chopped
Instructions
For Pork Loin:
Place shallot in a Ziplock bag with 1 cup pomegranate juice and 1/4 tsp salt. Remove pork from the refrigerator, add to the bag and marinate on the counter for 30 minutes. (This will allow the pork to come almost to room temperature before cooking.)

Preheat oven to 400 degrees while you make the pomegranate butter (recipe below).

Cut sweet potato and parsnip into uniform, 1/2-inch pieces. Chop fennel and onion into 1/2-inch long slices. Put the vegetables into a roasting pan and toss with the garlic and 2 Tbsp of the pomegranate butter, (recipe below).

Add the pork to the pan and cook, uncovered, for 30-45 minutes, until a meat thermometer reads 138 degrees.

Remove the meat from the pan and cover with foil. Allow loin to rest for 15 minutes.

Test vegetables with a fork. If they do not feel tender, return pan to the oven while meat is resting.

Slice meat thickly and serve over the quinoa (recipe below) with the vegetables as garnish. Drizzle with remaining pomegranate butter to taste. (You may choose not to use all the butter. Any leftovers can be served over grilled chicken or steaks.) Sprinkle with pomegranate kernels (optional).
For the Pomegranate Butter:
Saute shallots in white wine, let the wine reduce.

Add pomegranate juice and reduce by a third.

Remove from heat incorporate butter.
For the Quinoa:
Add quinoa to a saucepan with 2 cups water and bring to a boil. Turn heat to low, cover and cook for 10-15 minutes until quinoa has softened and is fluffy but still has texture. (Overcooking quinoa will produce something the texture of grits.)

When quinoa is cooked, remove from heat and cool for 20 minutes. Toss with lemon juice and oil and season with salt to taste. Toss in the mint just before serving.
Get the cookbook
Love Amy's pork loin roast recipe? Get the whole book, Romancing the Stove: the unabridged guide to aphrodisiac foods:
FREE APHRODISIAC NEWSLETTER
Subscribe to our free aphrodisiac newsletter