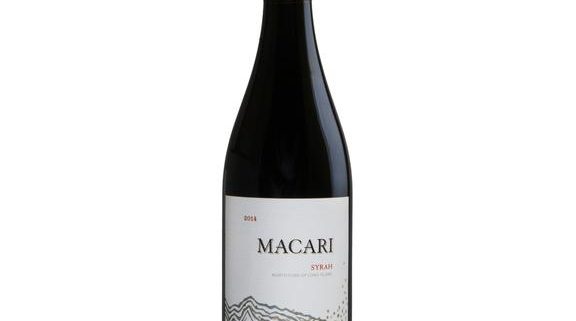 Macari Syrah: a Rare Find on the North Fork of Long Island
Our articles may contain affiliate links. For more information, view our policies.
The Syrah grape, also known as Shiraz, is most common in the Rhone Valley of France and eastern Australia. It thrives in the most challenging soil conditions and climates and requires hot weather to ripen evenly.
About Long Island's North Fork
The North Fork of Long Island typically has more in common with the climate of Bordeaux than the steep slopes of the Northern Rhone. Still, this may be a situation in which the adventurous North Fork growers see their risks pay off, once again.
Pindar Vineyards was the first to plant Syrah on Long Island, and produced their first vintage in 1995. Still, only a scant handful of the over 50 wineries grow Syrah, and only in small quantities. Macari Vineyards has only 3 acres of Syrah, nearly all of which goes into this 100% varietal wine.
Macari Vineyards was founded in 1995 by Joseph Macari, Jr. along with his wife and adult children, all of whom are actively involved in the business. Each plays multiple roles, from mixing the special blend of compost, to assisting with wine-making duties, and consumer education and marketing. The Macaris are dedicated to biodynamic practices in the fields, and carrying that dedication into the cellar with the award-winning winemaking of Kelly Urbanik Koch.
My review of Macari Syrah, North Fork AVA
For fans of Syrah, you can expect this wine to be more "Old World style", medium-bodied, at only 13.2% ABV (read: not Australian Shiraz). In the glass, the sheer ruby-red clarity is your first hint to expect something delicate and elegant. On the nose, violets, earthy wild berries, figs, and a hint of smoked meat. On the palate, this wine is juicy with red fruits, tea, plums, and black currants. The tannins are silky and well-integrated. There is a hint of smokiness on the finish – something I typically associate with the Old World style.
Macari Syrah is probably not something most of you will be able to find in a local wine shop, but it's available online through the Macari Vineyard website. At $45/bottle it is not in my "everyday" category, but it's well worth the splurge – especially since it will certainly age well for at least 5-10 years or more (which means you'll need two or more bottles, one for now, more for later). While you're there, check out their many other offerings – each with a distinct character and just plain delicious!
If you find yourself in the NYC area and can make the trip out to the North Fork – absolutely do! In addition to beautiful wineries, there is still a strong agricultural community and roadside stands punctuating the roadways. And don't forget, this is also an island… the North Fork has the Great Peconic Bay and the Long Island Sound. The South Fork (aka The Hamptons) has the Atlantic Ocean, as well as a great bunch of wineries of their own.
Latest posts by Annette Tomei
(see all)
Get on our mailing list
Subscribe and get our exclusive list of Six Great Sex-Boosting Snack Foods for FREE! Unsubscribe at any time - privacy policy