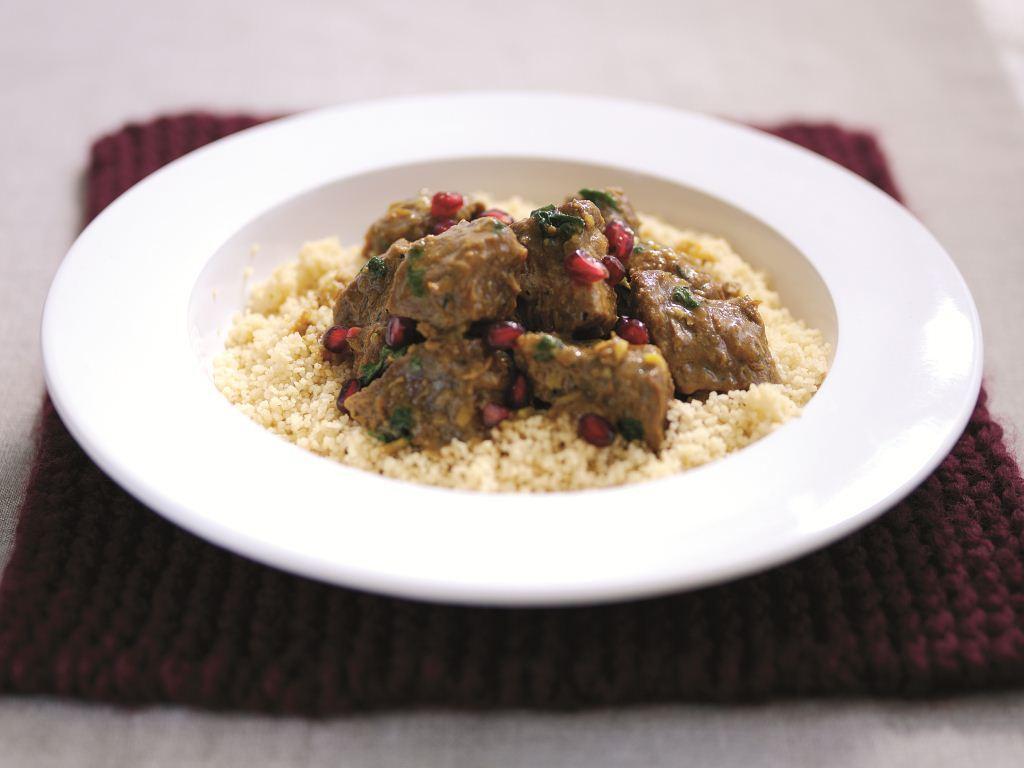 Lamb Tagine Recipe with Pomegranates & Apricots
Our articles may contain affiliate links. For more information, view our policies.
This beautiful lamb tagine recipe combines the savory, gamey flavor of lamb with the sweet tang of pomegranate and dried apricots. It's a sensual combination of savory and sweet, layered with spice. Best of all, it's a wonderful introduction to tagine cooking that you can try even without owning a tagine.
What is a tagine?
The tagine is a star of Moroccan cooking. But the word tagine has two meanings. It's a cone-shaped  cooking vessel traditionally made from clay or ceramic. A tagine has a cone-shaped lid that helps return steam back to the food while it's cooking. This added moisture helps create a soft, stew-like consistency to a food cooking within this traditional vessel.
But tagine also refers to the fragrant North African stews produced in this cone-shaped cookware. A tagine is typically a mixture of meat with spices and fruits or vegetables. But vegetables are sometimes cooked alone to make a tagine.
How do you make this tagine recipe?
You don't have to have the traditional clay cookware to make a tagine. This Morocccan lamb tagine recipe is adapted for American cooks by using a sauté pan with a tight-fitting lid.
If you don't already own a sauté pan with a good lid, this piece of cookware makes an excellent investment. You're sure to use it again and again. Here's one of my favorite pans.
Of course, you can also invest in a tagine and dive into the world of Morroccan cooking headfirst. (Just remember that a tagine needs to be seasoned before you use it.)
You start cooking this tagine by making a fragrant oil with seasonings including the aphrodisiacs of turmeric and fresh ginger. The meat is cooked in this fragrant oil before you add the water and the simmering process begins.
Note it is absolutely key that your lid fits tightly if you are using a pan and lid. As the stew cooks, the lid traps the moisture and returns it to the pot.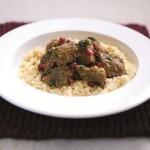 Lamb Tagine with Pomegranates
Print Recipe
This exotic lamb tagine combines the sweetness of pomegranate and apricot with the gamey flavor of lamb in a fragrant stew flavored with aphrodisiac spices. 
Ingredients
2

tbsp

vegetable oil

3

large shallots or 1 medium onion

peeled and finely chopped

2

tsp

ground ginger

1/4

tsp

ground turmeric

1/4

tsp

sweet paprika

salt and freshly milled black pepper

1 1/2

lb

lean boneless lamb shoulder

cut into 1-inch cubes

2

garlic cloves

peeled and crushed

pinch saffron threads

3/4

pint

hot water

1

cinnamon stick

2

sprigs fresh thyme

3-4

dried apricots

roughly chopped

3

tbsp

freshly chopped coriander

2

tbsp

fresh pomegranate seeds
Instructions
Heat the oil in a large sauté pan for which you have a tight-fitting lid. Add the shallots, ginger, turmeric, paprika, salt and pepper. Cook over low heat for 1-2 minutes.

Add the meat and garlic, coat in the flavored oil and cook for 4-6 minutes until brown all over.

Add the saffron and water. Bring to the boil, reduce the heat, cover tightly and simmer for 2 hours.

Ten minutes before the end of the cooking time, add the cinnamon stick, thyme, apricots and coriander Cover and continue to cook for the remainder of the cooking time.

Remove the thyme and cinnamon stick from the tagine. Garnish with the pomegranate seeds and serve with steamed couscous or rice.
Pin this lamb and pomegranate tagine recipe:
Get on our mailing list
Don't miss out on a thing! Get news, deals & more!