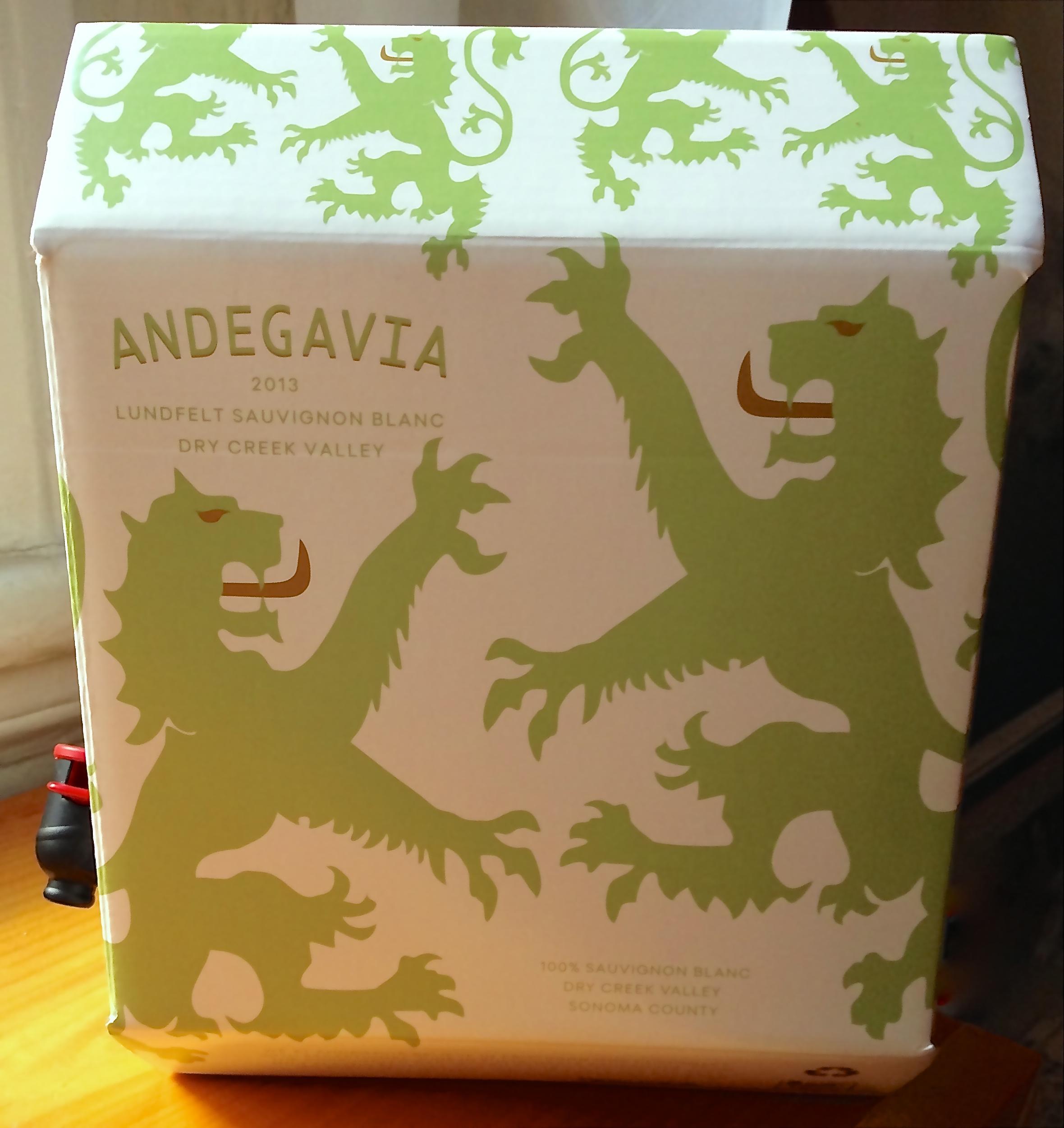 Great Cask Wine: Andegavia, Lundfelt Sauvignon Blanc, Dry Creek Valley, Sonoma, California
Our articles may contain affiliate links. For more information, view our policies.
2013, Andegavia, Lundfelt Sauvignon Blanc, Dry Creek Valley, Sonoma, California
The Wine of the Week
 by Annette Tomei
Yes, that photo is exactly what you think it is – a box of wine – or, as Europeans and the producer of this particular wine prefer to call it, cask wine. I've long been a fan of "bag in a box" technology – there's no better way for open wine to stay fresh longer. In this format, wine is protected from the deteriorating effects of oxygen and light. Flavor and brightness are maintained for weeks longer than they are with any other closure (but you still have to care for the temperature issue – heat is still a destructive influence, no way around that yet). This packaging format is also better for the environment (the world's and our kitchens') – 4 bottles fit into a cask that's smaller than a gallon of milk and they weigh about the same, which makes them significantly lighter than when packaged in glass. Andegavia's packaging is 100% recyclable and breaks down flat to take up very little space in the bin too.
All that means nothing, however, if the wine that is being preserved is better suited for the bin than for your enjoyment. As long as I've been a fan of the idea of "cask" wine, I've also been highly critical of the wines they hold. But, in recent years, there's been a movement to change that – a few courageous producers (mostly French) have started putting delicious wines in those hidden bags, and a few adventurous consumers have enjoyed them immensely.
Andegavia, despite its Italian-sounding name, is a California brand based in Napa Valley. In the timeless tradition of the négociant, a French term for a business that purchases unused grapes and/or juice from growers and producers (often well-known in their own right), making their own wine from the assemblage; Andegavia produces AVA-designated wines from fruit otherwise destined for high-end Napa and Sonoma brands.
The Andegavia Sauvignon Blanc carries the Dry Creek Valley AVA designation. This region is home to some of the most highly regarded American Sauvignon Blancs. True to its roots, this wine has ripe aromas of melons and pears, and a hint of passion fruit. On the palate it has a burst of peppery acidity and a green herbal finish. Though easy to enjoy on its own, this wine is even better at the table. Go for the classic Sauvignon Blanc and goat cheese combination, either on a baguette with fresh tomatoes and herbs, in a salad with dark leafy greens, or in a less-classic riff on risotto. The cask format provides the equivalent of 4 bottles, so this is a perfect party wine, and it goes great with party foods – veggies and dips, shrimp cocktail, and crab feeds or clam bakes (depending on which coast your leaning toward).
Disclosure: I am now the brand ambassador for Andegavia cask wines in New York City. I was not asked to write this article, nor was I (or will I be) compensated in any way for writing it.
Latest posts by Annette Tomei
(see all)
Get on our mailing list
Don't miss out on a thing! Get news, deals & more!