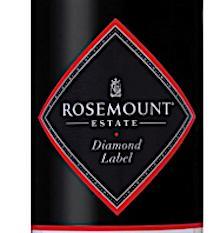 A Crowd-Pleasing Shiraz From Down Under
Our articles may contain affiliate links. For more information, view our policies.
2016 Rosemount Estate Diamond Label Shiraz, South Australia, Australia
Wine of the Week with Annette Tomei
Sometimes what you really want is familiarity, consistency, and simplicity. Like the comfort foods that we often turn to as the holidays approach, there are some wines that also fit this description. These are wines that are made to be consistent crowd pleasers. They create a simple background for the meals, conversations, and festivities to take center stage. That's why today, I'm writing about crowd-pleasing Shiraz.

Rosemount Estates was founded in 1974 and is still just as popular in its native Australia as it is internationally. Their wines have always been intentionally unpretentious, easygoing, and lushly flavorful. They are also well-priced for anytime enjoyment, or pleasing a crowd. Their Diamond Label wines are the most widely-known, and are made for immediate enjoyment – no pretension.
About this Wine
This deep inky hued wine has the classic Shiraz aromas of blueberry, black pepper, and a touch of smokey incense. Flavors of cocoa, plum, blueberry, clove, and other baking spices abound. The mouthfeel is lush and velvety; juicy but without much perceptible acidity. At "only" 13.5% ABV, it is made to please, not to overwhelm.
A wine this rich would overwhelm all but the most hearty dishes. Also, with lower acidity, it could easily feel flabby on the palate if served with acid-bright foods. Stick with braised meats, barbecue, and bacon (of the shiitake mushroom variety, if vegetarian). The back label also recommends a good strong cheddar – worth a try!
The Verdict
This is not fine wine, nor does it pretend to be. I recommend this wine for what it is… a familiar crowd-pleasing Shiraz that will be very easy on the wallet (average $8/bottle). And, in my opinion, a giant leap above some other similarly priced Australian wines with fuzzy critters on their labels. There is a time and place for everything – it's always good to know some reputable producers continue to uphold their promises.
Latest posts by Annette Tomei
(see all)
Get on our mailing list
Don't miss out on a thing! Get news, deals & more!