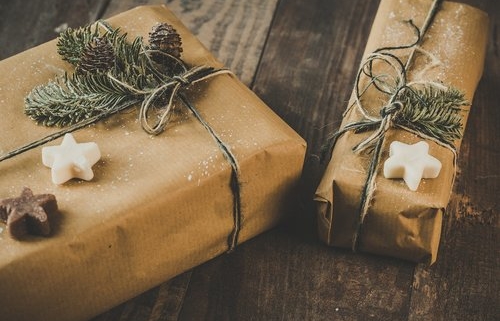 2020 Gift Guide: these better be good!
Our articles may contain affiliate links. For more information, view our policies.
Ah, gifting! It is an annual tradition and one that causes great stress for perfectionists around the world. There are those of us who simply order the first item they find in a Google search or first suitable item they spot in a store. Our 2020 Gift Guide seeks to relieve the stress of the perfectionist as well as elevate the gift giving game of the "front of shelf" slacker.
This year, I've put extra effort into finding "just the right thing," so you don't have to. I concentrated on finding great gifts for Christmas, Hanukkah or whatever you choose to celebrate this December that can be ordered online. Because SIP, and I don't mean the drinking kind, is still a part of our reality. In this stressful era, we need to find gifts that bring us extra pleasure as well as as ones we can easily get with the least trouble.
2020 Gift Guide Holiday food gifts
Great plant-based gifts

Casa M Spices
Casa M Spice Co®. is a multi-award-winning gourmet seasoning company with a range of rubs to enhance flavors on any meal. The gift sets are eye-dropping (and mouth-watering) and I have loved employing the spices in all types of cooking. It's among my favorite presents for a cook.
These are sizable portions so learning how spices work without intimidation is the focus of this innovative company. I especially loved the presentation and the inclusion of the company apron and tote bag in the largest gift set. Believe me, anyone receiving any of the Casa M Spice gifts will be more than impressed! Order yours direct from the Casa M website.

Impossible Foods POSSIBLE™ COOKBOOK COMBO PACK
With the Casa M spices, what could be better than plant-based Impossible Foods and the "possible" cookbook? If you're looking for a vegan gift or just a unique gift for a food lover the Impossible Foods Possible Cookbook Combo Pack is a fun gift idea. Ideal for vegetarian holiday dinner/party planning, try this ultimate starter kit complete with:
Impossible™: The Cookbook
One package of 10 Impossible Burger patties
Two 12 oz packages of Impossible Burger meat
Order yours directly from Impossible Foods.
Looking for more cookbooks? Check out all of our food book reviews. 
Gifts for the meat lover

Manly Man Company
Manly Man Jerky and other manly meat gifts – Along the same line but with a 180-degree difference in base product, Manly Man specializes in products that men (and women) crave. I tried the Booze Infused Jerky Gift Box. One of the most unique gifts in our 2020 gift guide, it's all about infusing jerky with a favorite alcohol. Capturing the slightly sweet and oaky burn of whiskey, the bold heat and sweet lime tequila taste, the sweet tropical taste of traditional rum and a bold punch of hops and barley of a draft ale, this gift set delivers and even has a couple extra items to remember the Many Man experience by long after the jerky is devoured.
Gift Set Includes:
1x Manly Man Co. Pint Glass
1x Manly Man Co. Coaster
1x Man Card Bottle Opener
1x Draft Ale Beef Jerky
1x Whiskey Straight Beef Jerky
1x Chipotle Tequila Beef Jerky
1x Caribbean Rum Beef Jerky
Order your Booze Infused Jerky Gift Box directly from Manly Meat.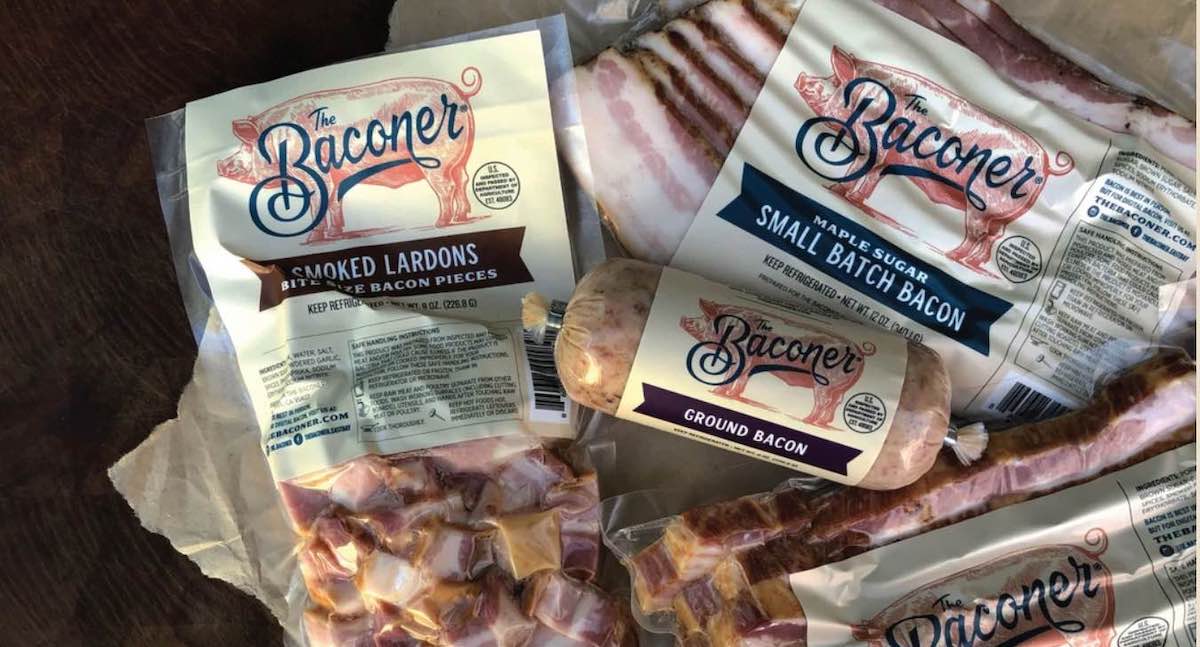 The Baconer Gift Sets
The Baconer prioritizes exceptional quality, innovative bacon cuts, and chef-driven flavors for a new generation of home cook and foodies. Sourced from small family farms, this responsibly-raised pork yields richly-flavored, tender bacon for bacon lovers across the U.S. And they offer several gift options to suit every pork lover's needs.
This is truly one of the best gifts for a cook who loves this salty aphrodisiac. And it is one of my favorite mail order gourmet foods. Products are available online, (shipping is free), and at select retail locations in the SF Bay Area. Visit thebaconer.com and help your favorite bacon lover to join their #BaconFam.
Gifts for staying healthy

Three Peaks New Zealand Manuka Honey
100% pure, raw and authentic honey from the North Island of New Zealand, this is a great gift for food lovers who are concerned about health. Praised for its help in digestive help and sore throat relief as well as wound healing, Three Peaks is unpasteurized with minimal heating and delicate harvesting. Available in a full size jar or convenient single serve packages of 5 grams (0.176 oz) to carry and use anywhere. Order yours now.
Need more wellness inspiration? Check out these 5 Products to Make a Woman Feel Sexy. 
Drink gift ideas

CraftStirs
CraftStirs worked with top mixologists to create a line of powdered mixers designed to match cocktails sold behind the bar. CraftStirs cocktail mixers are made with all-natural ingredients like pure cane sugar and real fruit essences. Each sachet is only 50 calories, currently made in three delicious flavors. There are 8 sachets in a pack for $9.95 which makes drinking classic cocktails affordable. (And who doesn't love carrying a party in your pocket?) Current cocktail flavors include Tropical Margarita, Melon Cooler and Pomegranate Mojito. They are available direct-to-consumer on CraftStirs.com.

GoSili Reusable Straw
Plastic straws have become a thing of the past and GoSili's line of straws attached to drinking cups or folded into a keychain container are the perfect solution for taking along an easy-to-clean reusable sipping tool. This silicone straw is a standard size, measuring at 8 inches tall with an opening of 0.5 centimeters, and will allow you to enjoy every sip of your favorite beverage, all while reducing your plastic footprint. (They also silicone universal lids in matching colors to your new straw.)
GoSili reusable straws are 100% platinum European-grade silicone. Silicone is safe and does not contain harsh chemicals that can leach toxic materials into your drink. A GoSili reusable silicone straw won't melt in your drink like a paper straw or hurt your teeth like a stainless-steel straw. This reusable straw is bendable and flexible, so it folds easily into the included keychain travel case. When you are done sipping, simply fold your straw up and go. Check out GoSili on Amazon.

Easy Travel Coffee from Steeped Coffee
I love this idea for travel and simply a great cup of coffee quickly. Steeped Coffee offers quality small-batch, fair trade coffee in a tea bag form. (And don't forget that coffee is considered a potent aphrodisiac!) Great coffee with just a bit of hot water! No more drinking second rate hotel room coffee or making do with whatever is on the plane, Steeped Coffee allows a gourmet cup with little effort. The coffee comes in a box of ten individually wrapped bags for easy use. Steeped is available for delivery from Amazon.
Gifts for your true love – your pet

True Blue for the Pets
True Blue Super Fresh Body & Paw Wipes are the only pet wipes that not only clean, but actually add moisture back into the skin and coat as well! The all-natural cleaning solution includes Grapefruit, which cleans without stripping away the beneficial natural oils in your pet's skin, and Macadamia Nut Oil which conditions the coat and skin without leaving a greasy feel.
As the owner of several dogs, these wipes come in handy for trips to the beach and travel. They're great for keeping your pet and your home clean and healthy, both of which are of utmost importance right now. For more information on this and other wellness-based pet products, visit the True Blue website.

House of Nomad Pet Collars
want to set your pet apart while doing good for craftspeople in Africa? These handmade collars from House of Nomad are stunning and sturdy, made from leather and beads with a solid brass buckle. Artisans are partners and your stylish pet will not only get envious glances but their style helps keep creatives working in Africa. Two brick and mortar House of Nomad stores can be found in Charlotte, NC and Charleston, SC or buy online.

A Dog-Friendly Robo Vacuum from Yeedi
This may be one of the most wonderful gifts I can imagine for someone like me who has two dogs who both consider the vacuum a mortal enemy. Barking, biting and insanity make it impossible to keep the house clean!  Yeedi K650 has solved this issue with an ultra quiet robot vacuum that is no louder than a microwave and even skittish pets simply ignore. (Ok, so this gift isn't really for your dog but it is the gift YOU need.) Get more information from the Yeedi website, or buy it now from Amazon.
Need more gift inspiration? Check out this year's Father's Day guide filled with great gifts for him. 
And maybe the gift both you and your love need this year is a little extra couple time. We found a list of couples activities to make your Holiday season more romantic. Depending on where you live, some of these ideas are a no-go this year, but others are SIP friendly and really sweet. May your season be filled with love and laughter!
Latest posts by Barbara Barrielle
(see all)
Get on our mailing list
Subscribe and get our exclusive list of Six Great Sex-Boosting Snack Foods for FREE! Unsubscribe at any time - privacy policy