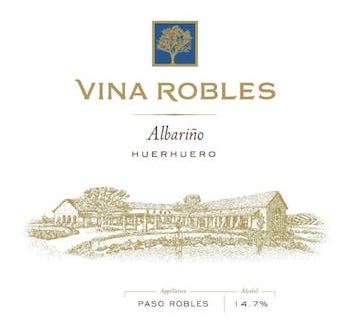 Our articles may contain affiliate links. For more information, view our policies.
2018 Vina Robles Albariño, Paso Robles, California
Wine of the Week with Annette Tomei
You may already be familiar with Paso Robles. Some call it the "wild west of wine". Maybe that wild reputation frees some local winemakers to experiment with lesser known grapes and unique blends. Or, maybe it's the land itself.
Paso Robles is in the southern part of the Central Coast of California. It is one of the largest AVAs in California and comprises 11 sub-AVAs. Paso has unique climate and soil conditions that support over 40 different grape varieties. California's Zinfandel is at home here. As are the most established imports, Cabernet Sauvignon, Merlot, and Pinot Noir. But from there, Paso Robles takes on a more Mediterranean flavor.
California or the Mediterranean?
Grape varieties from southern France were the first to make their presence known. For this, Paso Robles has also earned the title "the Rhone Zone". But grapes from further south also thrive in the heat of its days and the cool of its nights. Sangiovese, Nebbiolo, Barbera, and Montepulciano have grown here since the 1860s. But the Cal-Ital movement didn't actually start here until the 1980s.
More recently, Iberian grapes are developing their own movement. Portugal's Tortuga Nacional, the grape of Oporto, made the leap. Spain's Tempranillo represents the reds; Portugal's Verdelho and Spain's Albariño represent the whites. Many of us know Albariño as the grape of the Rías Baixas region in Galicia, Spain. But, this grape crosses borders at home as well. In Portugal (spelled Alvarinho), it is the primary grape in Vinho Verde.
The popularity of Albariño in Paso Robles has grown so much in recent years that it even has its own consortium of growers. There's even a Festival of Albariño.
Vina Robles
Vina Robles is best known for their red wines. They produce big, expressive Bordeaux-style blends and others that include more Rhone influence. They also experiment with an array of white grapes. These range from Chardonnay and Sauvignon Blanc to Verdejo and Vermentino. And, of course, Albariño.

My Review of 2018 Vina Robles Albariño
The fruit for the 2018 Vina Robles Albariño comes from their Huerhuero Vineyard. It is hand-harvested, whole cluster pressed, and fermented in stainless steel. After fermentation, it rests on its lees for 4 months. This adds complexity and body to the final wine.
Vina Robles Albariño has a pale straw color and aromas of green pears, white grapefruit, and lime zest. This is a medium-bodied wine with a round mouthfeel. This is, in part, from the extra time on its lees, in part from the 14% ABV. On the palate, you'll find an initial sharpness of green pineapple, fresh tender herbs, and green olives. As the wine opens in the glass, this softens to reflect more stone fruits and stones (minerality), and a bit of papaya. The finish reminded me of the peppery zing of biting into the seeds of the papaya.
Vina Robles Albariño is crisp and refreshing enough to enjoy well-chilled on its own. But, for me, at 14% ABV it's too easy to overindulge too fast. Not a good thing in the heat of the summer. I was more than happy to balance it off with sliced heirloom tomatoes, mozzarella, and garden-fresh basil. The sweet acidity of the tomatoes brought out all the ripe stone fruit flavors in the wine for the win.
Here are a few fresh tomato recipes you should try with your Vina Robles Albariño.
For the cold soup lover (bonus for being vegan friendly): Heirloom tomato gazpacho.
For the almost adventurous palate: Grilled watermelon salad.
For the traditionalist who wants to try something different: Whole wheat spaghetti with raw tomato sauce.
Where to buy this wine online
Between the time I purchased this wine and the time of publishing this, the new 2019 vintage became available. The statistics are similar. The tasting notes may vary slightly, but probably not dramatically. You can buy Vina Robles Albariño direct from the winery. Both Drizly and Wine.com have other Vina Robles wines and may have the Albariño in your market.
Latest posts by Annette Tomei
(see all)
Get on our mailing list
Don't miss out on a thing! Get news, deals & more!