My Favorite Sparkling Wines & Champagne of the Year
Our articles may contain affiliate links. For more information, view our policies.
If you follow me on social media, you're aware of the river of Champagne and sparkling wine I had to drink my way through over the past month. It was part of my first assignment for my new commitment, running the wine section of Gayot.com.
I tasted hundreds of sparkling wines, wrote dozens of reviews and, for more than a month, never had to wonder if I needed to pick up some wine at the store. As you might expect, there were some winners. And a few truly terrible wines about which I will never speak again. Why talk about the losers when you can dedicate  column to the best sparkling wines and Champagne of the year?
My Sparkling Wine & Champagnes of the Year recommendations
Never before have I ever had the privilege of tasting a wine with such extraordinary weight. Despite the lightness of its fine bubbles, this wine sits heavily on the tongue, demanding attention. The effect is sensual and satisfying. Equally interesting in flavor, it offers passion fruit and pineapple notes with a hint of anise.
2008 Champagne Collet Vintage Brut Collection Privée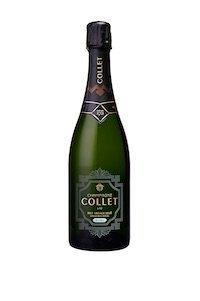 Among the wines I was reviewing, there were a few I'd never tried before from. And in that group, this is without a doubt my favorite Champagne of the year. It's old fashioned–and I mean that in the best way. One sip will transport you to an era when people dressed for dinner, when big bands performed live and waiters wore white gloves. If you want to feel like you're living in time of gracious living (minus the racism, ageism, sexism, etc.), try this wine!
2009 Möet & Chandon Grand Vintage Brut Rosé
I make no secret about the fact that I love Brut Rosé. And this wine was without a doubt the biggest surprise for me in the pink wine category. It's a big, powerful Rosé Brut Rosé with notes of wild strawberry, raspberry, kumquat, honey and toast with a sensual hit of spice near the back of the palate. Without a doubt, it's one of the Champagnes of the year.
2007 Taittinger Comtes de Champagne
Taittinger's Comtes de Champagne is always a lovely wine but the 2007 is truly something special. Although it's not inexpensive, it is an impeccable wine and as high if not higher in quality than wines that cost as much as $100 more. It's a graceful wine with lovely bread dough and orange peel notes but a surprising, tropical note–mango?–makes it incredibly compelling.
2014 Bride Valley "Sparkling Bella" Brut Rosé
Another pink wine to make my list, this one's from the of-the-moment sparkling wine region: England. Because of the chalky soils and moderate, cool climate of southern England, more and more talented vintners are investing in the region. This is not my first English sparkling wine, but it is my favorite to date. It's a pale, fresh sparkling wine with restrained red fruit flavors and a delightful minerality.
2011 Domaine Carneros Le Rêve Blanc de Blancs
In all honesty, this wine makes my list not because it's one of the very best sparkling wines in America–which it is–but because I got to taste it in October with legendary winemaker Eileen Crane. Do you have people in your industry you've always hoped to meet? Crane, the winemaker for Domaine Carneros since its inception, was definitely on my short list. So tasting this remarkably intense Blanc de Blancs with its creator was a highpoint of my sparkling wine odyssey.
2008 Sparkling Pointe Seduction Brut
This wine makes my list because it's one of my most fun discoveries this year. As much as I love bubbly and believe in supporting the American wine industry, I had no idea there was a vibrant sparkling wine industry on Long Island until I found Sparkling Pointe. I think of this one as the Nutcracker Suite of sparkling wines. It has a little bit of everything and at some moments it feels like too much. But the final impression is a smile on your face and that uplifting feeling of having just experienced something pure and good.
I expected to like this wine but I never dreamed it would be among my favorites of the 25+ Brut Rosé Champagnes and sparkling wines I tried this year. It offers all the pretty notes I love in pink champagne. It's creamy on the palate with ripe strawberry and raspberry notes. What could be nicer?
Agrapart & Fils Grand Cru Terroirs Extra Brut
This Champagne house was one of the year's remarkable new discoveries. Definitely one of the quirkiest producers I've come across, but I've always had a soft spot for quirky. This wine is a terrific buy for the price. It has an ethereal, weightless quality and almost intangible honey and floral notes. Unusual is one way to describe it, another is to say it is a Champagne of the year.
Get more Sparkling Wines
If you like these reviews, get more of my Champagne and sparkling wine recommendations at Gayot.com. Be sure not to miss one of my favorite lists, The Best Value Sparkling Wines. 
FREE APHRODISIAC NEWSLETTER
Subscribe to our free aphrodisiac newsletter