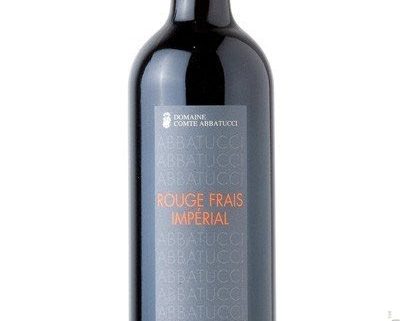 This Red Wine from Corsica is Sure to Turn Some Heads
Our articles may contain affiliate links. For more information, view our policies.
2016 Domaine Comte Abbatucci "Rouge Frais Impérial" Corsica, France
Wine of the Week with Annette Tomei
When you think of French wines, Corsica may not be the first (or even the third) place that comes to mind. That's one of the reasons I was happy to try this wine. That, and the fact that it was highly recommended to me by the good folks at Kermit Lynch as a good gift for a somm-who-has-everything. I bought a bottle of this red wine from Corsica for myself as well.
Corsica is an island in the Mediterranean that was part of  Italy until 1769. Actually, it is much closer in culture (and proximity) to Italy than to mainland France. Corsica may be better known as the birthplace of Napoléon Bonaparte.
Domaine Comte Abbatucci was founded in 1950 by Jean-Charles Abbattuci, a direct descendant of another Jean-Charles Abbattuci who was in league with Napoléon during the French Revolution. This current Jean-Charles carries a far better legacy for Corsica. He is credited with preserving the propagation of traditional Corsican grape varieties. The Abbattuci vineyards are certified biodynamic. Jean-Charles sees to it that they are maintained, to the letter, of the sometimes arcane biodynamic methods.
The Frais Impérial is made from the Sciaccarello grape (aka Mammolo), which is one of the native grapes that Jean-Charles is tending back into popularity. It is a dark-skinned grape that prefers growing in bright sunshine and granite soils. Wines made from this grape are typically lighter style reds or even rosé.

About this wine
This wine from Corsica is best served chilled – refrigerate it overnight then leave it out for about 30 minutes before drinking. I was not advised to decant – I certainly wish I had been. Unfortunately, my first experience was a bit disappointing – the nose was flat and a touch funky. The first sip was extremely metallic, no fruit, short uneven finish. But, given that there were no obvious major flaws (heat damage, TCA, etc.) as well as the recommendation it received, I pressed on. Sometimes you have to do that. Occasionally, disappointment is warranted. Sometimes you wake up, try again, and it feels like Christmas morning. Thankfully, this was the latter! (and yes, I did taste again first thing in the morning!)
I was rewarded with aromas of fragrant ripe red berries and purple flowers. The real treat was on the palate – juicy, red berries, cranberry, pomegranate, and a touch of peppery spice. It was bright with acidity with a pleasant tannic astringency. As is common from this grape, this is a lighter style of red wine. The color is so very intense that I was captivated by its inner glow.
Later, I enjoy this wine with a dinner of spicy, sticky Korean barbecue that paired perfectly (and yes, do enjoy it slightly chilled). It's light enough body, and fruity enough, to withstand the heat. It's also bold enough to stand up to the funky aromatics of good Korean cuisine. I'd also recommend it with lamb, salumi, sheep's milk cheeses, and dishes that include warm exotic spices. Be adventurous!
The verdict
Happily, this one worked out. In case you are wondering if I would have actually published this as a negative review, the answer is yes. I just would have taken a lot longer to write it, with a lot less exuberance. And yes, I do recommend buying this wine if you can find it (usually $25-35).
I highly recommend decanting this wine for at least a few hours before serving – splash the wine from the bottle to the decanter (or a glass pitcher), swirl it hard, put it in the fridge or ice bucket for a few hours before serving.
Do experiment by purchasing unusual wines that strike your fancy. But do so from reputable, trusted sources. Most respected wine merchants who convince you to buy something that you would not normally try are likely to accept the return of a full-ish bottle for store credit if you truly don't like it. As will most sommeliers in good restaurants.
My new mission… to taste things I've never tasted before – either because I'm a snob, I can't afford it, or it's just a little too weird. I'll let you know what I thought, and then you can decide for yourself if you will make the splurge, or take the leap into the strange but potentially delicious unknown!
Latest posts by Annette Tomei
(see all)
Get on our mailing list
Don't miss out on a thing! Get news, deals & more!