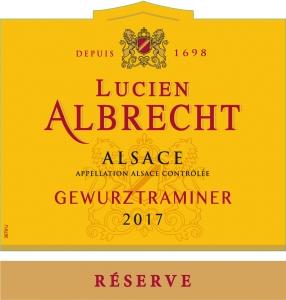 2017 Lucien Albrecht Gewürztraminer Reserve
Our articles may contain affiliate links. For more information, view our policies.
We began our three-part visit to Alsace with a Riesling that had us seeing stars. In this, part deux, we'll learn how a sweet touch creates the best pairings – between food and wine, that is!
2017 Lucien Albrecht, Gewürztraminer Reserve, Alsace, France
Wine of the Week with Annette Tomei
You may already know the white wines made with this luscious, aromatic grape. But maybe you didn't know that the grape itself is actually pink. Since there's little to no skin contact after pressing, the pigment stays behind.
As I mentioned, the aromatics of this grape are unique and distinctive. More like a floral, sweet-spicy perfume than wine to some. Rieslings are also aromatic in their own way – more fruit than floral. Riesling wines are most often higher in acidity than Gewürztraminers.
Like Riesling, Gewürztraminer is also from Germany. It only had a short trip across the Rhine River to its adopted home in Alsace. Today, we often think of Gewürztraminer as a distinctly Alsatian wine. Unlike Alsatian Riesling, which is most often made in a dry style, Alsatian Gewürztraminer shows up in all levels of sweetness. It can range from dry to vendange tardive (late harvest, sweet) to Sélection de Grains Nobles (from botrytis-affected grapes – dessert wines).
Why sweetness in Gewürztraminer is good
Too many people are put off by sweetness in wines. I think that's because they fear judgment for being déclassé. Sweet, at least in the US, is often associated with "cheap" wines and wine-like beverages. I'm here to tell you that sweetness in good wines (and humans) is a good thing!
In cold climate-growing regions, like Germany and Alsace, it may take skill, effort, and luck to bring fruit to full ripeness. And ripeness equals sweetness. For this reason, the German Prädikat system is based on sugar content in the wine. And, the above-mentioned labeling laws in Alsace are also based on sweetness.
When it comes to wine and food, a touch of sweetness goes a long way in creating perfect pairings (This also goes for humans!).
A bit of residual sugar gives light wines more body. This means they can pair with fuller-bodied foods.
A touch of sweetness cools the burn of spicy chiles in food. So, if you're a fan of spicy Mexican, Thai, or Indian cuisine, off-dry whites may be your besties.
Same goes for salty foods. Sweet and salty are a match made in heaven!
Of course, sweet also balances sweet. So, dessert lovers, find yourself a wine that is just as sweet as your food for best results.
The 2017 Lucien Albrecht Gewürztraminer Réserve is off-dry. Sweet enough for all the above to apply. But more on that below.
About Maison Lucien Albrecht
For starters, it always helps to know how to pronounce the name… it's Loo-Shen All-Bresht. I always wished people would do that for me – especially the French names.
Maison Lucien Albrecht claims very deep roots in the small Alsatian village of Orschwihr in the Haut Rhin of Alsace. It was founded in 1698. In the 1970s, Maison Lucien Albrecht was one of three pioneers of the regional sparkling wine, Crémant d'Alsace (more on that next week). In fact, the company played a significant role in the 1976 formation of the Crémant d'Alsace AOC.
But that wasn't until their third century. Henri Albrecht, in 1930, planted grafted vines of Riesling, Gewürztraminer, and other regional grape varieties. This was a first for the region, which was still reeling from the phylloxera blight of the late-19th century. Today these vineyards include plots of all Alsace's designated appellations: AOC, Grand Cru, and Crémant d'Alsace.
My review of 2017 Lucien Albrecht Gewürztraminer Réserve
Gewürztraminer is notorious for its powerful aromatics. This is no exception. This is a perfume you may want to bathe in! Lychee, elderflower, and springtime gardens in full bloom. It's not all sweet and fruity either. There are back notes of white pepper and cinnamon, making it more complex.
Then you take a sip. Lucien Albrecht Gewürztraminer is round and supple on the palate. Flavors of honey and ripe juicy pear, peach and apricot give way to a slightly bitter astringent bite. It's like mango skins – a little green, peppery, and astringent. That's a good thing. That bite provides added structure to the sweetness. It also provides a clean dry, mineral finish.
The 2017 vintage of Lucien Albrecht Gewürztraminer Réserve has 17.4 grams/litre residual sugar. Sugar is detectable to humans at about 6 g/l. For reference, ports have around 100 g/l. So, expect to perceive the sweetness, but it is not a dominant point. Paired with the right foods, you won't even notice it.
Romantic wine pairings
For a traditional pairing, try this with a savory dish accented with a fruit-based sauce. Think pork chops and applesauce. Or, for a bit more dimension, try our bacon-wrapped pork tenderloin with apricot compote or Dijon glazed pork with summer peach ratatouille. This is also an excellent pairing for stinky cheeses, like a good Alsatian washed-rind Muenster.
Where to buy
At the time of writing, the 2017 Lucien Albrecht Gewürztraminer Reserve was available online in the US from Wine Chateau and a few others. I purchased mine at a local wine shop. This producer is widely distributed in North America, so it's usually easy to find their wines.
Latest posts by Annette Tomei
(see all)
Get on our mailing list
Subscribe and get our exclusive list of Six Great Sex-Boosting Snack Foods for FREE! Unsubscribe at any time - privacy policy