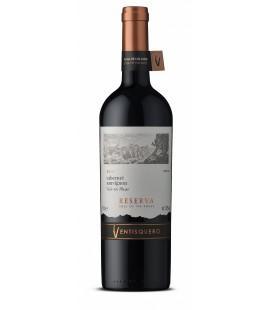 A Solid Chilean Cabernet Sauvignon
Our articles may contain affiliate links. For more information, view our policies.
2015 Ventisquero, Cabernet Sauvignon Reserva, Maipo Valley, Chile
Chilean Cabernet Sauvignon – neither snobby nor unusual, so how does it fit into my new mission? Well, it's personal – for years I lived in Napa Valley, the heart of Cab Country.
I worked in some of the best wineries, producing some of the world's most sought-after Cabs. When it was over, so was my palate for this much-loved grape (and red wine, in general). In recent months, my interest in reds has returned and what better grape to begin the journey with than the king – Cabernet Sauvignon.
The Other Hemisphere
Chile is located on a long narrow stretch along the west coast of South America – ocean on one side, mountains on the other, many climates and terrains. Most wine-producing regions are in the flatter foothills of the Andes Mountains.
The Maipo Valley is the "birthplace of the Chilean wine industry" and the heart of Cabernet Sauvignon production. The grape has grown there for over 150 years.

About This Wine
Because this is a young big red, I opted for pouring through an aerator – an ingenious plastic device that introduces oxygen to the wine as it's being poured, taking the place of hours of decanting.
Still, the aromatics were quite tight for the first 30 minutes in the glass.
Patience – though not a "fine wine" it's worth the foresight of pouring a bit before drinking.
Aromas of sun-ripened strawberries, cocoa nibs, and tobacco developed as the wine opened, then continued on the palate. Structurally, the tannins are silky and well-integrated. Initially, I didn't think much of the acidity – it didn't seem firm enough to carry the rich cocoa and ripe berry flavors. This changed when dinner was served.
This is a "spaghetti red" if ever I had one! Pair this wine with hearty homemade "Sunday Gravy" (long-simmered spaghetti sauce), meatballs, Italian sausage, pillows of grated parmesan… or with a good old-school pizza. The brightness of red berry acidity comes pouring out of this wine and the flavors of cassis, chocolate, and tobacco linger on to a clean palate ready for the next bite.
The Verdict
I'm happy I tasted this wine with just the right food… some wines are just better that way. The producer also recommends more classic Chilean fare – steak on the grill, garlicky salsa verde, and hard cheeses. At $15/bottle and 13% ABV this is also a safe bet for mid-week meals. Enjoy!
Annette is a food and beverage educator and consultant. She is also a professional chef who frequently contributes delicious recipes to EatSomethingSexy.com. She can be found at ChefAnnetteTomei.com
FREE APHRODISIAC NEWSLETTER
Subscribe to our free aphrodisiac newsletter