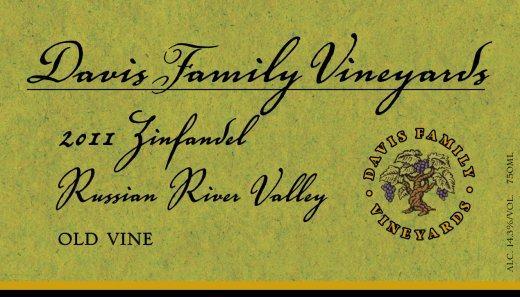 2011 Davis Family Vineyards Old Vine Zinfandel
Our articles may contain affiliate links. For more information, view our policies.
The Wine of the Week by  Annette Tomei
2011 Davis Family Vineyards Old Vine Zinfandel, Russian River Valley, Sonoma County, California
Despite genetic links to Italy via the grape Primitivo, and Croatia via the grapes Tribidrag and Crljenak Kastelanski, Zinfandel is still beloved as the closest thing to an All-American vinifera grape that we have. It was one of the first grape varieties to sweep California. In the late 19th-century it was the most planted grape in the state; it still makes up approximately 10% of wine grapes grown in California.
Because of the varietal's heartiness and the number of vines in existence, many Zinfandel vineyards managed to survive the ravages of both Prohibition and phylloxera – hence, the number of "old vines" still producing today. The "Old Vine" designation has no direct regulations for use, yet. However, in the case of most reputable producers, this designation typically refers to vines that are over 100 years old. The reason these vines are so special is because of their deep and still growing root systems (30 feet-plus), and the fact that, though they produce the smallest fraction of fruit compared to more vigorous, youthful vines, the fruit produced is so concentrated and dense with complex aromatic properties that the wines are often exceptional.
The Davis Family Vineyards are located in Sonoma County in the Russian River Valley. The property has been under vine since the mid-1890s. The Davis Family purchased the property in 1995. At that time, the Zinfandel vines were so overgrown that they were not producing fruit – after years of loving care, these 115+ year old vines are producing 3-4 clusters per vine and yielding (for the 2011 vintage) only 567 cases of wine.
The Davis Family wines are indeed a family affair – Founders Guy and Judy Davis, with their sons, oversee their wines from vine to bottle. Traditional methods are augmented with science and technology without compromising their hands-on philosophy.
Their 2011 Old Vine Zinfandel reflects the cool temperatures and extended growing season of the vintage. Don't expect a big, burly fruit-bomb. This is a wine with refined intensity – aromas of bright red berries and hint of anise, and a zippy acidity that keeps the fruit flavors lively. Red cherries and raspberries give way to peppery plum flavors to the finish. This is a great summertime red that's meant to be savored over good food with great company. Try it with hard cheeses (especially the local Vella Dry Jack), grilled salmon, lamb, and Provençal vegetables, or even a hearty kale salad with toasted nuts and dried berries.
Annette is the founder of VinEducation, where she is a food and beverage educator and consultant. She is also a professional chef who frequently contributes delicious recipes to EatSomethingSexy.com.
FREE APHRODISIAC NEWSLETTER
Subscribe to our free aphrodisiac newsletter