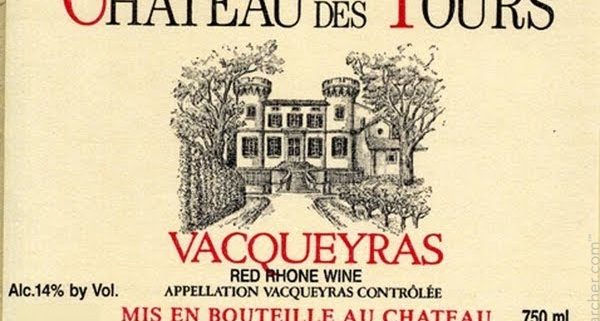 Do You Know the Wines of Vacqueyras?–fall in love with Chateau des Tours
Our articles may contain affiliate links. For more information, view our policies.
2009 Chateau des Tours Vacqueyras Rouge, Rhône, France
The Vacqueyras is located in the southern Rhone region of France. Once part of the Cote du Rhone Villages, it was awarded its own AOC designation in 1990 because the region produces consistently distinct wines of good quality. The wines of Vacquyras are considered to be similar in character to those of its neighbors, Chateauneuf-du-Pape and Gigondas, though a bit less refined (but no less delicious!).
By law, the red wines of the Vacqueyras must include a minimum of 80% Grenache, 10% Syrah or Mourvedre and 10% of any typical Rhone red grape except Carignan. This particular blend is 80% Grenache with 20% Syrah.
Chateau des Tours is owned by Chateau Rayas (known for its exceptional – and exceptionally expensive – Chateauneuf-du-Pape). This property was acquired in the mid-1930s to diversify in terroir and style, as well as to provide a legacy for the next generation of the Reynaud family. It has been under the care of Emmanuel Reynaud since 1978. Today he operates all of the Chateau Rayas and Chateau des Tours properties.

About this Wine
A perfect way to step gently into autumn. Aromas of ripe black plum and raspberry jam are followed by a hint of black pepper and smokey meatiness (characteristic of my favorite Rhone Syrahs). As it opens, more floral aromas emerge. On the palate, blueberries and maple bacon. As my tasting guide, Kate put it, "Breakfast wine!" (wish I had said it myself!) – so true. This is a medium bodied wine with fine tannins and bright acidity as a backbone for all the red juicy flavors.
I enjoyed this wine with fresh figs, syrupy aged balsamic, and homemade ricotta on crostini. I'd also recommend it with seared duck breast, roasted leg of lamb, grilled bison, or other simple but flavorful meats. For the vegetarians, think hearty fall grain bowls and roasted winter squashes (natural sweetness only).
The Verdict
At at least $55/bottle retail, and worth every cent, this is a wine I will definitely hold for a special weekend dinner with someone I love. I enjoyed this wine at my favorite wine bar in NYC, Corkbuzz (there are two, I went to the one in Chelsea Market). When you want to taste wines that are out of your price range for a full bottle, but you still MUST try – make friends with the somm at a reputable friendly wine bar or scout LocalWineEvents.com for tastings in your area so you can try before you buy.
My new mission… to taste things I've never tasted before – either because I'm a snob, I can't afford it, or it's just a little too weird. I'll let you know what I thought, and then you can decide for yourself if you will make the splurge, or take the leap into the strange but potentially delicious unknown!
Annette is a food and beverage educator and consultant. She is also a professional chef who frequently contributes delicious recipes to EatSomethingSexy.com. She can be found at ChefAnnetteTomei.com
FREE APHRODISIAC NEWSLETTER
Subscribe to our free aphrodisiac newsletter