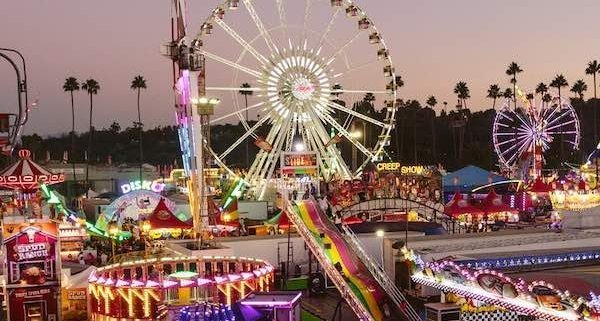 A Romantic Date at the County Fair?
Our articles may contain affiliate links. For more information, view our policies.
Wondering where to go on your next romantic date?
We've all seen the movie where the couple falls in love at the county fair over carnival games and cotton candy. And don't we all deserve that carefree, date night feeling in real life? That's right, isn't it time you planned a romantic date for the county fair?
It might sound silly, but that's the point! It's a chance to get out of your comfort zone and experience those joyous, childlike feelings with the one you love…or maybe the one you want to love. And it just so happens that if you live in Southern California, you can do that right now!
That's right, the Los Angeles County Fair is on now through September 22. A nearly 100-year-old tradition, the LA County Fair spans over 500 acres of down-home fun. And in this big of an event, you're sure to find just the right mix of fun and romance to create a night to remember.
The following suggestions of activities for a romantic date at a county fair are specific to this year's LA County Fair but most of them are applicable to any classic county fair across the nation:
Ride the Ferris Wheel
A county fair staple, the Ferris wheel gives couples a great chance to snuggle up and gaze at the twinkling lights. The LA County Fair, air-conditioned pods take fairgoers up, up and away for an out-of-this-world view.
Get two tickets for the Skyride
For more adventurous couples who likes to feel the breeze and breathe in the aromas of freshly frying food, the Skyride, takes you up, up and away over the fairground. You'll have ample eye candy and a moment for a private chat while you take in the sights and smells that make a county fair an experience like no other.
Play a carnival game
Impress that special someone with your mad skills and coordination. And maybe win them a prize to take home, preserving the memories of this romantic date forever.
Take a wine tasting class together
Ok, this one may be a West Coast-only experience but when you're in California, wine is always a part of the fair fun. Pop some bottles of award-winning wines, craft beers and spirits from the Los Angeles International Competitions with friends at the Marketplace.
Classes are $12, feature six wines, four cheeses and includes a Gold Medal taste ticket after the class. (Since both wine and cheese are aphrodisiacs, this really is the stuff romantic dates are made of!)
Enjoy a romantic dinner for two
At the LA County Fair, you can take the concept of a romantic dinner to a whole new level with the Top of the Park.
Enjoy an intimate night out with a show with 180° panoramic views of the fair and scenic surroundings. The Top of the Park is the perfect place to take in the LA County Fair in true adult fashion. In other words, while enjoying fine cocktails and dining. This year the Top of the Park Goes POP with new décor that will feature a variety of genres and performers.
Dining and concert experience options can be found on the fair website.
Take in the arts scene
For couples who love to have intimate and fun nights out, Millard Sheets' new gallery exhibit, "Shifting Aesthetics," brings up-and-coming LA-based artists for a new artistic experience the Fair has never seen before. After a walk through the gallery, stop and stay for a while in Mi POCO LA where local artists and performers take to the stage each weekend.
For couples who love the lights, loud music and a grooving dance floor, the Long Board Bar right behind the Grandstand has a fully stocked bar and a DJ every night to bring the house down with some of pop's greatest hits.
Fast facts about the LA County Fair
The LA County Fair is held annually at the Fairplex in Pomona, California. For hours and ticket information–and everything you need to know to plan your romantic date, visit the LA County Fair website.
Latest posts by Amy Reiley
(see all)
Get on our mailing list
Subscribe and get our exclusive list of Six Great Sex-Boosting Snack Foods for FREE! Unsubscribe at any time.