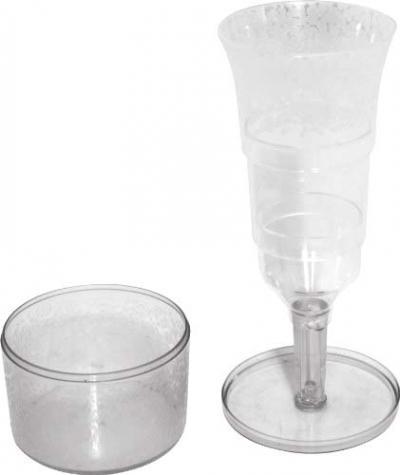 The Collapsible Wine Glasses You Need to Own
Our articles may contain affiliate links. For more information, view our policies.
Remember those little camping cups from when you were a kid? I'm talking about the kind that went from a capsule to glass with the pop of a lid and flick of the wrist. Well, now they come in a style with a stem. These collapsible wine glasses are a total game-changer for camping, picnics and outdoor concerts.
As far as I'm concerned, a picnic isn't a picnic without wine. Sure, you could carry crystal with you to your picnic destination, if you're really, really careful. Or you could get these Bluesky Designs Pop Up Wine Glasses, (sometimes sold as Pop Up Prosecco Glasses). These collapsible wine glasses are going to help you enjoy wine wherever you go and probably have a giggle or two while you do it.
The pros and cons of collapsible wine glasses
The glasses stand about 6″ tall when fully unfolded. In other words, these collapsible wine glasses don't hold as much as a standard wine glass. But there is no shame in refilling. Although they are not dishwasher safe, they are reasonably easy to clean and take up very little storage space. In addition to the classic, clear glasses we were sent as a sample, I've seen similar pop-up cups for sale in sublimely ridiculous shades of pink and purple. (Perhaps the slogan should be, "Make every wine a rosé!")
We had a little trouble at first getting a leak-free drink. But after tightening the seams, we were able to sip with sophistication from flutes small enough to fit in a pocket when collapsed. In future, I won't be leaving the office without a pair of collapsible wine glasses.
RELATED: What are the best crystal wine tumblers?
Why would you drink from a cup that looks like a toy?
True, these collapsible wine glasses are made of plastic. And plastic is not the ideal material from which to enjoy wine. However, speaking as a wine critic, I can honestly endorse these cups. They're fun!
These collapsible wine glasses offer a far superior choice to drinking from the disposable plastic cup you're often handed at festivals, picnics and every other manner of outdoor gathering at which such swill is permitted. These reusable, albeit kitsch, cups are a far more environmental choice than the take-and-toss cup you're likely to be handed at your next outdoor event.
I don't plan on whipping out a glass to sip a fine Burgundy. But party wine? For any event at which glass is a no-go, I'd choose these collapsable wine glasses every time.
Where to buy
You can find these collapsible wine glasses sold by wine retailers as well as homegood retailers like Wayfair. Or you can order yours now from Amazon.com.

Latest posts by Amy Reiley
(see all)
Get on our mailing list
Subscribe and get our exclusive list of Six Great Sex-Boosting Snack Foods for FREE! Unsubscribe at any time.