2019 Gift Guide: Gift Giving the Wine Country Way
Our articles may contain affiliate links. For more information, view our policies.
As I think about holiday gifting for the 2019 season, I am evacuated from my home in Healdsburg and just hoping and praying that all returns to normal soon. And although my intention was to simply give you a list of stocking stuffers and so forth, this whole experience has me thinking about gift-giving in a new light. That's why I'm writing about gift giving the wine country way.
Instead of a top 10 baubles and gadgets, here are some ideas of what to do for the holidays and how to support the good people in our lives all year long. Please support our wineries in Sonoma County. And don't give up on visiting both Napa and Sonoma.
If you see Alexander Valley on a wine label, snap it up. They have suffered most from the Kincaid Fire. It's hard to watch because these are some of the finest, most community-oriented families in the entire wine business.
How the locals give
Chefs like Guy Fieri, Dustin Valette, Tyler Florence and Kyle Connaughton are on the front lines making food for first responders and evacuees alike. Local food writer Heather Irwin started Sonoma Family Meal after the 2017 fires. And while they have continued to support displaced families, the operation came back in full force when the Kincaid Fires meant mass evacuation from every area of Sonoma County. Donate at www.sonomafamilymeal.org.
Another organization that has spring from this tragedy is Corazon Healdsburg's Unity and Community Fund. It aids all sectors of the community affected by the Kincaid Fire. Support them at www.corazonhealdsburg.org.
But let's get to gifts and experiences that may help others but will certainly help the recipient's state of mind and wellbeing. This is gift giving the wine country way!
Want to create an at-home Sonoma Wine Salon? Here's how to do it! 
Local owner Nicole Simpkins has had enormous success with her wine country-designed and made line of Wine Country Botanicals. Candles, lotions, bath items and more are reminiscent of the hills, fields and flowers and vineyards found throughout wine country. Check her website for gift items designed to give back to fire victims. You will love Wine Country Botanicals while giving back to those less fortunate in the wine country. www.winecountrybotanicals.com
Less-traveled wine country from East to West
Why not make this a time to visit any of the American wine countries. If you want to gift the wine country way, being in the place is the best way to start! Maybe the Hamptons in the off-season to enjoy Channing Daughters and Wolffer Estate.
Upstate New York has the Finger Lakes region. Here you'll find aromatic varietals like Reisling among other world-class vinifera.
Detroit has a new winery in an old ice cream factory right downtown. Detroit Vineyards also gives back by helping residents turn vacant lots–there are 80,000–into producing vineyards.
In Paso Robles, check out the many family wineries featuring yummy Rhône varietals and stay in luxury at the new Hotel Piccolo or the classic Allegretto Vineyard Resort.
Great wine country gifts & experiences in Oregon
While Oregon is best known for the Willamette Valley – a bottle of Montinore, Maysara or Antiquum Farms assures biodynamic happiness! But why not kill both the entertainment and beverage bird with one stone and give the gift of a trip to the the Rogue Valley and Ashland. Known worldwide for its Shakespeare Festival, Ashland offers performing arts from Broadways shoes to Cabaret in addition to the Bard's beauties. The amazing restaurants in Ashland include Peerless, Alchemy and Larks. And these fine dining establishments all support the local wine community.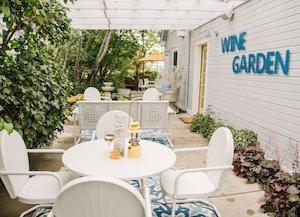 As for the wines, do not miss a visit to Irvine and Roberts for Pinot Noir and Chardonnay. Head to DANCIN Vineyards for Italian varietals like Sangiovese and Barbera. Don't miss Cowwhorn Vineyards for their biodynamic permaculture that produces both Rhone varietals like Grenache and Syrah as well as the state's largest crop of asparagus. TROON suffered from years of unimpressive wines. But the winery is back with a vengeance, a biodynamic one and it shows in the spectacular quality of their latest vintages which are still well-priced. Stay at the Lithia Springs Resort for true luxury in the heart of this region.
Wine-related gifts from the Alexander Valley
Back in the hard-hit Alexander Valley, perennially classic Jordan Vineyards and Winery still thrives and produces incredible olive oil to match their world class
Chardonnay, Cabernet Sauvignon and even a Champagne they produce in France.
This season, Jordan has created beautiful serving dishes made from the clay in their vineyards. Designed by hospitality director Nitsa Knoll and her winery chef husband, Todd Knoll who worked with local NBC pottery to create a mold that would reflect Jordan style in the series of Garden Plates. For dining the wine country way, the plates are available for order at www.jordanwinery.com.
If you still haven't found what you're looking for, check out last year's list for more great giving ideas.
Latest posts by Barbara Barrielle
(see all)
Get on our mailing list
Subscribe and get our exclusive list of Six Great Sex-Boosting Snack Foods for FREE! Unsubscribe at any time - privacy policy