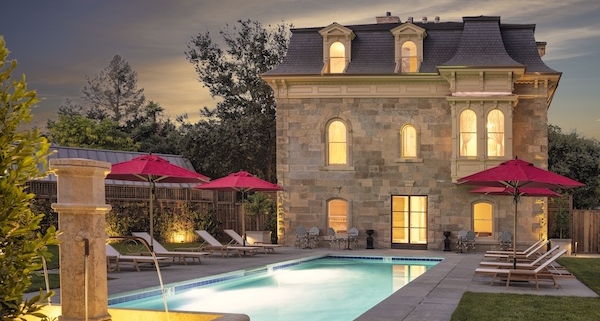 Our articles may contain affiliate links. For more information, view our policies.
Romance in the Napa Valley
Romantic getaways are the cure to all relationship problems. And if you're in the position to splurge, you need to make a getaway happen at The Francis House in Calistoga, California. Whether you're "working through things," getting out of a rut, taking a moment to appreciate each other or just trying to get in some good old fashioned baby-making, this is the place.
What's so special about The Francis House?
What makes this the place? For starters, The Francis has only five rooms. So there's no chance of running into an ex by the pool. (Ok, the odds are incredibly small yet there is still a remote possibility that your path may cross with someone you know. But if it does, it only means that they, like you, have incredibly sophisticated taste in getaways.)
Each of the five rooms is unique and boast the original stonework that helped put this property on the National Registry of Historic Places. The rooms all boast adjoining baths with Carrara marble and heated toilet seats. (It's the little things that get me every time.) And for couples who need a little alone time away from one another, the public spaces are filled with many private nooks for checking your email or reading a newspaper. (When you're taking the time for a luxurious getaway, you're afforded the luxury of flipping the crisp pages of a paper and inhaling that scent of real ink.)
Guest amenities
In addition to the pool, the inn has a couples massage room, infrared sauna and something called a salt room–I'm not sure what it is, but by the sound of the name, I have a burning desire to make a salt room in my house. Although there's no on-site restaurant, The Francis House offers complimentary breakfast and there's wine tasting every afternoon. Calistoga is in the heart of the Napa Valley, after all.
Be among the first to visit
The Francis House in Calistoga is the town's newest hotel–in fact, it isn't even open yet. Because I've yet to visit, I can't give a full review however I can tell you from the press materials alone, I've put this place at the top of my Wine Country bucket list. As I mentioned, you'll need a piggy bank with some heft to book your stay. Room rates currently range from $495-$695/night. But you only live once and a blooming romantic life is one of the keys to a full life. So if you're ready to break that bank, The Francis House is accepting bookings. They will open next month and look forward to serving the love lives of visitors from around the world.
Get a room
For more information or to book your stay, visit The Francis House website.
FREE APHRODISIAC NEWSLETTER
Subscribe to our free aphrodisiac newsletter