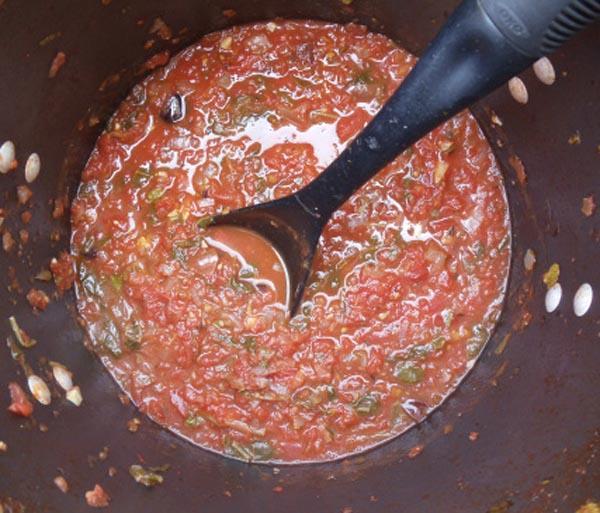 Puttanesca Sauce with Romanesco Cauliflower
Our articles may contain affiliate links. For more information, view our policies.
One of my favorite sauces for pasta, chicken or fish
I adapted this Puttanesca Sauce recipe from my first cookbook, The Seduction Cookbook: Culinary Creations For Lovers
. It is, of course, the classic sauce for Pasta Puttanesca. But I also enjoy using this sauce over chicken or fish.
A tomato sauce with questionable origins
If you know the history of this dish, you already know that the name loosely translates to "whore's pasta." However, I like to think of the sensual quality of its fragrant, salty, briny flavor in a more romantic sense, and affiliate it with the legend that its origin was a siren's call to lure sailors into salons of pleasure.
Unlike most of Italy's pasta sauces, Puttanesca is a fairly new invention. It is believed that this blend of tomatoes, capers and anchovies emerged around the time of World War II. But the exact year of this sauce recipe's origin and birthplace are not clear.
On cooking with anchovies
What is clear is that Puttanesca Sauce is one of the most alluringly pungent of all pasta dishes. Do not be afraid of anchovies.
Rather than give the sauce a "fishy" flavor, the anchovies serve to lend a briny essence that plays exceptionally well with the sweetness of tomatoes. (Not to mention the fact that anchovies, like all seafood, are aphrodisiacs – as are the tomatoes!)
Why I make Puttanesca with roasted cauliflower
Although I used to make Puttanesca for romantic evenings, this sauce is now a favorite family meal in our house. This version, which I fortify with roasted Romanesco cauliflower and a bit of spinach, is perfect for satisfying the whole family. (And they'll never know they got a full serving of vegetables with the experience.)  Just be ready to be transported. When this sauce permeates your kitchen, it will make your home smell like an Italian coastal town.
TRY NEXT: Vegetarian Linguine with Green Garlic & Asparagus
Puttanesca Sauce with Romanesco Cauliflower, Spinach and Oregano
Print Recipe
Diane Brown offers this seductive rendition of Puttanesca sauce flavored with oregano and layered with veggies. 
Ingredients
1

head romanesco cauliflower

cut into florets (or regular cauliflower if Romanesco is not in season)

olive oil

Fresh ground pepper and kosher salt to taste

6

garlic cloves

thinly sliced

3

anchovy filets

chopped

1

onion

diced

2

15-oz

cans whole tomatoes with their juices

pureed in a food processor

1/2

cup

pitted kalamata olives

roughly chopped

2

Tbsp

capers

rinsed and drained

1

Tbsp

fresh oregano

1

pinch

red chile flakes

1

bunch spinach

cleaned and chopped
Instructions
Heat oven to 425 degrees. Season the cauliflower with olive oil, pepper and salt, and roast on a parchment-lined baking sheet until browned and tender, about 20 minutes. Remove from oven and set aside.

Heat a large stock pot and add olive oil. Cook the garlic, anchovies and onions until soft and fragrant, about 3 minutes.

Add the tomatoes, olives, capers, oregano and chile flakes, and bring the sauce to a boil, then reduce to a simmer.

Cook until the tomatoes thicken and sweeten, about 30-40 minutes.

Stir in the spinach and cook until wilted, then stir in the cauliflower.

Season with pepper and salt.

Serve over pasta for a classic Pasta Puttanesca or spoon over fish or chicken.
Latest posts by Diane Brown
(see all)
Get on our mailing list
Don't miss out on a thing! Get news, deals & more!