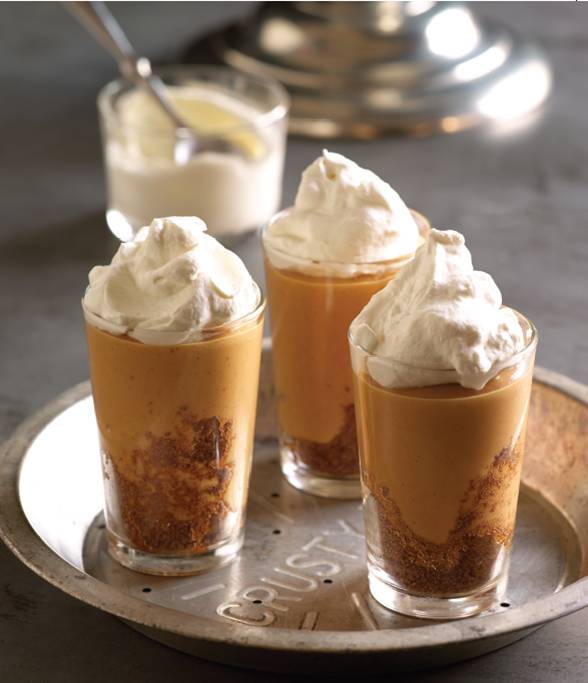 Pumpkin Pie Pudding Recipe from Puddin'
Our articles may contain affiliate links. For more information, view our policies.
Pumpkin Pie Pudding is the dessert of the season
We're in love with Puddin' (the cookbook by Clio Goodman…and the concept of pudding in general). So when Goodman offered, we jumped at the chance to share this edible excerpt with you. Taking the childhood favorite to sophisticated new heights, this Pumpkin Pie Pudding recipe is ideal for Halloween parties, Holiday festivities and even the Thanksgiving table. (It's also just right for an ordinary weeknight.)
A pumpkin pudding recipe with just the right spice
A creamy masterpiece that is reminiscent of pumpkin pie filling only more rich and dreamy with greater depth of creamy flavor, it's a smooth pudding with exotic spice.
Why the spices might make this a date night dessert
We love how the recipe pulls in multiple aphrodisiac notes including the baking spices often referred to as "pumpkin spice." Also called the "warming spices," the spices used in baking, including the cinnamon, ginger and nutmeg in this recipe were used historically as aphrodisiacs.
And speaking of aphrodisiacs, there's the pumpkin. Did you know that pumpkin, the namesake ingredient of pumpkin pudding recipes is actually an aphrodisiac?
Why this pudding recipe doesn't use bottled pumpkin pie spice
You can use a pumpkin spice blend in this and other seasonal pumpkin recipes. But there's a reason most recipes call for the individual spices instead. If you buy pre-packaged pumpkin spice, you don't really know the proportion of each spice added to the blend. So to have better control over your baking, this pudding recipe, like most autumn baking recipes, calls for specific measures of these warming spices.
When to serve this indulgent pumpkin dessert
You might be wondering if you can serve this pudding as an alternative to traditional pumpkin pie. YES! This dessert makes a great option for anyone burnt out on the traditional Thanksgiving dessert. But don't think of this as just a dessert to serve only at this one holiday meal.
Although it's packed with aphrodisiacs, this pudding has a flavor and texture the whole family will love. So, serve the pumpkin pudding dessert to your lover as a midnight snack or make a big batch for a family reunion. Whenever you decide to make some puddin' is the right time!

Excerpted from PUDDIN' by Clio Goodman Copyright © 2013 by Clio Goodman. Excerpted by permission of Spiegel & Grau, a division of Random House, Inc. All rights reserved. No part of this excerpt may be reproduced or reprinted without permission in writing from the publisher.
RELATED: Want more pumpkin recipes? Check out this easy, made-from-scratch Pumpkin Bundt Cake Recipe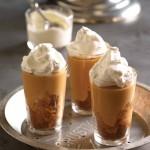 Pumpkin Pie Pudding
Print Recipe
This creamy and decadent pudding from Clio Goodman's book Puddin' puts a sensual spin on pumpkin pie, only in a spoonable form. 
Ingredients
1 3/4

cups

half and half

1 3/4

cups

whole milk

3

egg yolks

3

tbsp

cornstarch

1

15-oz can

unsweetened, solid-pack pumpkin

1

cup

dark brown sugar

1

tsp

salt

1/8

tsp

ground nutmeg

1/8

tsp

ground ginger

1/2

tsp

ground cinnamon

1

tsp

vanilla extract
Instructions
In a medium saucepan vigorously whisk together all of the ingredients except for the vanilla.

Cook over medium heat, whisking constantly, until thickened, 10 minutes. (Once you can lift the whisk from the pudding and it leaves a faint shadow, it's done.)

Strain the pudding through a fine-mesh sieve into a bowl, pressing pudding through sieve with a ladle (using a ladle here really helps separate the pumpkin solids from the silky pudding ). Whisk in vanilla.

Cool at room temperature for 10 minutes, press a layer of plastic wrap onto the surface of the pudding, and chill completely in refrigerator, 2 hours.
If you like this Pumpkin Pie Pudding recipe, get the whole book:

Pin this Pumpkin Pie Pudding recipe:
FREE APHRODISIAC NEWSLETTER
Subscribe to our free aphrodisiac newsletter