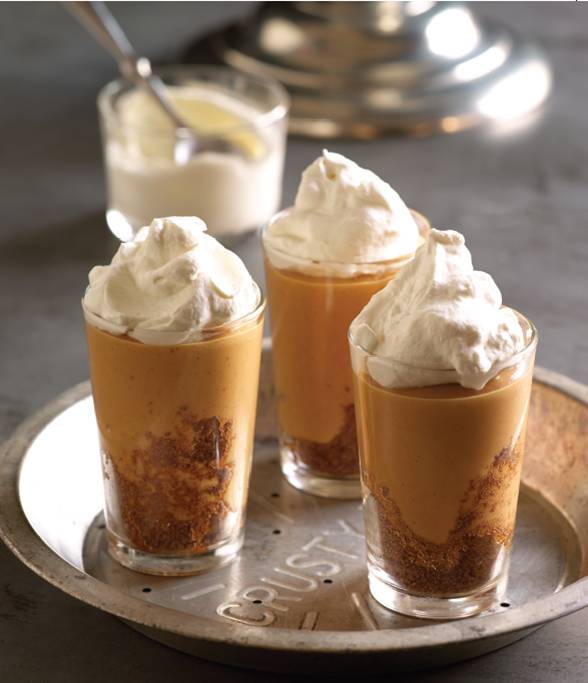 The Tastiest Pumpkin Pudding Recipe
Our articles may contain affiliate links. For more information, view our policies.
A great pudding is hard to pass up, and this is a great one! A pumpkin pudding with just the right balance of spices, it's like pumpkin pie filling, only better. You're going to have a hard time putting down the spoon once you taste this decadent, homemade pudding.
How to make homemade pumpkin pudding
Puddings are great desserts because they're so satisfying and so easy to make. The ingredients in this dessert recipe are pretty straightforward. But you'll notice that it calls for individual spices instead of a pumpkin spice blend. There's a good reason for it. If you buy a pre-packaged pumpkin spice mix, you don't really know the proportion of each spice added to the blend. So to have better control over your baking, this recipe for pumpkin pudding, like most autumn baking recipes, calls for specific measures of these warming spices. So instead of buying pumpkin pie spice, invest in all the delicious baking spices of nutmeg, ginger and cinnamon.
Making pudding is so simple. It just takes a lot of stirring and a little patience. You basically just whisk together all your ingredients in the pan and cook until they thicken. The trick is to just keep whisking, pretty much constantly, to ensure a smooth and deliciously creamy texture. (Note that in this pudding you do not add the vanilla extract until after the pudding is cooked and strained.) Then you just have to patiently wait the two hours until your cooled pudding is ready to eat. What could be easier?
Note that I like to make a batch of fresh whipped cream while the pudding is cooling. Nothing beats a dollop of whipped cream on top of a dish of homemade pudding!
Equipment
You do need a little bit of special equipment to make this holiday pudding recipe. First of all, you'll need a good, medium-sized saucepan and a whisk. If you do a lot of cooking, you'll already have these. But if you don't, invest in something that will last you a lifetime. I recommend this pan from All-Clad. It's what I use in my own kitchen. Whisks won't last a lifetime but one with a grippy handle is useful.
You're also going to need a fine mesh sieve and a ladle to separate out any pumpkin solids in the pumpkin puree from the creamy pudding. If you don't own a sieve, you can use a fine mesh strainer.
When to serve this indulgent pumpkin dessert
You might be wondering if you can serve this pudding as an alternative to traditional pumpkin pie. YES! This dessert makes a great option for anyone burnt out on the traditional Thanksgiving dessert. But don't think of this as just a dessert to serve only at this holiday meal.
Why the spices might make this a date night dessert
You knew I was going to get to the part about what makes this sexy pudding! Yes, this just might be a recipe for romance. After all, the spices used in baking are also called the "warming spices." This includes cinnamon, ginger and nutmeg. They are all, of course, historically aphrodisiacs.
And speaking of aphrodisiacs, this pumpkin pie spice pudding recipe offers more than just sensual spices. Did you know that pumpkin, the namesake ingredient of pumpkin pudding recipes is actually an aphrodisiac?
Despite all the sexy ingredients, this pudding has a flavor and texture the whole family will love. So, serve the pumpkin pudding dessert to your lover as a midnight snack or make a big batch for a family reunion. Whenever you decide to make some puddin' is the right time!
RELATED: Want more pumpkin recipes? Check out this easy, made-from-scratch Pumpkin Bundt Cake Recipe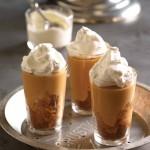 Pumpkin Pie Pudding
Print Recipe
This creamy and decadent pudding from Clio Goodman's book Puddin' puts a sensual spin on pumpkin pie, only in a spoonable form. 
Ingredients
1 3/4

cups

half and half

1 3/4

cups

whole milk

3

egg yolks

3

tbsp

cornstarch

1

15-oz can

unsweetened, solid-pack pumpkin

1

cup

dark brown sugar

1

tsp

salt

1/8

tsp

ground nutmeg

1/8

tsp

ground ginger

1/2

tsp

ground cinnamon

1

tsp

vanilla extract

whipped cream for serving**

optional
Instructions
In a medium saucepan vigorously whisk together all of the ingredients except for the vanilla.

Cook over medium heat, whisking constantly, until thickened, 10 minutes. (Once you can lift the whisk from the pudding and it leaves a faint shadow, it's done.)

Strain the pudding through a fine-mesh sieve into a bowl, pressing pudding through sieve with a ladle (using a ladle here really helps separate the pumpkin solids from the silky pudding ). Whisk in vanilla.

Cool at room temperature for 10 minutes, press a layer of plastic wrap onto the surface of the pudding, and chill completely in refrigerator, 2 hours.
Notes
*If you don't have a sieve, use a fine mesh strainer. 

**I like to make fresh whipped cream as a topping for this (or any) pudding. 
Nutrition
Calories:
321
kcal
|
Carbohydrates:
47
g
|
Protein:
6
g
|
Fat:
13
g
|
Saturated Fat:
7
g
|
Polyunsaturated Fat:
1
g
|
Monounsaturated Fat:
4
g
|
Cholesterol:
130
mg
|
Sodium:
473
mg
|
Potassium:
261
mg
|
Fiber:
0.1
g
|
Sugar:
42
g
|
Vitamin A:
495
IU
|
Vitamin C:
1
mg
|
Calcium:
207
mg
|
Iron:
1
mg
Recipe excerpted from PUDDIN' by Clio Goodman Copyright © 2013 by Clio Goodman. Excerpted by permission of Spiegel & Grau, a division of Random House, Inc. All rights reserved. No part of this excerpt may be reproduced or reprinted without permission in writing from the publisher.
If you like this Pumpkin Pie Pudding recipe, get the whole book:

Latest posts by Amy Reiley
(see all)
Get on our mailing list
Subscribe and get our exclusive list of Six Great Sex-Boosting Snack Foods for FREE! Unsubscribe at any time.