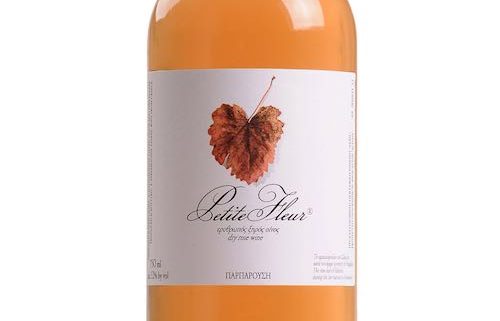 Our articles may contain affiliate links. For more information, view our policies.
A few weeks ago I attended a tasting of Greek wines with the intention of getting a handful of new recommendations for a "white wines for spring" sort of article. I did not expect to be swept away by the wines of one very special winery and the people behind it. But that's just what happened when I met sisters Erifili and Dimitra Parparoussis of Parparoussis Winery and tasted their knockout lineup of wines.
When Greek wines are a family affair
The Parparoussis Winery was founded by the Parparoussis sisters' father, oenologist Athanassios Parparoussis in 1974 but is run today by these two powerful women. Their wines come primarily from estate-grown grapes on the northwest coast of Peloponnese. (Peloponnese is a peninsula in southern Greece, separated from the central part of the country by the Gulf of Corinth.) And the concept, besides making great wine, is to preserve and promote the indigenous Greek varietals. In fact, some of the varietals featured by the Parapoussis family aren't even used by other Greek vintners!
I was truly taken by everything about this winery from its romantic location to it's beautifully structured wines made from unpronounceable and sometimes a little mysterious grapes. Even the presence of the two sisters drew me in to this winery and its story. Something about it was tied very closely for me to the aphrodisiac side of the Greek wine story. It felt very connected to the mythology that links Greek life with food and love and lust.
My Parparoussis Winery tasting notes
I tasted seven of Parparoussis Winery's 9 wines, (imported to the United States by Cava Spiliadis). Although all the wines are definitely worth trying, should you get the chance, I've made notes of my favorites below.
Gifts of Dionysis White Table Wine
They had me at Dionysis, of course. But the wine was a gift that kept on giving. Made from 100% Sideritis, it has the sensuality of great weight and a lovely silky texture.  Flavors hint at ripe melon and the sweetness of dried pear. It has a length that lingers, delighting the tongue long after the wine is gone.
This wine confuses me slightly because it is once again made from 100% Sideritis but unlike the Gifts of Dionysis, which is white, this wine is a salmon blush. Turns out, this grape, indigenous to Peloponnese, is kind of blush colored. The Petite Fleur is really like nothing I've tried before, with hints of apricot on the nose, fresh strawberries on the palate and a hint of minerality on the finish.
Gifts of Dionysos Cava, Dry White Wine
This Parparoussis Winery contribution is a blend of 75% Assyrtico and 25% Athiri, this is an intense and complex white. It's barrel fermented in French oak, which gives its nose notes of roasted nuts and vanilla. Honey and creamy pear dominate on the palate, with lime zest acidity adding a faint but pleasing bitterness.
This may be my favorite of all the Greek wines I tried at the tasting. Its aromas are of sexy spices and just a whiff of uber masculine cedar. It fills the mouth with ripe, red fruits yet maintains an elegance and balance. It is a wine perfect for a romantic dinner–perhaps wild game or even a lamb tagine. It's a wine with great aging potential but one that's also delicious right now.
FREE APHRODISIAC NEWSLETTER
Subscribe to our free aphrodisiac newsletter