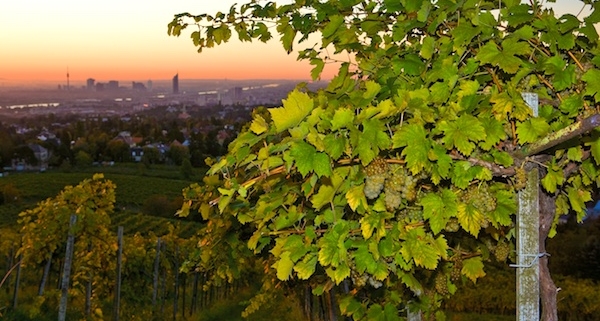 © WienTourismus / Lois Lammerhuber
Wiener Weinwandertag (aka Vienna's Wine Hiking Day)
Our articles may contain affiliate links. For more information, view our policies.
"Wine Hiking" is a concept I can embrace. I've never been a fan of the kind of Wine Country day trip where you race your car from winery to winery, cramming in visits as the day grows long.
Somebody always loses, namely the  designated driver. But to hike through Alpine vineyards to each destination? That sounds like the sort of experience you remember for a lifetime.
And you can!…In Austria, at least.
Experience Wine Country on foot
I was tickled to discover that "Wine Hiking," or Wiener Weinwandertag, is an annual event in the wine country surrounding Vienna. And this year's Wiener Weinwandertag is nearly upon us.
This year's event is scheduled for September 29-30, 2018. It will encompass three different hiking routes for different levels of fitness, (both the imbibing kind and level of cardiovascular strength).
Vienna's wine hiking routes
The shortest wine hike route is just 2.7 miles, starting at Schloss Wilhelminenberg and ending in Neuwaldegg. (This route is circular so no need to arrange a pickup at the end.)
The medium-sized wine hike is 5.9 miles long, with what promises to be some of the region's most charming scenery.
The longest trek is over 6 miles, although organizers promise it is not a strenuous trip. In fact, they mention that it takes visitors past many of the region's historic "wine taverns," which are perfect for refreshment.
Experience authentic, Austrian cuisine
What better time to indulge in traditional, Austrian cuisine then when you're in the middle of a hike? Your taste buds have not truly come to life until they've tasted a gulasch prepared by an Austrian. And save room for the Kaiserschmarr'n,
You can download maps of all three hikes from the Vienna Tourism website to start preparing your culinary odyssey. Autumn is harvest season in Austria and it can be an exciting time to be in the vineyards. If Mother Nature cooperates, you may have a chance to see a bit of grape harvesting in action, or at least the robust grapes, finishing their life cycle as they grow sweeter on the vines. Although September in most Northern Hemisphere wine country can be hot, Vienna's average temperatures run in the high 60s. That is what I call hiking weather.
Vienna – city of vines
While you might think of Vienna only as a city of music and art, over 190 vintners claim the Vienna area as home. The suburbs of this legendary Austrian city are actually teaming with vines. And in fact, significant quantities of wine are produced within the city limits.
What kinds of wines are made in Vienna?
Most vintners concentrate on racy, white varietals, including Riesling, Grüner Veltliner, Sauvignon Blanc and Gelber Muskatteller. But you will also have the chance to try some reds, possibly from varietals you've never encountered before, like Zweigelt and St. Laurent. You also may come across a Pinot Noir or Syrah.
Plan your trip to Vienna's wine country
To learn more about how you can participate in Vienna's "wine hiking" days, visit https://www.wien.info/en/shopping-wining-dining/wine/wine-trail.
Photo courtesy of © WienTourismus / Lois Lammerhuber
Latest posts by Amy Reiley
(see all)
Get on our mailing list
Subscribe and get our exclusive list of Six Great Sex-Boosting Snack Foods for FREE! Unsubscribe at any time - privacy policy