Visit Switzerland From the Comfort of Home
Our articles may contain affiliate links. For more information, view our policies.
Sometimes it feels good to explore other cultures, even if you can't leave home. Many tourism bureaus are starting to understand this need and are creating experience that allow you to visit their their home, from home. In the past few weeks, I've shared how you can get a taste of Yountville and Quebec and now, we'll visit Switzerland.
Having some fun with Switzerland Tourism
Did you know that mySwitzerland.com offers lessons on how to be Swiss. Their detailed list of opportunities introduces us to a tradition of Switzerland and offers some pointers on some of their greatest traditions to get travelers–even arm chair visitors–into the spirit of Switzerland. It is a fun and unique way to visit Switzerland and most of these opportunities are free. So pour yourselves a glass some wine (preferably Swiss wine), choose your activities and celebrate Switzerland.
Learn to Yodel
Yodeling is among Switzerland's greatest traditions. This vocal technique was originally used to communicate between remote Swiss villages. It developed in a form of song in the nineteenth century and is still used today in songs to mark special occasions. Today, musicians have taken yodeling into a new era with great remixes like this one. Enjoy this modern Swiss sound and maybe pick up a few yodeling techniques for yourself.
Pick up some Swiss wrestling techniques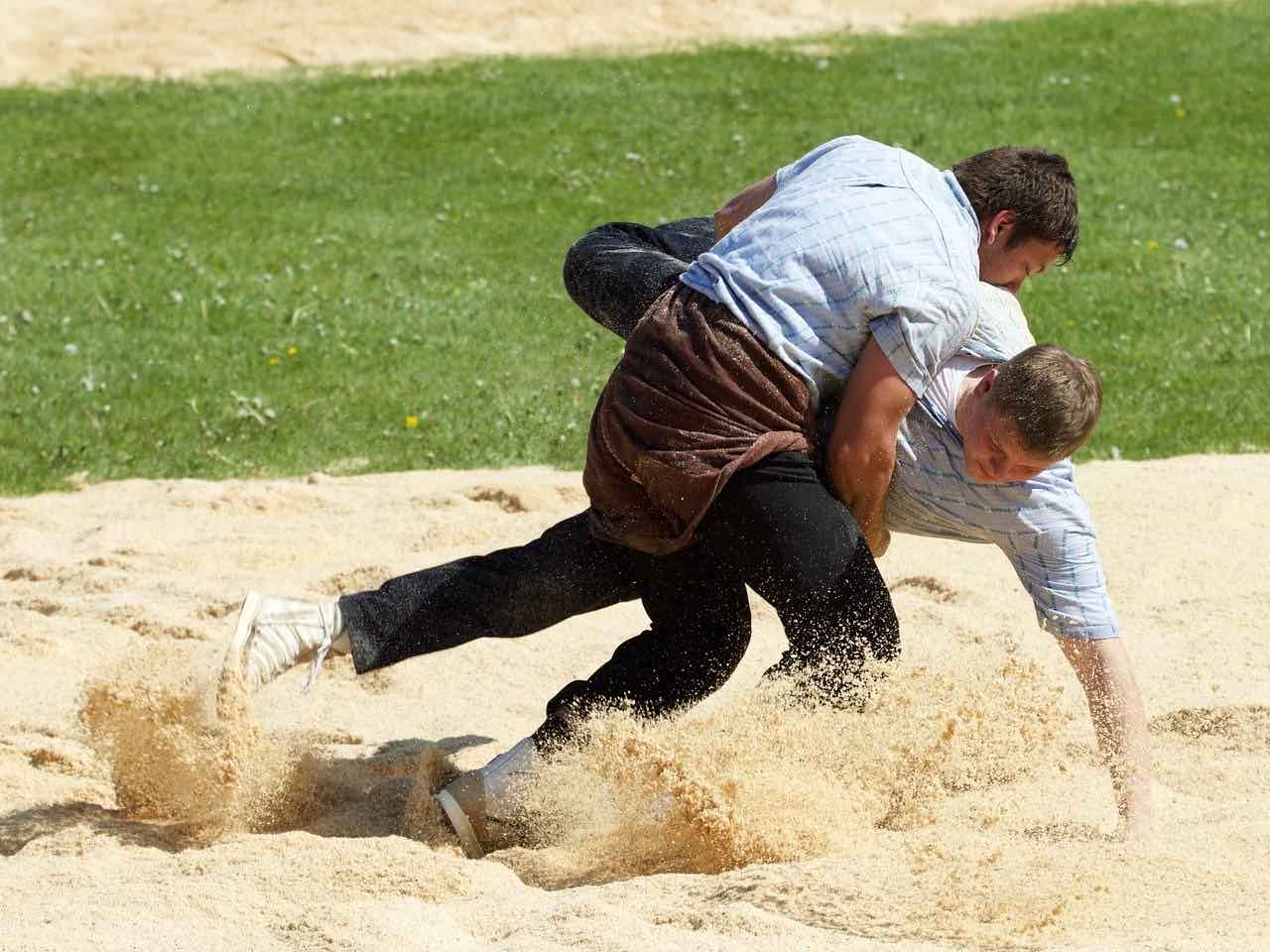 Did you know that the Swiss have their own form of wrestling, Schwingen? It's a competition for two, which typically takes place in a sawdust ring. The My Switzerland website offers some history of this combative sport, including insight into the five major Schwingen throws. Who knows? You might even be inspired to gather up some sawdust and make your own Schwingen ring!
Try your hand at cooking some Swiss Food
Did you know that the Swiss like hot dogs? Yep! There's a Swiss version of the hot dog, made with a soft, Swiss bread and bratwurst. Sound good to you? You don't have to visit Switzerland to try it. You can make it along with Chef Yannick Germanier in this Swiss cooking how-to video on YouTube.
Practice the Swiss art of paper cutting
The Swiss have a tradition of creating paper scenes using decoupage techniques and cutting precision so fine the paper cuts almost appear to be woven lace. Traditionally, they were made in black and white and all from one piece. But today, they are often colorful decoupages with intricate details.
The My Switzerland website offers some information on the paper cutting art, as it appears in the Musée du Vieux Pays-d'Enhaut. They don't offer any guide to creating your own. But you don't have to visit Switzerland to learn the technique. I found this video on the Swiss art of paper cutting featured on YouTube. It should be enough to get you started on the path to paper cutting zen.
The armchair traveler's Switzerland
Or, if you're looking for more passive activities, you can always visit Switzerland remotely. This seven minute video, which tours Switzerland by train, will give you some insight into the architecture and geography of Switzerland–not to mention the importance of rail travel in this mountainous nation.
So snuggle up with the potent aphrodisiac of Swiss chocolate, (my choice would be Lindt
). And dream of far off mountain towns where the cow bells ring, the train whistles blow and history is preserved at every turn.
FREE APHRODISIAC NEWSLETTER
Subscribe to our free aphrodisiac newsletter