Woman on Wine
Now is the perfect time to expand your gastronomic horizons and try a new wine
This month's column is inspired, in part, by a shopping trip to K & L, one of the West Coast's most interesting wine retailers. I wanted to try a new wine and this wine store had more interesting and unusual wines than familiar favorites.
K & L has a fantastic staff and a saleswoman adopted me right away, steering me through aisle toward wines I likely wouldn't have found on my own. When you're ready to go wine adventuring for yourself, a great sales agent can be key.  But be sure to be very clear about what you want. Don't be embarrassed to give the sales rep a price range, even if you have a low budget. True wine lovers love nothing more than a wine bargain.
If you don't already know a retailer with a unique selection, ask a friend or check online. You'd be surprised how helpful Yelp can be. And if you don't live near a great wine shop where you can discover something new on your own, here are a few of my recent discoveries. I highly recommend trying them all.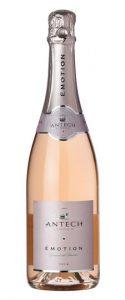 Antech
2014 Cremant de Limoux Brut Rosé Emotion
If you think you know Brut Rosé, you need to try this wine. It's a blend of Chardonnay, Chenin Blanc, Mauzac and Pinot Noir. And it tastes like no bottle of bubbly I've ever tried. It's a crowd-friendly and affordable bottle of fizz with a delicate texture and floral aromas and flavors. Yes, it truly tastes a bit like drinking flowers, (mixed with delicate notes of strawberry and raspberry). The finish is a little short but at under $15, you really can't expect to have everything, can you?
Murgo
2012 Brut Rosé Spumante
My mother introduced me to this wine after visiting the winery in Sicily. It is a really interesting bottle of Rosé. It has all the expected red berry flavors but it also has a lovely citrus acidity that makes it incredibly refreshing. There is a faint salinity on the finish, which I'm guessing comes from the unique, Sicilian terroir. If you're looking for a bottle of bubbly as an aperitif that can also carry through the meal, this is a great choice.
Domaine Champalou
2015 Vouvray La Cuvée Les Fondraux 2015
I actually found this wine in a wine store bargain, (which I find hard to believe now that I've drained the bottle). This Chenin Blanc is a beautifully textured wine, silky on the tongue with surprising weight. Its weight and robustness are thanks to a kiss of residual sugar. There is a hint of sweetness but just enough to make your tongue long for an elegant meal to pair with this lusciously plush wine.
Bonny Doon Vineyard
2014 Grenache Cuvee R
You may already be familiar with Bonny Doon. In fact, I hope you are. But you may not know their Grenache Cuvee R. I picked this wine because I think it is a nice representative of American Grenache. It's a grape that is a little difficult to grow in the US, but Bonny Doon's wine is as delicious as a sunny afternoon in Provence. It offers notes of fresh herbs, cherries and faint gaminess but the best part is the minerality that runs straight through to the finish.
Martin Ray Winery
2014 Dry Creek Valley Tower Red Wine
You don't always have to go off the beaten path to find something different. This is a Sonoma County winery you might not know, but because it's less known, the wine is very well priced. A blend of Petit Verdot, Cab Franc and Malbec, it is a big, dense wine. Lovers of Bordeaux will appreciate its dark berry and cherry fruit, hints of sweat and leather and a sexy punch of spice—especially at a price under $50!
FREE APHRODISIAC NEWSLETTER
Subscribe to our free aphrodisiac newsletter
https://www.eatsomethingsexy.com/wp-content/uploads/2017/01/1269167x.jpg
540
225
Amy Reiley
https://www.eatsomethingsexy.com/wp-content/uploads/2017/01/Amy-Reileys.png
Amy Reiley
2017-01-05 07:00:31
2017-01-05 13:46:21
Try a New Wine