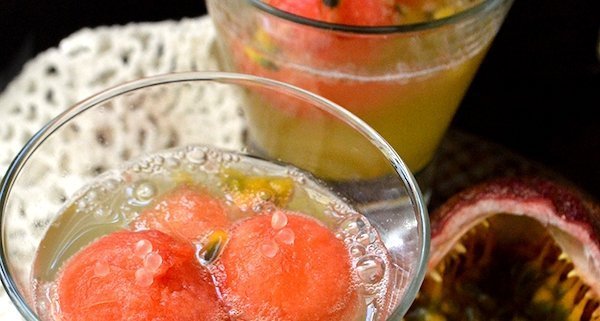 A Tropical Cocktail for Wine Lovers
Our articles may contain affiliate links. For more information, view our policies.
My friend and cookbook author Nandita Godbole shared this tropical cocktail recipe with me. (Probably because she knows of my endless appetite for passion fruit…and wine…) The recipe makes a glass literally layered with aphrodisiacs. It is one I knew I had to share.
Nandita's Sparkling Passion Fruit Watermelon Cocktail combines the aphrodisiacs of watermelon and sparkling wine with passion fruit and the zing of finger lime. (Don't forget, citrus makes my list of the 10 best foods for a woman's libido.) And because it starts with a base of Moscato d'Asti, a lightly effervescent, Italian sparkling wine, this tropical cocktail is low in alcohol, helping you to avoid the dangers of overindulging.
Chef's Tip
This tropical cocktail recipe makes two servings, perfect for a cozy night of tropical fantasies with your lover. But it it will easily double or triple, which is probably a good idea because you'll never be able to stop at one. Just be sure to chill the cut watermelon before mixing the drinks in order to maintain a refreshing temperature.
Passion Fruit Watermelon Cocktail
Print Recipe
A tropical cocktail layered with aphrodisiac ingredients, this is a drink to serve to your lover. 
Ingredients
6

oz

Moscato d'Asti

chilled

3-4

seedless watermelon balls or chunks per glass

chilled

Pearls of ½ finger lime

Juice of 1 passionfruit

strained, seeds optional
Instructions
Fill half the glass with the chilled Moscato d'Asti.

Add half the finger lime pearls in each and stir well so they are distributed well.

Slowly lower in watermelon balls or chunks, and any of its juices and give it a light stir. At this time, the drink will take on a slightly pink color.

Top up with the remaining Moscato.

Add in the seeds if you have strained the juice and stir them in. For a 'sunrise' look on the drink, carefully transfer half of the passionfruit juice to the bottom of each prepared glass using a straw.

Serve immediately.
FREE APHRODISIAC NEWSLETTER
Subscribe to our free aphrodisiac newsletter