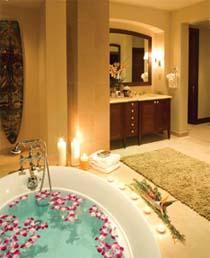 Our articles may contain affiliate links. For more information, view our policies.
Make 2012 your year for romance
OK, so you've been planning for this special day for a month, six months, even a year. Your romantic travel destination is a spot you've been designing in your head – to pop the question, make the question pop, make a heart pop. But when you get to get to that special place, the only thing that pops is your temper. It's a room without a view, a hotel on a highway, a cozy cottage blocks from the beach.
Romantic travel is its very own special focus and best left for travel agents who can stand, come what may, by what they recommend. And often what they will present in their tool box of choices is a one-of-a kind romance experience as can be found through such stand-up companies as the Kurtz-Ahlers collection.
Kurtz-Ahlers & Associates has put together an elite collection of destination properties around the world, each of them a signature and an imprint that adds to the collection. Each venue offers privacy, purpose and a complete package of pampering. You won't find hotels on the highway here or beach bungalows sans la plage. Rather, it's a Valentine of perfection for serious romantics.
Get ready fly. Get ready to soar.
Italy
If it's a question of proposing, call in the angels. Il Salviatino, a refurbished Renaissance-era manor within earshot of the bells and spectacle of the great duomo of Florence, presents surroundings that verge on pure religion. Each room, each suite is its own masterpiece, often with original recovered frescoes on the walls and ceilings, authentic antiques and views of the Tuscan countryside to bring on the wows … and the vows. The property's two-night Proposal Package is good through March and includes breakfast, a couples massage in the Deverana spa, a romantic dinner in the Italian Garden (excluding beverages), a private jewelry shopping excursion on the Ponte Vecchio and Via Tornabuoni … and a back-up plan: open-bar all night if proposal is rejected. Bonus: count on a free anniversary night for every year to come if the proposal works. Price: $2,215 (Taxes, Service and VAT included). A Romance Package at Il Salviatino is available for $1,824 per night for two and includes breakfast for two, two one-hour spa treatments, a candlelight dinner, romantic turndown with chocolates, a bottle of champagne and a farewell gift.
Further north, the Armani Hotel Milano just opened and if fashion can make hearts jump, this property, with its 95 rooms and suites designed by the eponymous doge of style, can win over any hesitant heart. Combine business, shopping, dining, delighting, pampering and indulging in this trendy urban hideaway located in the fashion center of Europe. And just in time for Saint Valentine's Day the Armani dresses up the holiday with a Romantic Experience that's packed with style: Champagne, couples massage, romantic dinner and much more: $1,658.
Mexico
The Pacific Coast of Mexico beckons romantics with warm beaches and heart-warming suites, especially if the destination is Imanta, Punta de Mita. Find just 8 villas there, all decked out with private pools and sweeping views on 250 acres adjacent to a vast ecological reserve. The property's signature Romantic Package is an all-inclusive, five-night perfect getaway. Rates start at $7,740 for two.
New Zealand
Whisk yourselves away to a land beyond time in the verdant islands of New Zealand. Romantic Hideaway packages present the Matakauri Lodge on South Island, a dazzling ode to sensuality and style hidden away in a glen beyond Queenstown and overlooking Lake Wakatipu. Or couples can choose Kauri Cliffs Lodge for sunset walks on the pink beaches of the Bay of Islands and private picnics on the cliffs overlooking the wild waves. Then times might call for nights of snuggling at Cape Kidnappers, a remote sheep farm of rolling glades along Hawkes Bay. Romantic Hideaway packages include a bottle of Champagne in room, romantic turn down services with rose petals, bath oil and candle. Also count on pre-dinner drinks and canapés, gourmet dinners, full breakfasts and a complimentary mini-bar (excluding liquor and wine). Priced from $1,500 per night for two.
Hawaii
Catch the peak of the great whale migration from beachfront villas, clinking Champagne glasses to this choice for an excellent romantic escape. The hideaway? Wailea Beach Villas on the coast of Maui. The lovers' lair is an amenity-packed villa with all residential conveniences, so couples need not step out during their stay … unless they want to. The resort offers two pools (including an adults only pool) and all the services and provisions one would expect to find at a top property – butler service and private chef at the ready, room service, concierge desk.
Wailea Winter Deals at Wailea Beach Villas are on sale for 30% off of any one-, two- and three-bedroom suite through the month of March. Rates start at $919 per night for a palatial two-bedroom penthouse.
FREE APHRODISIAC NEWSLETTER
Subscribe to our free aphrodisiac newsletter