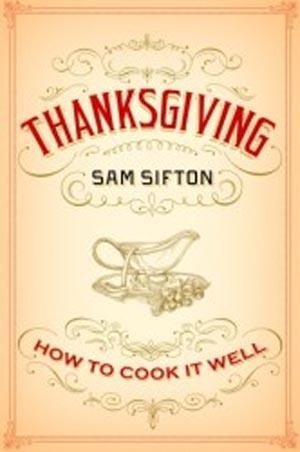 This Holiday Guide is no Turkey
Acclaimed food writer and New York Times national editor Sam Sifton knows a thing or two about Holiday entertaining. Explains Sifton, "For a couple of years, I spent Thanksgiving Day at The New York Times, answering panicked questions from readers. I was a one-man Thanksgiving help line." His new book, Thanksgiving: How to Cook It Well
uses that experience, along with a bit of wit and enticing prose, to walk the reader through preparing (and surviving) America's culinary holiday.
It's all in the details
Thanksgiving: how to cook it well includes recipes for turkey and traditional sides, as you might expect. But what we appreciate the most are the author's practical tips like how to warm serving plates and platters. As any book on Thanksgiving should, Sifton's manual includes recipes for reinventing leftovers into entirely new meals.
And if you want our favorite vegetarian recipe for Thanksgiving, don't miss this Stuffed Kabocha Squash.
Sam Sifton's Thanksgiving: how to cook it well (advice from a pro)
This Holiday Guide is no Turkey Acclaimed food writer and New York Times national editor Sam Sifton knows a thing or two about Holiday entertaining. Explai
FREE APHRODISIAC NEWSLETTER
Subscribe to our free aphrodisiac newsletter
https://www.eatsomethingsexy.com/wp-content/uploads/2012/11/samsiftonthanksgiving.jpg
452
300
admin
https://www.eatsomethingsexy.com/wp-content/uploads/2017/01/Amy-Reileys.png
admin
2016-11-14 17:08:12
2019-11-17 13:09:54
Sam Sifton's Thanksgiving: how to cook it well (advice from a pro)