The World's Oldest Restaurant Offers the Seduction of History
Our articles may contain affiliate links. For more information, view our policies.
Tradition Rules at the World's Oldest Restaurant, Spain's Sobrino de Botin
by Cassandra Oxley
The restaurant industry can be incredibly fickle. Many a restaurateur finds him or herself having to pack up their dreams a within months of launching. (This Forbes story paints a vivid picture.) Sometimes, success can be elusive because a magnificent restaurant has opened in the wrong place or at the wrong time. At others, the spark of innovation just isn't there. Anyone who has ever wished to become a restaurant owner should take a cue from Sobrino de Botín. This Madrid dining establishment is regarded as the world's oldest restaurant–and one which has consistently managed to teach newer establishments a thing or two about the romance of excellent food and wine and great, European service.
What defines the world's oldest restaurant?
Spain is known above all for its avante-garde cuisine, with chefs such as Ferran Adrià virtually coining the phrase 'molecular cuisine', and stalwarts like the Roca Brothers (of El Celler de Can Roca) consistently making it into the top five of Restaurant Magazine's 50 Best Restaurants list.
Sobrino de Botín was founded in 1725 and is officially considered the longest standing consistently open restaurant in the world according to the Guinness Book of World Records. The restaurant, mentioned in novels by Ernest Hemingway, James A. Michener and Graham Greene, has steered clear of the chemical wave that took over Spain in the 1990s. Instead, its proprietors focus on what they know best: the time-tested magic of old family recipes.
The history
Sobrino de Botín literally means 'Botin's nephew'. Despite being quintessentially Spanish, it was actually founded by a Frenchman called Jean Botin as was originally called Casa Botín. His nephew Candido Remis inherited the establishment, changing the name to its current version to celebrate his ties to the founder. The restaurant was built over a wine cellar which is even older, dating back to 1590. Many figures from Spanish history and literature have made a mark on the restaurant. Francisco de Goya, one of Spain's most renowned painters, worked there as a waiter while waiting to be admitted to the Royal Academy of Fine Arts.
The magic of tradition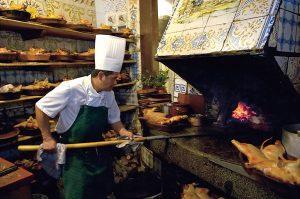 Sobrino de Botín is one of many restaurant-museums in Spain; guests are swept away by the romance of the original 18th tileworks and décor. And then there's the food. Recipes are time-honored and followed with painstaking detail. Quality produce is a cornerstone of its success, as are tried-and-tested techniques. For instance, meats are cooked inside an oak oven. This lends roasts a distinct flavor and aroma. The process takes time and patience, but the results are definitely worth it. The restaurant also uses a carbon stove, which lends meats a beautiful smoky taste.
What to Order?
The roast suckling pig is about as sensual as it gets. Crisp crackling breaks through to revel juicy, flavorful meat. And, of course, it must be washed down with a good bottle of Rioja. When in Spain…Another firm favorite is the roast lamb, slow cooked with olive oil, bell peppers, and garlic, until the meat is buttery soft. Both the pork and the lamb are cooked traditionally in a 300-year-old wood fired oven.
Casa de Botín is a timeless classic that is just about as uninterested in the Spanish molecular cuisine movement as one could be. Though it may seem like it's standing alone, it may be among the most influential Spanish restaurants of our time. The world's oldest restaurant's passion for slow, home-cooked food is echoed in a bevy of modernist establishments, including Michelin-starred ones like El Lago in Marbella in the South of Spain, which is a big proponent of zero-kilometre cuisine.
This Old World gem surrounded by a modernist movement reminds us that the seduction of a restaurant is not about the science. Traditional cooking techniques, carefully sourced produce, and uniquely beautiful interiors are just three secrets of its success, which is surely also the product of the savvy and love for fine cuisine boasted by its owners.
Wood oven photo ©PromoMadrid, author Max Alexander
FREE APHRODISIAC NEWSLETTER
Subscribe to our free aphrodisiac newsletter