Everything You Need to Know About Salt for Cooking
Our articles may contain affiliate links. For more information, view our policies.
I had a conversation with my brother about a year ago that inspired me to learn everything I could about salt for cooking. He said he read an article revealing that all the fancy salts taste alike, so it is foolish to bother with anything other than plain old iodized table salt, such as Morton's. He also added that the article he read included a blind taste test of various premium salts.
So much to learn about salt from health to taste – and what about flavored salts?
He never shared the article with me, so I'm not sure when or where it was published.  Since my brother is an economist, it was likely a science journal. According to him, the tasters were unable to differentiate between salts in the blind test. He also added that all salt has the same amount of sodium. This is a fact I was later able to discredit and will explain a little later.
So I am writing this article with the goal of finding the answer to several burning questions about using salt in cooking including: Do all salts taste the same? What's the deal with the different-sized and shaped granules and when should we use each one? Is salt the health evil we've been told we must fear? And what about the new salt blends? How are the pros using smoked, flavored and infused salts and how should we use these kinds of salts? Or should we all be cooking without salt?
Salt and health
I started my research with the book, The Secret to Skinny: How Salt Makes You Fat, and the 4-Week Plan to Drop a Size and Get Healthier with Simple Low-Sodium Swaps
. I will add that I first opened the book with an attitude. I don't really think that salt makes us hefty – the sodium in processed foods is a concern for sure, but salt? So I started reading with, let's face it, a bad attitude.
In the introduction, the book makes the point that salt can increase food cravings. I can see how that could result in weight gain. But this book is really targeting the sodium in processed foods and sort of picking and choosing for the reader the least evil of processed foods to use in their diet. But what it did not address was how to best use salt in cooking.
As I continued to research salt and health, an announcement came of a proposed bill to ban salt in New York restaurants. If the state of New York is trying to make salting food a crime, then the salt situation must be worse than I thought!
Sodium and the Dash Diet
While the first two sources I consulted left me frustrated, one of the best resources I found is the DASH diet. This is a plan for healthy eating to reduce blood pressure or to maintain healthy blood pressure if you don't have issues with hypertension. It includes information for us all, not just warnings against salt use for those with weight or blood pressure issues. It is a sensible program for everyone, and one that could be beneficial to sexual health. After all, high blood pressure is known to decrease sexual desire and performance.
With DASH, you reduce sodium to 1 teaspoon a day and then gradually reduce further, if needed for hypertension, in collaboration with your doctor. This was the first source I found with an actual guideline for salt consumption. DASH offers a whole menu plan of meals that does include table salt – but very little processed food. Here's the link to the DASH booklet, if you would like more information.
RELATED: How to be Sexier by the Hour
Important health effects of salt
But I knew this wasn't the whole story on salt and health. I consulted the Harvard School of Public Health website, where I was quickly reminded that we need salt. The body needs salt to maintain proper Ph levels and help absorb other nutrients. Salt is important for nerve impulses and muscle contraction, too.
However, in order to keep the body in working order, you only need about 500mg of salt per day. To put this into perspective a teaspoon of salt is about 2,300mg. So obviously, we need to use salt judiciously but are there types of salt that are more healthy than others? It turns out, the answer is yes-ish.
What is the difference between table salt and sea salt?
Table salt generally comes from mined salts and is, like granulated sugar, processed to obtain a smooth texture and snow-white color. Most table salts also have added anti-caking agents as well as a supplemental iodine. Sea and lake salts are far less processed, however that doesn't mean they're more nutritious.
What has the least sodium?
Even though sea salt and lake salts don't offer greater nutritional benefits to table salt, these salts have a greater concentration of minerals than does table salt. It is believed that the body doesn't get any added benefit from these minerals. However, what it does mean is that sea salt granules generally contain less sodium than is found in table salt.
These trace minerals also, according to my research, greatly affect not only the size of the salt granules but also the flavor. If this is true, it debunks my brother's story that tasted blind, a variety of salts do not have discernibly different flavors.
Do different salts taste different?
I wanted to find out for myself if I could discern the different flavors in sea and lake salts from different parts of the world. So I got a sampler pack of "gourmet sea salts from around the world" packaged by Salts of the 7 Seas. I selected 6 different salts from varying parts of the world to taste. To taste each salt under the same conditions, I dissolved 1/8 teaspoon of each salt into 1 tablespoon of warm water and tasted each glass of salt water.
How do you choose a salt for cooking?
What this experiment showed me was that selecting a cooking salt may be a more complex choice than most of us think. The first thing I noticed was the rate at which the different salts dissolved. It started to make sense to me that chefs would want to use different salts in different applications.
For example, if you're adding a salt during cooking, then you probably want one that melts easily. But if you're looking for a finishing salt to add a hit of crunch and saltiness to the final dish, as in the case of salt sprinkled atop a caramel, then you want a salt that doesn't quickly dissolve and lose its texture. That being said, I've also heard that some chefs who serve raw seafood like salt from Australia's Murray River as a finishing salt because it melts quickly and will better integrate with the delicate flavors of raw fish than will a traditional finishing salt.
TO TRY: Flourless Salted Peanut Cookies
Taste before cooking
Though I did not notice remarkably different flavors in the salts, I did notice that the salts hit the palate in different ways. Before I started, I was expecting all of the salts to hit the palate on the sides, where the "salty" taste buds reside.
But when sipping the salt waters, I noticed that some only hit the tip of my tongue, others coated the entire tongue in briny flavor. I could see selecting a salt by what part of the mouth you want it to affect. For example, if you have a dish in which most of its flavor hits the back of the mouth, say like a piece of beef with a peppercorn crust, then maybe you want a salt with flavor at the front of the palate, to give the dish a more interesting taste experience across the whole tongue.
I  also observed that some salts offered more minerality in flavor than others. Some were almost imperceptibly salty. One salt evoked that overpoweringly salty craving for water you get after eating a fist full of pretzels without liquid to wash them down.
Consider flavored salt
I realize that most people don't want to keep five different salts in the pantry to produce such subtle effects. What I think would be more useful than owning a pantry full of lake or sea salts with varying degrees of "saltiness," the average home cook would be much better off exploring flavored salts.
Flavored salts are natural salts, typically unrefined sea salts that have been infused or blended with other flavoring agents. One of my favorite types of flavored salts are truffle salts, in which tiny truffle shavings have been added to a coarse-grain salt before packaging. Although the flavor of a truffle salt lacks the subtle earthy notes of fresh truffle, it gives a wonderfully funky, truffle-like note to the salt and any dish you cook with it.
Other salts I enjoy are smoked salts. These can bring a hint of campfire to a risotto cooked on the stove or even a simple slice of avocado toast. But there is an endless variety of salts with flavor to choose from.
TO TRY: Easy Vegan Carrot Top Pesto with Smoked Salt
To help you navigate the world of gourmet salts, I turned to an expert on the topic, Eric Stubenberg, the innovator behind the brand Lord of Salt. Stubenberg makes his infused salts through a process of hot smoking. His products are not, like most flavored salts, blended with a flavoring agent. In this case the flavor is in the salt. And as a result, the products have a longer shelf life than most flavored salts on the market.
Stubenberg is based in the Pacific Northwest and his salt flavors are influenced by local products (in this case, Willamette Valley wines and local, artisan chocolate among others). Stubenberg started making his salt blends for the restaurant business. However, his background was not in cooking. He was a fifth-grade teacher before he started his salt company.
Because he really is your average consumer, Stubenberg's approach to using flavored salts is very much that of your regular guy who happens to like to cook. His recommendation for incorporating his flavored salts into home cooking is to, "Use it like salt."
So I really suppose it is as simple as that. Find a salt you like for cooking and just use it like salt. And, for optimal health, including sexual health, keep your daily sodium intake, including using salt in your cooking as well as hidden sodium in processed foods, to under 2,300mg.
Tasting notes
If you want to get deeper into choosing salts for different dishes, here are my tasting notes from the six salts I tried, each dissolved into identical amounts of water.
Aguni Japanese
This salt comes from the sea waters around Japan's Aguni Island. Although its grains are fine, the salt did not dissolve easily in the water. Of all the sea salts in my salt tasting notes, this salt tasted the most of the sea. Its flavors were mild and briny. Dissolved in water, it tasted more like sea water than like salt.
Brittany Gray
This salt is collected from the waters off the northwest of France and is also sometimes called Celtic Gray. Its color is light gray, thanks to the clay soil of the region. The salt has a grainy, almost moist texture and dissolves beautifully. It has virtually no taste at the front of the palate but offers subtle mineral flavors toward the back of the palate.
Fleur de Sel
Sometimes called the "caviar of salts," Fleur de Sel is harvested only from the very top layer of salt from the salt ponds to achieve a delicate texture. The salt melts easily and has a delicate flavor at the center of the tongue, with little flavor at the front or sides of the mouth. Like the other French salt in the group, its taste has a great deal of minerality. (Tasted alone, I found the mineral flavor of both the Fleur and the Brittany to be almost metallic.)
Mayan Sun
A white salt from the coastal shores of El Salvador, Mayan Sun was one of only 2 in the tasting with a salty flavor over the whole tongue. Although it comes from a region with mineral-rich soil, the mineral flavors of this salt are very faint.
Murray River
This salt from Australia melted the most easily of the bunch. Light peach in color, it is collected from pools under the Murray Darling River Basin. This is the most subtly salty of the salts tasted and its flavors linger only on the tip of the tongue.
Tibetan Rose
Easily the prettiest salt in the bunch with its large, jewel-like, pink crystals, the Tibetan Rose also has the most interesting story of the salts in my salt tasting notes. The salt is from the Jurassic era and harvested from ancient sea beds found in the Himalayas. The crystals are too big and too slow to melt to serve straight from the jar. They should be ground first. This is the "saltiest" of the salts tasted with pronounced flavor across the entire tongue.
Read more of our food feature stories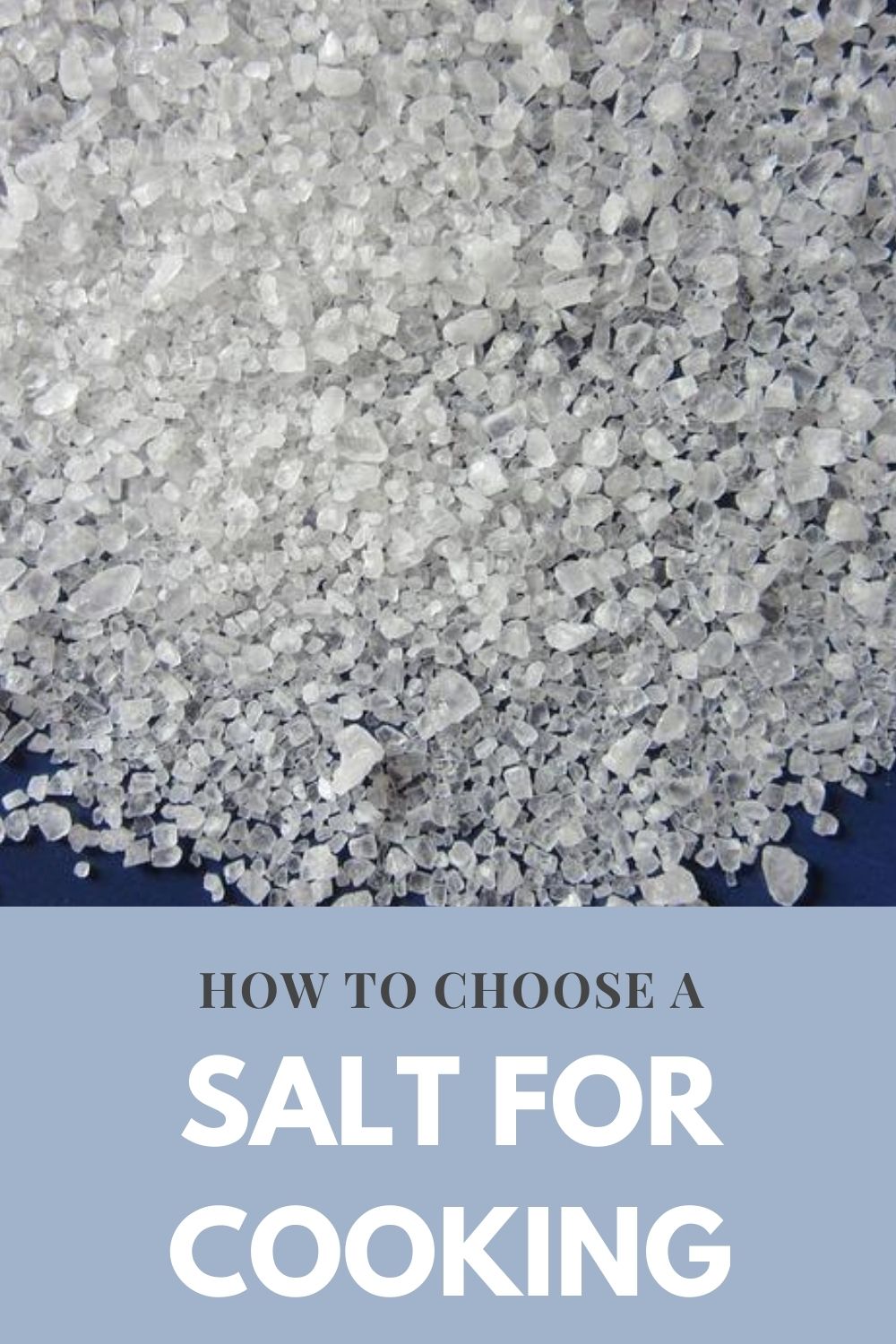 Latest posts by Amy Reiley
(see all)
Get on our mailing list
Don't miss out on a thing! Get news, deals & more!