The Bubbles You Can Use Right Now
Our articles may contain affiliate links. For more information, view our policies.
When the going gets tough, the tough drink bubbly. Isn't that how the saying's supposed to go?
My consumption of sparkling wine is on the rise. In fact, there's been a steady rise in the consumption of sparkling bubbles in my house since the middle of March. And I haven't just stuck to Champagne. No, I am an equal-opportunity drinker of sparkling wines.
Bubbly from around the world
You see, Champagne is a region, not an endorsement. I know some drinkers are confused as to whether anything sparkling that isn't labeled as Champagne is worth drinking. But there are pleasures to be found from sparkling wines around the world. So today I'm focusing on some of the best sparkling wines for everyday enjoyment. (In other words, nothing on my list will break the bank!)
The Italians have their Proseccos. (Check out Annette Tomei's review of a Prosecco that's "more than a brunch wine.") Spain's Cavas represent some of the best-value sparkling wines in the world. Much of the New World, including the United States and Canada, makes delicious sparkling wines. (Did you know that there's world-class sparkling wine to be found on  Long Island? Check out my review of Sparkling Pointe.) Even South Africa is in on the act, making delightfully effervescent wines called méthode cap classique.
RELATED: What is Prosecco and When Should You Drink It?
Here are just a few of the empty bottles of bubbly that currently line my shelf. All of them were obtained by delivery during these past few, difficult months, so I know they're wines you can "go out" and buy without ever leaving your home.
Check which popular sparkling wines you can get delivered right now with Drizly.
Stay safe, stay healthy and drink your fill of sparkling wines.
My Affordable Sparkling Wine Recommendations
Breathless Blanc de Noirs, Sonoma County CA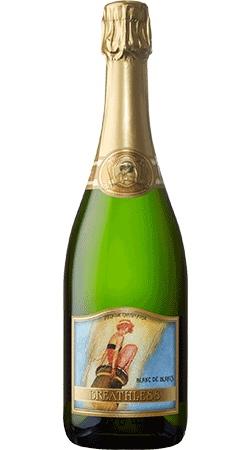 I love surprises and this pleasant surprise showed up on my doorstep as a thank you gift, so this bottle of bubbly received high marks before I ever popped the cork! Of course, I knew I wouldn't be disappointed. Breathless is a relative newcomer on the sparkling wine market, but they've racked up more awards than some veteran Champagne houses. The Blanc de Noir is a pastel pink wine with doughy, brioche aromas and sweet berry flavors that weigh on the mid-palate. It's the kind of bubbly that makes you anxious for the next sip.
2017 Backsberg Brut Méthode Cap Classique, Paarl, South Africa
A South African wine made in the traditional Champagne method, this is a bottle of bubbly with substance. Its aromas are of apples, freshly cut hay and a hint of brandy. The wine is remarkably creamy on the palate and offers refreshing acidity. Interestingly, this is a kosher sparkling wine–possibly the only kosher sparkling wine I've ever tried. And definitely one of the better kosher wines I've tried in general.
The second California sparkling wine on my list, this wine is very different from the Breathless but equally satisfying. It's a fruit-forward wine with great lemon freshness. On the nose, citrus notes intermingle with baking spice. On the palate there's lemon peel sweetness rounded out by apple, pear and a hint of roasted nut.
Domaine Ehrhart St. Remy Prestige Cremant d'Alsace, France
Although this is a French sparkling wine made in the traditional method, it cannot be called Champagne because it does not come from the Champagne region. This is a fact for which I'm grateful because if a wine of this quality were called Champagne, I probably wouldn't be able to afford it. But for $24, this wine gives me everything I want for everyday drinking. Lovely and elegant for the price, it offers delicate honeydew and peach notes on the nose. A bright, happy wine, its flavors include summer fruits and lemon acidity.
Want more wine you can buy right now? Check out last month's column on Trader Joe's Wines for Stay at Home Enjoyment
Shop for good-value sparkling wines with Drizly, my favorite alcohol delivery service.
Latest posts by Amy Reiley
(see all)
Get on our mailing list
Subscribe and get our exclusive list of Six Great Sex-Boosting Snack Foods for FREE! Unsubscribe at any time - privacy policy