Easy Cheese and Onion Tart Recipe
Our articles may contain affiliate links. For more information, view our policies.
One of my favorite ingredients of spring is big, juicy sweet onions. You know the kind, the ones that are so mild in flavor that you can eat them like apples. Typically, I'll use them raw in salads and on burgers.
But this year I bought so many I didn't know what to do. Enter the free-form cheese and onion tart. My newest recipe is basically a savory version of a rustic fruit tart, meant to be served as a side dish. And if you ask me, this French onion tart works with any spring meal.
TO TRY: Fennel and Orange Salad with Sweet Onion and Arugula
What is a free-form tart?
I mentioned that this is a free-form tart recipe, which is part of the reason it is an easy side dish.
But what does free form tart mean? It means the tart is shaped informally and cooked on a baking sheet instead of carefully fitted into a classic tart pan. It is a more rustic style of tart but one you will commonly see in French cafés.
If you've never made a rustic tart, I think you will enjoy shaping your tart shell by hand. This style of tart crust can be made very quickly and has an inviting, homemade look. My favorite rustic fruit tart is one of Jacque Pépin's made with apples and a simple crust that doesn't even need chilling.
TO TRY: Our Classic Fruit Tart with Pastry Cream
A crust shortcut for making rustic onion tarts in a hurry
I recommend using your favorite pie dough recipe for the base. (Check out the one from the Pépin link above if you need a good crust recipe.) Alternatively, you can use a frozen pie crust in the name of saving time. Like anything else, this sweet onion tart recipe is better with homemade. But it is still perfectly satisfying using this time-saving tip.
The best onions to use in this savory tart recipe
The key to a delicious Sweet Onion Tart is using the best onions. I like the Texas Sweet Onions available in spring. It also works with Vidalia, Maui onions, etc. Just beware of onions that are starting to sprout.
Sprouted onions are still edible, however, they have very little usable onion inside. You will not be able to achieve the photo-ready onion rounds if you try to use a sprouted onion for this recipe. In addition, when an onion sprouts, its flavor profile tends toward bitterness and for this tart recipe, we're trying to accentuate the onion's sweetness. If you're curious about sprouting onions, the Kitchn has a great article on what to do with sprouting onions and garlic.
To serve this free-form onion tart
As I mentioned in my introduction, this cheesy tart recipe is a great spring and summer side dish. Serve it with grilled or roasted fish or meats.
TRY NEXT: Homemade Veggie Pizza with a Cauliflower Crust
Make this onion cheese tart a vegetarian lunch dish
Alternatively, you can use it as the main course of a simple, vegetarian lunch or brunch. The recipe calls for topping the tart with tangy Gruyère, a Swiss cheese which melts beautifully.
Besides bringing a grilled cheese sandwich-like quality to the flavor, the cheese adds protein to this simple tart recipe. (If you have trouble finding Gruyère, you can substitute with Jarlsberg or Emmental cheese.)
Take it on a romantic picnic
If you cut and pack the tart slices carefully with some extra padding like a dish towel, you can also use wedges of this onion tart in place of sandwiches on a romantic picnic. Pair with a light-bodied white wine for an afternoon for two in the park.
RELATED: Wine for a Romantic Picnic
Easy Cheese and Onion Tart
Print Recipe
This easy onion tart recipe makes an elegant side dish or a simple, vegetarian meal when served with a green salad. 
Ingredients
1

pie crust

your favorite recipe or 1 frozen pie crust

1

lb

sweet onions

(such as Vidalia, Walla Walla, etc.), approx. 2 medium-large onions

1

cup

gruyere cheese

shredded

1½

tsp

fresh thyme

finely chopped

1

tbsp

milk

2

tbsp

cold, unsalted butter

cut into 1/2-inch cubes
Instructions
Preheat oven to 400 degrees.

Line a pizza pan or baking sheet with parchment.

If using homemade dough, roll it into a circle approximately the circumference of the pizza pan or a rectangle to fit the baking sheet. Trim any edges. For frozen dough, shape it to fit the pizza pan. Store the crust in the refrigerator while you prepare the topping.

Peel the onions and slice into thin rounds, approximately 1/4-1/3-inch thickness.

Sprinkle the crust with the cheese, going all the way to the edges.

Top with the thyme, sprinkled evenly across the crust.

Starting at the center edge of the crust, place the onion rounds in rows, slightly overlapping each onion. (Working from the center to the left, then to the right makes for easy placement of the rounds, if you're using a circular pan.) You can start from the edge or go diagonally if you're making a rectangle.

Lightly brush all the onions with milk then dot with the cubes of butter.

Bake for 40 mins or until the tart is golden and onions begin to brown. If the edges of the tart start to brown during baking, cover them with foil.

Serve hot or at room temperature.
Pin this savory onion tart recipe: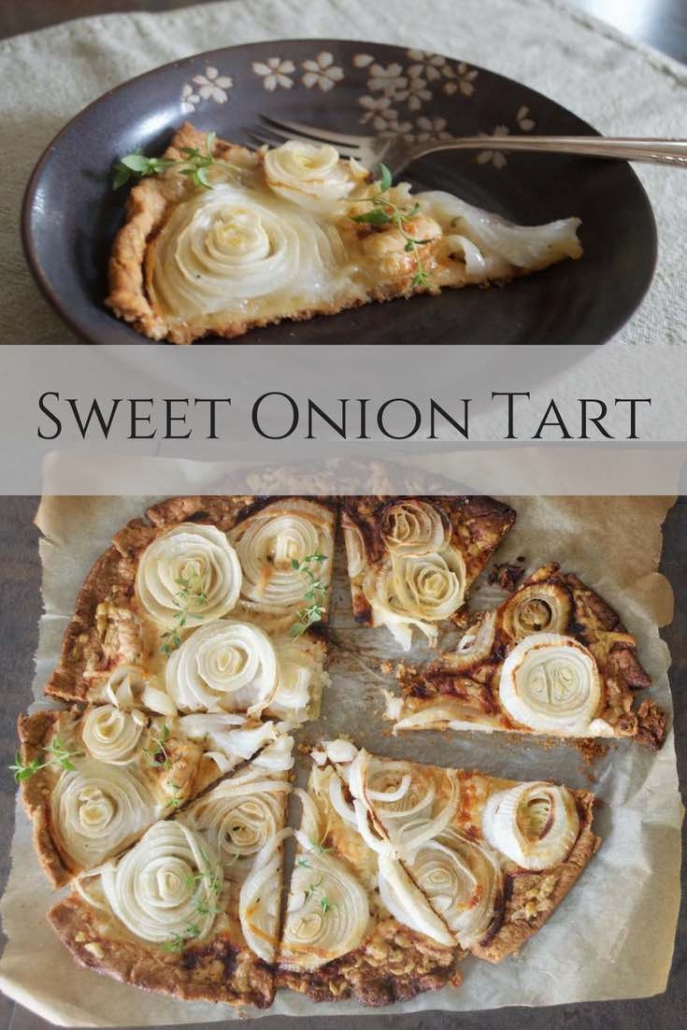 Latest posts by Amy Reiley
(see all)
Get on our mailing list
Subscribe and get our exclusive list of Six Great Sex-Boosting Snack Foods for FREE! Unsubscribe at any time.