Our articles may contain affiliate links. For more information, view our policies.
One of my favorite ingredients of spring are those big, juicy sweet onions. You know the kind, the ones that are so mild in flavor that you can eat them like apples. Typically, I'll use them raw in salads and on burgers. But this year I bought so many I didn't know what to do. And that's why my sweet onion tart recipe was invented. It is basically a savory version of a rustic fruit tart, meant to be served as a side dish. And if you ask me, this French savory tart works with pretty much any spring meal.
RELATED: Fennel and Orange Salad with Sweet Onion and Arugula
Tips for the best sweet onion tart crust
If you've never made a rustic tart, these are tarts shaped by hand. They can be made very quickly and have an inviting, rustic look. My favorite rustic fruit tart is one of Jacque Pépin's made with apples and a simple crust that doesn't even need chilling.
TO TRY: Our Classic Fruit Tart with Pastry Cream
I bake this rustic onion tart on a pizza pan but you can also just use a baking sheet. I recommend using your favorite pie dough recipe for the base. (Check out the one from the Pépin link above if you need a good crust recipe.) But if I'm being totally honest, I usually use a frozen pie crust in the name of saving time. (Like anything else, this onion side dish is better with homemade but is still perfectly satisfying using my shortcut.)
The best onions to use in this tart recipe
The key to a delicious Sweet Onion Tart is using the best onions. I like the Texas Sweet Onions available in spring. It also works with Vidalia, Maui onions, etc. Just beware of onions that are starting to sprout.
For this recipe, you should never use those. (Although onions that are starting to sprout are perfectly safe to eat, they tend to be bitter. And what we're trying to do here is accentuate the sweetness of the onions, that bitterness would detract from the tart's charm. You can learn more about sprouting onions-and garlic-with this article from the Kitchn.)
RELATED: Check out all of our favorite side dish recipes.
Sweet Onion Tart
Print Recipe
This onion tart recipe makes an elegant side dish or a simple, vegetarian meal served with a salad. 
Ingredients
1

pie crust

your favorite recipe or 1 frozen crust

1

lb

sweet onions

(such as Vidalia, Walla Walla, etc.), approx. 2 medium-large onions

1

cup

gruyere cheese

shredded

1½

tsp

fresh thyme

finely chopped

1

Tbsp

milk

2

Tbsp

cold unsalted butter

cut into 1/2-inch cubes
Instructions
Preheat oven to 400 degrees.

Line a pizza pan or baking sheet with parchment.

If using homemade dough, roll it into a circle approximately the circumference of the pizza pan or a rectangle to fit the baking sheet. Trim any edges. For frozen dough, shape it to fit the pizza pan. Store the crust in the refrigerator while you prepare the topping.

Peel the onions and slice into thin rounds, approximately 1/4-1/3-inch thickness.

Sprinkle the crust with the cheese, going all the way to the edges.

Top with the thyme, sprinkled evenly across the crust.

Starting at the center edge of the crust, place the onion rounds in rows, slightly overlapping each onion. (Working from the center to the left, then to the right makes for easy placement of the rounds, if you're using a circular pan.) You can start from the edge or go diagonally if you're making a rectangle.

Lightly brush all the onions with milk then dot with the cubes of butter.

Bake for 40 mins or until the tart is golden and onions begin to brown. If the edges of the tart start to brown during baking, cover them with foil.

10. Serve hot or at room temperature.
Pin this rustic onion tart recipe: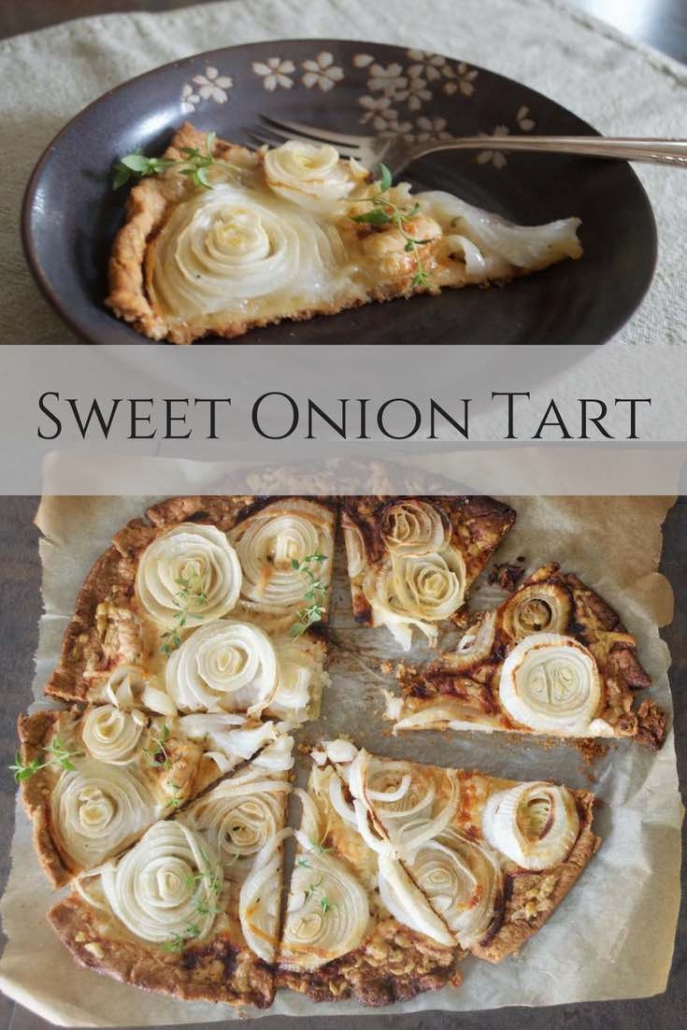 FREE APHRODISIAC NEWSLETTER
Subscribe to our free aphrodisiac newsletter