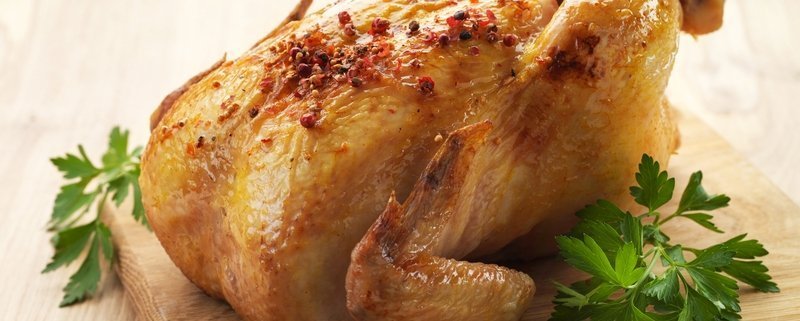 Roast a perfect chicken every time
I love this roast chicken because it's a simple, pure and tasty main dish. And one chicken feeds my family of three about three times, so it's one of my more economical recipes, saving both time and money. Although this is one of my most practical menu options, in the right setting, this roast chicken recipe can still be used to spark romance.
Choose an organic chicken
Although as a food writer, I'm best known for creating fairly elaborate meals–often featuring exotic and aphrodisiac ingredients. But I'm still a big believer in simplicity. Not all meals have to be laden with aphrodisiac ingredients. Sometimes the "sexy" is in the simplicity. The secret to this simple roast chicken is using the best ingredients available. I recommend always using a natural or organic bird. And try to get the freshest possible herbs. You can really taste the difference.
Secrets to a succulent roast chicken
If you've ever cooked a dry or stringy bird, you might be skeptical of how easy it is to roast a juicy chicken. But their's really no magic to it. The key is patience. Let the chicken rest once you've prepared it for roasting. Then slowly roast until the skin is crispy. But most importantly, you have to let your chicken rest before carving.
Why? It's a simple matter of food science. The moisture in the chicken comes from water. That water in the bird gets pushed toward the surface as it roasts. During resting, the meat starts to cool and the water redistributes. But if you cut it right away, much of that moisture will spill out and pool on your cutting board, leaving you with a dry bird.
This recipe for simple yet succulent roast chicken comes from one of our regular contributors, Diane Brown. Diane is the author of our aphrodisiac menu column, Diva Dish. And she's sharing this simple roast chicken recipe with us from her Family Farm Box blog.
Looking for more easy chicken recipes? Check out this recipe for Aleppo Pepper and Apricot Glazed Chicken Thighs. 
Diane's Super Simple Roasted Chicken
This recipe makes roasting a succulent, moist and flavorful chicken simple. Use the leftovers for a casual chicken salad and save the bones to make homemade stock.
Diet and Health:
gluten-free, Healthy, low carb
Seasonal:
autumn, Easter, Father's Day, Mother's Day, winter
Ingredients
1 5 to 7

pound

natural or organic whole chicken

rinsed and patted dry

2

tsp

garlic powder

about a tbsp of kosher salt

tsp

of pepper

olive oil

(enough to coat the skin of the chicken)

1

lemon

cut into wedges

one-half of a yellow or white onion

cut into wedges

a few sprigs of rosemary or thyme
Instructions
Heat oven to 375 degrees.

Rub chicken all over with olive oil, garlic powder, salt and pepper, including the cavity.

Stuff the cavity with the lemon, onion and herb sprigs.

Place chicken in a roasting pan and leave out of refrigeration for 30 minutes, allowing the chicken to become closer to room temperature.

Place chicken in the oven, and roast for one hour, until skin is browned and crisp, and the juices run clear when chicken is pierced with a knife at the thigh. Alternately, you could use a probe thermometer and bring to 165 degrees.

Let chicken rest for 10 minutes before slicing.
Pin this roast chicken recipe:
Recipe for Super Simple Roast Chicken with Fresh Herbs - Eat Something Sexy
Cookbook author Diane Brown shares the secret to her Super Simple Roast Chicken recipe perfect for feeding a crowd or for those who love leftovers.
Preparation Time: PT
Cooking Time: PT
Total Time: PT
Recipe Ingredients:
FREE APHRODISIAC NEWSLETTER
Subscribe to our free aphrodisiac newsletter