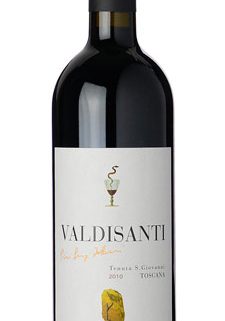 Super Affordable Super Tuscan
Our articles may contain affiliate links. For more information, view our policies.
2010 Tolaini "Valdisanti" Tenuta S. Giovanni, Toscana IGT, Tuscany, Italy
The Wine of the Week with Annette Tomei
The term super-Tuscan may be more than a little past its prime, but the blending of Sangiovese, the lifeblood of Chianti, with the traditional grapes of France is anything but. Ever since the Antinori family took the bold step away from tradition, and the DOC laws, in the early-1970s, the red wines of Tuscany have never been the same.
International wine reviewers, and the consumers that follow them, rewarded innovators with higher prices and higher demand. Today, general "super-Tuscans" have their own category in Italian wine – Toscana IGT – and may be anything but super (buyer beware). And to find an affordable Super Tuscan…?
Tolaini Estate is a newcomer to the Tuscan wine world. But, what it lacks in roots, it makes up for in capital and business sense. Taking the French connection a step further, Tolaini works with world-renowned wine consultant Michel Rolland, whose influential palate can be credited with the distinct international style of big, bold, red wines.

About this Wine
For this column, I tasted the 2010 vintage of Valdisanti, which is not easy to find anymore – 2014 is the current vintage. The blend may be slightly different, but I'm confident that the quality is comparable… consider this a prediction of what the current product might have in store for those patient enough to hold it for a few years!
The 2010 vintage is a blend of 75% Cabernet Sauvignon, 20% Sangiovese, 5% Cabernet Franc, aged 16 months in French oak.
At first, the aromas were predominantly fruit-driven – lots of blackberry, and still quite tight. I returned to the glass about 30 minutes later to find a more complex wine. Earthier aromas of graphite, cassis, and fresh cigar came out from behind the black fruit. Despite the age, the fruit tannins are still quite tight and forward. I'd bet that this wine will improve greatly over the next 5 years. There's a great backbone of acidity as well. Flavors of tart cherry, plum, and pomegranate go on and on with a hint of cola on the finish. This wine's Bordeaux roots are definitely showing, but there's no question that the heart is pure Italian.
As for pairing, I recommend sticking to the classics. A juicy steak – maybe bistecca Fiorentina? Simple seasonings, earthy flavors, fatty enough to stand up to the still-lively tannins. Hearty mushroom risotto is my recommendation for vegetarians or meatless Mondays.
The Verdict
You can still find the 2010 online (as of the time of writing) for around $40/bottle. The current vintage of this affordable Super Tuscan is a bit less. It's made to be enjoyed right away, if you are into big bracing wines. I recommend having patience and waiting a few years, at least – and storing it properly!
Latest posts by Annette Tomei
(see all)
Get on our mailing list
Don't miss out on a thing! Get news, deals & more!