Spicy White Bean Sweet Potato Burger Recipe
Our articles may contain affiliate links. For more information, view our policies.
Is there any more delicious or widely celebrated American food than burgers? A backyard cookout wouldn't be complete without them and just because you're trying to eat healthier doesn't mean you have to miss out. This week I decided to skip the beef to make this white bean sweet potato burger. It features one of my favorite superfoods on the planet, sweet potato.
Why you're going to love these spicy sweet potato bean burgers
Even if you're a meat lover, you can enjoy a veggie burger on occasion. And these burgers, with their great blend of ingredients, are hearty and healthy. You can even skip the side salad knowing you're getting your veggies inside the bun!
How to serve these sweet potato veggie burgers
These burgers are seasoned with green onion, cumin and a pinch of cayenne. (You can omit the cayenne if you really cannot tolerate spice in your burger recipe.) They're flavorful to serve on their own, especially if you're cutting carbs. Either serve these vegetarian patties as you would a meat, with a side of grains and vegetables. Or you can wrap your cooked vegetarian burger in lettuce and top with your favorite condiments. (This is a great option if you're serving these sweet potato burger patties to someone on a gluten-free diet.)
I like to serve these plant-based burgers as I would a hamburger, on my favorite toasted bun. I generally serve these sweet potato bean patties on a buttered and toasted whole wheat English muffin. The other way I serve these spicy vegetable patties is on a multigrain ciabatta bun.
My recommended sweet potato burger toppings
I like to top my burgers with the classics but feel free to experiment with your favorite vegetarian burger accompaniments, from garlic aioli to sweet chili sauce. Your veggie burger experience is only limited by your imagination!
Mustard (I prefer either yellow or whole grain)
Ketchup
Sliced avocado
Texas or Vidalia sweet onion slices
Dill or sweet pickle chips
Crisp leaf lettuce
Ripe tomato
Can you freeze veggie burgers?
Freeze cooked veggie burger patties by stacking them with a layer of parchment paper between each burger. Then store in the freezer in an air-tight container for up to 2 months. Defrost and reheat by your preferred method for a quick and healthy burger fix any time.
Why veggie patties with sweet potato are sexy
Shakespeare introduced this sweet vegetable to Europe as an unparalleled aphrodisiac in "The Merry Wives of Windsor." In addition to that royal title, sweet potato nutrition data shows us that these tubers are packed full of vitamins A, B, and C. But they are also a great source of dietary fiber as well as iron.
Sweet potato benefits for your sex life and more
They contain a ton of vitamin D, which plays a huge role in our mood and energy levels. It also supports thyroid function, which, although it doesn't directly impact sexual desire, greatly affects overall well-being. Sweet potatoes are a great source of magnesium, which is necessary for healthy artery, blood, bone, heart, muscle and nerve function. It is also involved in sexual hormone production. And sweet potatoes are a source of manganese, a key nutrient for men's sexual health. But that's not all. Sweet potatoes are also rich in potassium, which can help reduce high blood pressure and boost sexual performance.
But to make these vegetable patties even more nutritious, (and to help give them a great texture), I add white beans to the sweet potato burger mixture.
Will this veggie burger give me gas?
As soon as I mentioned aphrodisiacs and beans and sexual performance in adjoining sentences, you probably started wondering about the inevitable. Beans contain raffinose. This is a complex sugar our bodies have a hard time digesting. You can help reduce your chances of getting gassy from beans by making sure you rinse them well in fresh, cool water before you use them. You can also use an over-the-counter product called beano, which helps to break down the raffinose.
Once you've overcome this one drawback of eating a spicy bean burger, you're going to love what these cannellini beans have to offer. White beans are a goldmine of antioxidants and protect your skin from free radicals and too much sun. So go be bold with your delicious, homemade veggie burger and enjoy the summer sun.
RELATED: Vegetarian White Bean Chili with Chocolate
Spicy White Bean Sweet Potato Burgers
Print Recipe
Healthy vegetarian/vegan sweet potato and bean burger
Ingredients
2

cans

organic cannellini beans

drained and rinsed

1

large sweet potato

2

tsp

maple syrup

1 1/2

tbsp

tahini

1

egg

1/2

cup

panko bread crumbs

1/4

cup

whole wheat flour

or coconut for gluten free

1/2

tsp

cumin

1/2

tsp

cayenne

2

tbsp

green onion, (green part only)

salt to taste

1

tbsp

safflower oil
Instructions
Preheat oven to 350.

Bake sweet potato until soft and allow to cool before peeling.

Put peeled potato in a large mixing bowl and add beans and beaten egg and mash together.

Mix in the flour, cumin, cayenne, green onion and salt.

Form 4 large or 6 smaller patties. (Your preference.) Make sure that they are equal in size and evenly shaped to ensure even cooking.

Heat 1 tbsp safflower oil in a pan over high heat.*

Coat the patties individually in panko and cook until browned on both sides, (about 4-5 minutes on the first side, 3-4 minutes on the second side).

Let the cooked patties cool and serve with mustard, avocado, cheese, whatever you like!
Notes
*You can cook the burgers on the grill in summer. Just make sure it is well oiled as they tend to stick. 
Pin this spicy bean burger recipe: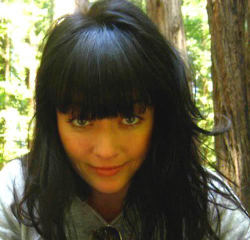 Latest posts by Vanessa Vanya
(see all)
Get on our mailing list
Subscribe and get our exclusive list of Six Great Sex-Boosting Snack Foods for FREE! Unsubscribe at any time - privacy policy