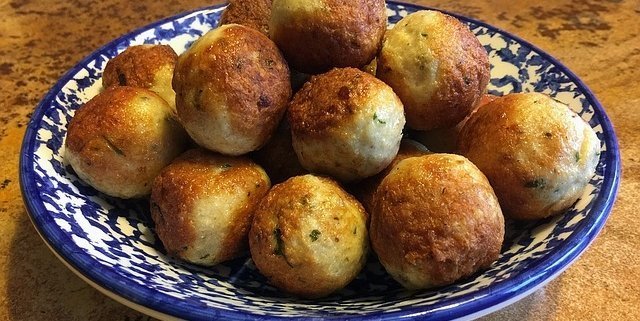 Spicy Chinese Chicken Meatballs Recipe
Our articles may contain affiliate links. For more information, view our policies.
I love playing with the sensory pleasures of Asian cuisines. Although as a chef I never trained specifically in cooking Cantonese and other Chinese cuisines, the remarkable dance of sweet, spicy, salty and umami has always inspired experimentation in my kitchen. Although my Chinese chicken meatballs recipe is as much Californian as it is Chinese, this recipe's dance of flavors is owed entirely to Cantonese hoisin sauce. If you love hoisin as much as I do, prepare to have your taste buds tickled.
What is hoisin sauce?
If you've ever eaten Peking duck, then you're familiar with hoisin. It's the intensely flavored, reddish-brown sauce served with the duck and pancakes.
It is typically made from a base of fermented soy beans. But the flavor builds with a complex combination of ingredients including sesame oil, vinegar, garlic, chiles and some sort of sweetener. Although my use of hoisin in this Asian chicken meatballs recipe is for meat lovers, the sauce itself is typically vegan, not to mention gluten-free. (Always check the labels, as ingredients can vary slightly.)
Click here to shop for hoisin sauce
Although it is bottled hoisin sauce that brings my ground chicken meatballs recipe to life, what inspired me to create it was actually produce from the farm.
A baked chicken meatballs recipe with farm to table inspiration
I consider myself lucky, living in Southern California. The riches of the earth are positively at my fingertips. And in a climate that welcomes new growth in every season, I know my next farm-to-table experience is right around the corner. Especially because every week, I get my own little piece of the farm-to-table movement deliver to my door. It comes in the form of a CSA box packed with jewels from farmer Kenny at Tanaka Farms.
TO TRY: Easy Vegan Carrot Top Pesto
Of late, the romaine coming from the farm has been so seductive; creamy white with light green tips, crisp and succulent. Seriously! If you never thought lettuce could be sexy, you should feast your eyes on this. I've enjoyed the whole leaves as a crisp counter point to rich and spicy flavors, like these chicken meatballs with their sticky, sweet, salty sauce.
Serving suggestions for these healthy chicken meatballs
And yes, it was actually the lettuce that inspired this chicken meatball recipe. But I think anyone who loves chicken lettuce cups will understand why! And although my recipe adopts some of the same principals as lettuce cups, I think you'll appreciate that these ginger and hoisin-spiked meatballs can be served with the crisp romaine, or on their own as party food. You could also add a bowl of udon and make a rich meal of protein-rich meatballs and slippery noodles. The possibilities are almost endless!
But that's because the recipe starts with a healthy form of protein, ground chicken, and then builds flavor with exciting but still healthy, Asian ingredients. (And this includes the aphrodisiac of fresh ginger and the heat of chile flakes.) It's the use of these bold, not to mention fun ingredients that make this simple, baked meatball recipe so successful.
RELATED: Garlic – Aphrodisiac & Health Benefits
If you enjoy this easy chicken meatballs recipe, please check out more of my farm box fresh and local fare, visit www.familyfarmbox.com.
Spicy Chinese Chicken Meatballs
Print Recipe
This is one of those weeknight dinners that everyone will love. When you can't decide what you want, these flavorful meatballs with their crunchy and refreshing salad accompaniment satisfy every craving.
Ingredients
1

pound

lean ground chicken

1

egg

1

cup

Japanese Panko breadcrumbs

1/2

cup

chopped onion

1/4

tsp

chili flakes

2

garlic cloves

minced

1/2

cup

hoisin sauce

1

tsp

grated fresh ginger

1

cup

grated carrots

8

large romaine leaves

washed a trimmed

2

Tbsp

chopped cilantro
Instructions
Heat oven to 400 degrees.

Mix together the ground chicken, egg, breadcrumbs, onion, half of the garlic and half of the hoisin sauce in a bowl, season with salt and pepper, and mix to combine.

Roll mixture, about 2 tablespoons, into balls, and place on a baking sheet.

Bake in oven for about 5 minutes, until meatballs start to become slightly firm.

Meanwhile, mix together the remaining hoisen, garlic and ginger in a small bowl.

Remove meatballs from the oven, and using a pastry brush, lightly brush the sauce on the partially cooked meatballs.

Return to oven and continue to bake for another 5 minutes, or until meatballs are very firm to the touch and cooked through.

To serve: place meatballs on romaine leaves, top with grated carrots and cilantro, and enjoy right away.
Diane Brown is the author of The Seduction Cookbook. If you love this recipe, order the whole book!

Pin this chicken meatball recipe:
FREE APHRODISIAC NEWSLETTER
Subscribe to our free aphrodisiac newsletter